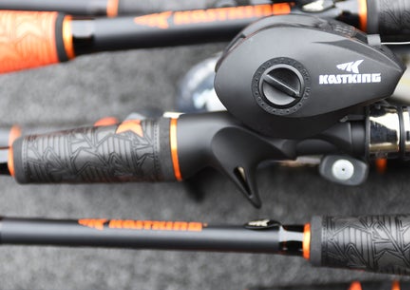 About the Quality of KastKing Products
You may ask what is the quality of KastKing fishing products. Quality can be subjective, but let's look behind the scenes and examine some facts about the quality of KastKing fishing reels, fishing rods, and fishing line.
Quality Is In The Eye of The Beholder
Good quality is a measure of how well a product performs a certain task, how long it lasts doing the given task, aesthetics and cosmetics. Personal tastes about product color, visual design or ergonomics are not aspects of quality. Those represent individual choices. Price is not a determining factor of quality.
 Who Determines Quality?
Some brands turn a blind eye to quality control issues. Rather than ignoring issues, KastKing analyzes every complaint about product quality. Every product quality issue is logged in and acted on. Production may be stopped entirely on a product after the engineering department reviews and verifies the customer complaint to see if it is a recurring consumer fault (improper use of a product), a design flaw or manufacturing defect. If it is consumer fault such as operator error, more product customer education can often be the solution. KastKing products are tested in a lab long before mass production begins. More on that in a moment. Quality controls at the factory level ensure that the product that was designed by the engineers enters the market working the way it should.  Moreover, repeat sales and customer reviews indicate a good quality product.
 Beyond the Warranty
Every brand that offers a warranty has returns on new products. In the case of fishing reels, there are a lot of moving parts and reels are often used in harsh conditions such as saltwater fishing. Even the best made products can have an issue. Mercedes and Ferrari car dealerships have a service department and a warranty department for a reason. That reason is; machines break. A fishing reel is essentially a human-powered machine. A classic determining factor of quality is product life, or longevity. The length of product life after the warranty says a lot about a machine's  engineering and manufacturing process.
When Innovation Meets Science
KastKing fishing rods, KastKing fishing reels, and KastKing fishing line all go through a series of scientific tests long before production begins. As you can understand, it is far less costly to address any issue before thousands of an item are made.
KastKing has a highly sophisticated inhouse testing lab that is part of the engineering department. Engineers can run tests on innovative new designs and make the necessary modifications early in the product development cycle.  Thomas Edison and his associates worked on and tested more than 3,000 different theories before developing an efficient lightbulb. So, there's something to be said about the need for testing innovative designs in the pathway to success. 
The gamut of lab testing on KastKing fishing gear runs from stress testing, to repetitive endurance testing, UV resistance tests, to salt spray tests to see how products will hold up in a saltwater environment, plus many more. At times KastKing also relies on certified outside labs to run tests. These labs are sometimes asked to run "blind tests" against competing brands. These "brown paper bag tests" as they are called  keep human opinion (brand prejudice) out of the results.
 KastKing Quality By The Numbers
For fishing reels the universally accepted return rate number for defects is two-percent. KastKing prides itself in delivering quality products that fall below that number. In some instances, it is far below the two percent rate of returns. And it is worth mentioning again, user error often factors into a product being declared defective by the buyer, when in fact it is not defective. No matter the reason, KastKing stands behind the quality of every KastKing product. KastKing customer service and the warranty departments always work towards 100% customer satisfaction in all issues.