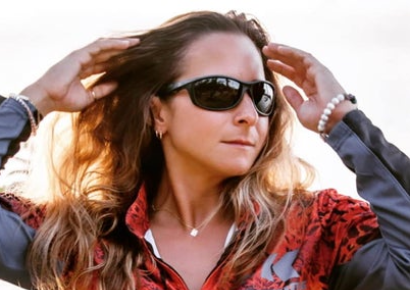 How Are KastKing Sunglasses Different Than The Competition?
There are several ways that KastKing polarized sunglasses are different than other brands; here are a few.
 by Nikki Delio 
Are the Frames Different?
Most of the sunglasses on the market are made with either polycarbonate (PC) or a low grade of nylon material to mold the frames. Inexpensive sunglasses are typically molded with PC, this material is stiffer and heavier than nylon which means it is not as comfortable. Frames made with this material break easier than nylon frames.
Many manufactures use nylon to mold their frames, which softer than PC and weighs less. However, in some cases the nylon has re-ground material mixed in with virgin nylon material. This helps to lower the cost of the material, but the true properties of nylon are sacrificed. When re-ground nylon is mixed with virgin nylon the material becomes more rigid and it loses some of its breaking strength. Some brands advertise that their sunglasses are nylon or TR90 nylon, but they may contain re-ground material.
 Grilamid for Durability
KastKing polarized sunglasses are made with a high grade of nylon material from Switzerland called Grilamid. This material is used to make products for the military and is also used in the medical industry. Grilamid is very strong, lightweight, flexible, and UV resistant. These properties help to give KastKing sunglasses their comfortable fit and durability. This is the same material many of the more expensive brands use for their frames, that typically retail for over $100.
Is There a Difference In Fit?
 Have you ever tried on a pair of sunglasses and they were not comfortable? One of the most important factors consumers consider when purchasing a pair of sunglasses is fit.  KastKing designers have years of experience designing frames and they understand what takes to develop a comfortable frame design. Careful consideration is given to the relationship of the angles and dimension between the nose pad, front frame, and temples. For example, if the angle between the temples and the front frame is not correct then frame will be either tilted too far forward or too far backward.  If this is the case, then the frames will either hit your cheeks or hit your forehead and they will not be comfortable. Understanding these design factors is very import for comfort. At KastKing we make sure all of our sunglasses designs are rapid prototyped and tested for comfort before they are manufactured. 
KastKing Tests Sunglasses Extensively
 In closing, KastKing Sunglasses are different than the competition in that we take our time and test our products extensively, so the outcome is always that our customers are satisfied and happy. We let our passion and love for what we do show in the products we so happily make. There is something to be said about working in silence, and letting our success be the noise.
See the video about testing KastKing Polarized Sunglasses:  
About Nikki Delio - Nikki is an Outdoors Writer and on-air talent at KastKing. You can hear her on her podcast show, "KastKing On The Line" on the KastKing PodKast Channel and see her on the KastKing YouTube Channel. She is the host of KastKing Fishing Frenzy Live.