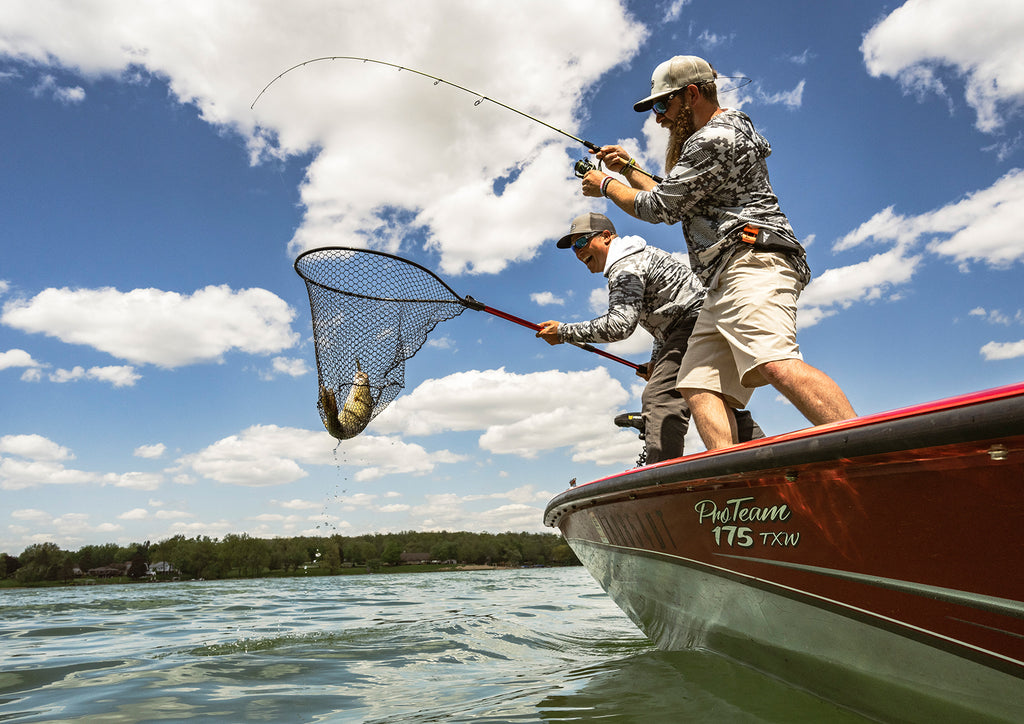 Best Fishing Gear For Trout
Freshwater trout are second only to largemouth bass in popularity for anglers. The diversity of species and the methods of fishing for these beautiful fish make them an excellent choice for anglers looking to gain more appreciation for fishing and the species involved.
Trout range in size from the miniature mountain golden trout weighing less than a pound to the monster lake trout that can way more than 40 pounds. Most trout species, however, weigh, on average, between two and five pounds. For simplicities sake, we will focus on catching the average-sized trout. Species of trout that are most often encountered are the rainbow trout, brook trout, brown trout, and cutthroat trout. Catch and release fishing is the most popular form of fishing for trout, many anglers, especially those who explore and camp by the mountain streams when trout frequent, enjoy the rich flavor of trout. Trout are closely related to salmon and have similar flavor and texture making them great for baking, smoking, or grilling.
Regardless if you plan to keep or release, you will need gear to catch a trout. We will break this article into the suggested rod, reel, line, and tackle for trout fishing. By the end, you will have a selection of KastKing's fishing gear ready to confidently tackle some of the best fighting freshwater fish on the planet.
Rods
A six-foot ultra-light fast action spinning rod is perfect for general trout fishing. The length gives anglers plenty of casting range while still being controllable in small streams. Light and ultra-light rods will give the sensitivity needed when casting small baits and fishing for smaller trout. The fast action tip will let lures work naturally regardless of weight while giving enough backbone to fight a large brown trout when it takes your lure halfway down the river.
The KastKing Crixus Fishing Rods
Or the KastKing Perigee II Fishing Rods fill the role nicely.
Reels
A spinning reel won't need to be huge for most trout fishing. A 2000 to 3000 series reel is a great option to keep the whole package lightweight and ready to battle river fish. The KastKing Spartacus II  is a contender for the best of the 2000 series reels. The reel has 22lbs of drag pressure and is durable enough to be fished in saltwater conditions.
Fly Gear
Since this combo doesn't fit under rods or reels, the fly combo is its section. The KastKing Emergence Fly Fishing Combo provides fly fishermen with everything they need to start fishing. The four-piece rod and aluminum arbor reel offer a packable option for anglers short on space. Each kit has strike indicators, hand-tied nymphs, dry flies, and streamers. For most anglers looking to fish for trout, the 5/6 weight combo is ideal. If salmon and lake trout are the target species, go for the more robust 7/8 weight.
Line
Trout rely on sight to hunt their prey. With great vision and clear streams, anglers need to use a line with as little visibility as possible. Monofilament and fluorocarbon are ideal for trout fishing, and the sensitivity of fluoro makes it the top choice for trout anglers. KastKing FluoroKote Fishing Line increases castability and abrasion resistance for even less than many fluorocarbon brands. While a 4lb line is enough for most trout, opting for a higher test line like 6 or 8 lb will give more reassurance when fighting larger fish and allow the angler to reduce the stress on the fish if a release is planned.
Tackle
Landing Net
Trout fishing is frequently done solo, and even when fishing in a group, a landing net is key to keep from doing unnecessary damage to the fish along with not losing the thrashing fish close to shore. The KastKing Brutus Foldable Extendable Fishing Net is the perfect option for trout. With its packable design and telescoping handle, the Brutus can fit anywhere and net fish far beyond an angler's reach.
SunGlasses
Trout are predominantly river fish. While they are caught in ponds and lakes, many anglers prefer to search for trout as they lay in wait in the pools and rapids of rivers. A good pair of polarized sunglasses will allow an angler to find fish as they hover in the water column and more accurately cast them. Brown-based lenses are the best choice for shallow water. The brown filters the shallow water best while not being too dark for shaded areas of the river. KastKing has a variety of styles of fishing sunglasses with lens options perfect for the requirements of river fishing.
Lures
For terminal tackle, we are focused mainly on lures. Many trout locations do not permit the use of natural bait. For those that do, popular choices are worms, salmon eggs, and powerbait. Rigging any of these baits with a straight shank hook and either trolling or drifting them with a small weight can produce massive results. The MadBite freshwater terminal tackle kit is ideal for giving anglers a compact kit with the needed hooks, sinkers, and bobbers for any freshwater fish.
As highlighted in this article, there is a multitude of options available from Kastking in regards to trout. Trout is a thrilling fish to pursue, capable of intense fights and frustrating awareness of the area. Fishing light gear with a focus on stealth will help you land more fish. With proper gear like an ultralight rod and a strong reel loaded with a low visibility line, you can put yourself ahead of the pack and begin the journey into the brotherhood of trout anglers.