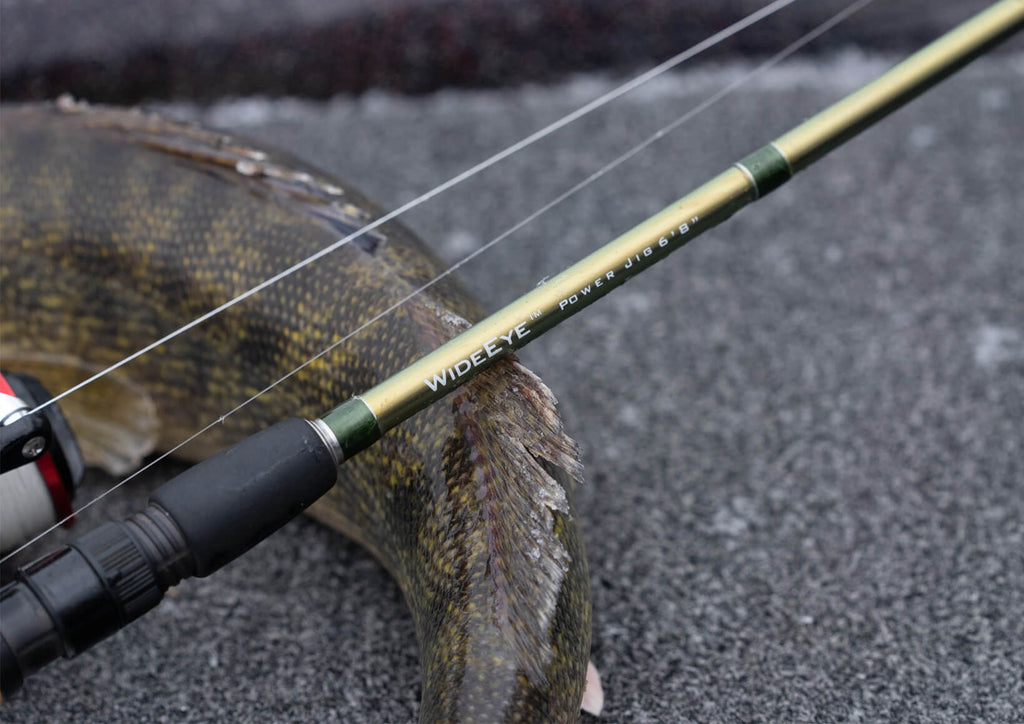 Best Fishing Rods Under $100
When we talk about the Best Fishing Rods under $100, KastKing's line-up is at the top of the list. I have used just about every one of the rods, and can tell you how impressive they are in two words – "Affordable Innovation." There is not one rod in the Best Fishing Rods under $100 that I would not recommend. Let's take a stroll through their line-up and see if I can ante up your arsenal and keep it within a nice clean budget. And, to make it even better, you can pair these rods with a KastKing Reel and still be under $100. Let's take a look at what I feel are the five best KastKing has in their line-up for under $100.
KastKing Crixus casting rods and spinning rods are easily one of the best fishing rods under $100. They deliver incredible performance at a budget price. With KastFlex technology, these powerful and sensitive IM6 Graphite rods range in power from a light weight rod to heavy, and in 5-foot to 7-foot, 6-inch lengths.
IM6 Graphite Blanks
Stainless Steel Guides w/Zirconium Oxide Rings
20 Different Models
Exceptionally light-weight
In the Crixus line-up, the 6-6 spinning rod rated for 4-8 pound test is a great match for throwing small in-line spinners, grubs or smaller Kastmasters for trout and panfish. Moving up slightly in size to the 7-0 casting rod, you have a great fishing rod for using your BFS baitcasting reel for finesse action. These lightweight rods also make it an easy to tote around while walking any distance.
What a huge selection of rods for under $100? How about the KastKing Resolute, which offers 27 different spinning and casting rods in the line-up! KastKing Resolute fishing rods are designed to deliver tournament performance by using ultra-sensitive IM7 carbon blanks. The rods range in size from an ultralight 4-foot, 6-inch model up to 7 foot, 6 inches. The range in power from 2-6 pound up to 14-25 pound. Making them perfect for all freshwater and inshore saltwater applications.
All rods are two-piece, making for easy travel and pond hopping.
American Tackle innovative MicroWave Air Guide Systems and reel seats.
SuperPolymer handles and fighting butts.
If you want a rod for under $100, then grab a Resolute…in fact grab two! These rods are lightweight, comfortable and offer a great looking set-up for all your fishing needs, whether it be freshwater or light saltwater.
KastKing Perigee II Fishing Rods
Another hot item in the KastKing fishing rod arsenal is the Perigee II! These rods come in one and two-piece, and the "Twin-Tip" version actually gives you two rods in one. Each rod is constructed from Toray 24-ton carbon matrix KastFlex technology blanks for power, strength, durability, and accuracy. I gave my brother-in-law Howie one of these to try out. Mind you, Howie is a real good angler, but man he can be tough on tackle. He absolutely loved the feel, plus how durable it was.
Fuji O-Ring line guides.
Tuned ergonomic graphite high-strength reel seats.
High-density EVA grips.
Saf-T-Keeper hook holder.
I love the way these rods look with the "bare and beautiful" finish and the carbon fiber blank. Another huge plus is the KastKing PTS (Power Transition System) spigot joints. I will bet my next pay check that if you close your eyes you could not tell me if it was as one piece or two piece rod, it is that good. The series offers an amazing 42 models, with four of them twin tips, making for an unprecedented 46 total rod combinations. Show me another rod company out there offering that.
I use two of the Perigee II rods and love them both. The first is a smaller 6-foot ultra-light rated for 4-8 pound test. I use this specifically for freshwater trout. Small Phoebe, Kastmaster and Mepps lures have great action, and cast well with this rod. The second I use is strictly for finesse bassin' with my BFS. Hula grubs, hair jigs and small Ned rigs are all used with this rod.
KastKing Kong Fishing Rods
Remember the King Kong movies you used to watch as a kid? The King was a beast, and this is exactly what the KastKing Kong Series of rods are. I use the 7-6 medium-heavy rod son-in-law's boat to chase chopper bluefish to 20 pounds and stripers to 40, all on topwater plugs, and this rod whips them in no time. The key that makes these rods so powerful is the S-Curve 100-percent Graphite Rod Blanks, which are reinforced with Nano-Resin technology. This combination delivers amazing strength and lifting power, but are still incredibly light and sensitive.
Stainless-Steel Double Foot Guides.
Chartreuse "Strike Tip."
Casting and Spinning Models.
Graphite gimbals in the fighting butt (certain models).
When I first picked up the "Kong" rod I use, I was a little skeptical, but after battling big blues and stripers, I am convinced this rod should be in your saltwater arsenal. It is by far one of the best under $100 fishing rods you will find anywhere. You want to hit the Florida Keys for tarpon, check out the 6-foot, 6-inch model rated for 50-100 pounds. Is pier or dock fishing your forte? Grab the 10-foot spinning rod model and you will be slinging baits and lures a country mile.
KastKing New WideEye Walleye Fishing Rod
The last fishing rod is one of my favorite KastKing rods for under $100 out of the five I like. This one however is right at the $99 mark, so it will be one of your higher priced models… but it is worth it! The WideEye Walleye (no, it is not just for walleye!) is available in 11 models, with seven of them spinning rods and the other four casting rods, with two of these telescopic. I use two of these rods for lighter freshwater angling. The two I prefer are the Rig 'n Jig and Power Rig. These spinning rods match up perfectly to the Carbon Zephyr reels and make throwing hair jigs and smaller baits, plus larger Senko style worms a breeze respectively. In today's world of anglers using lighter and lighter tackle, these two models could be used for light saltwater fishing (especially the casting version), but in my opinion, they are best suited for any freshwater species you target.
Superior Toray IM9, 640K strain rate Nano-Resin rod blanks.
Fuji tangle free k frame guides.
Fuji reel seats
Although I use these rods for largemouth and smallmouth bass, if you are a serious walleye angler then these rods are definitely a must add on. Each Wide Eye Walleye fishing rod is for a specific technique or walleye fishing style including jigging, rigging, slip bobber presentations and trolling. I am sure you will see these rods on several pro angler's boats during the 2022 National Walleye Tour in the USA.
In Conclusion
In all, KastKing offers nine series of rods under $100, but in my opinion, these are the five best bang for the buck. All five offer a variety of sensitivities, rod lengths, one and two-piece, telescopic, and twin tips giving you two for the price of one. I may like these five best, but trust me, any of the other series may be to your liking as well.
I said the new WideEye Walleye rod was my favorite, but if I had to pick one rod out of the five that would serve every saltwater anglers needs it would be the Kong series. The Kong has all the right makings for boat, shore and pier/dock fishing. It is built like a tank, lightweight, and can whip any species of fish you target.
On the freshwater and light inshore side, the KastKing Perigee II gets the nod. I mean come on guys, if you can't match a rod to your fishing technique out of the 40-plus models, you might as well take up golf…lol. The Perigee II gives you one piece, two piece, and twin tips for two-for-one set-ups. They come in a wide range of weight classes and lengths, making it the best fishing rod for under $100 out there. The time is now, pick one out and add it to your arsenal and I guarantee you will be thanking me at the end of the season.