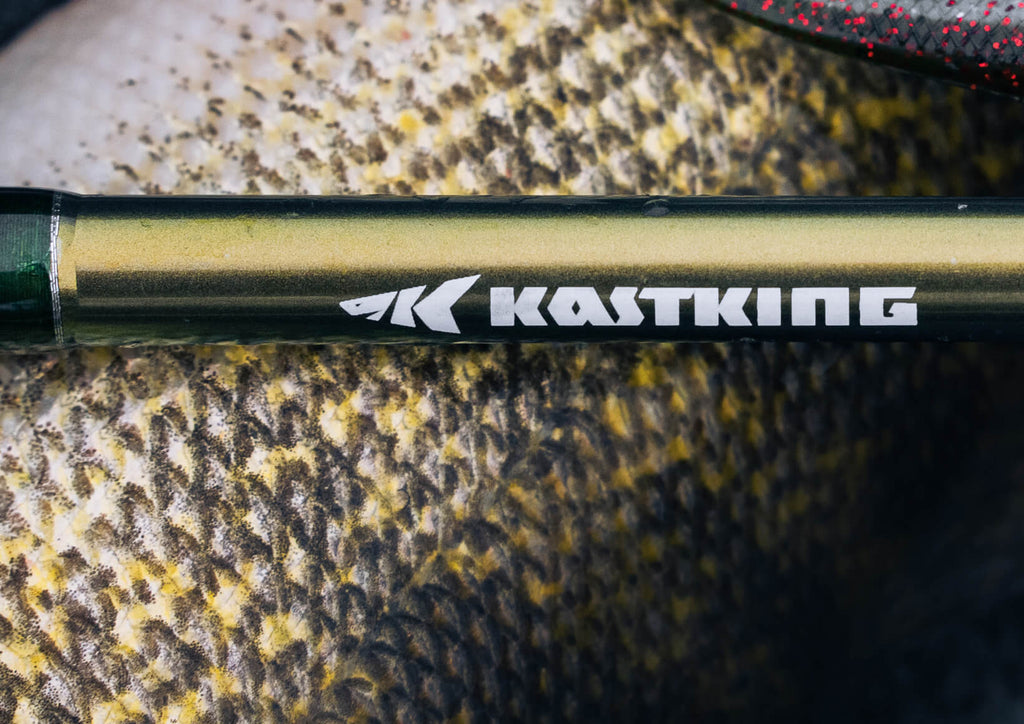 Best Freshwater Fishing Rods
When anglers talk about the "Best Freshwater Fishing Rods," it is more the question of what is the best for a certain type or style of fishing. KastKing has a dynamite line-up of freshwater fishing rods at your disposal, with one for any style or fish you plan to target. Want to try a little light tackle action for trout in the local pond or stream? The Perigee II is a good option. How about chasing peacock bass in Florida? The Speed Demon is the top of the line. Are you an avid walleye angler? Then the Wide Eye Walleye series is where you should start looking. All in all, KastKing freshwater rods have you covered so let's take a look at what I feel are the Best Freshwater Fishing Rods they have to offer for a specific style or fish species.
KastKing Wide Eye Walleye
I have several of these rods, and I do not even fish for walleye very often! I stumbled on the rods while looking for a rod to use on Senko style worms for bass fishing. The one I chose is the 7-1 Power Rig. Even though this rod is only rated for 4-10 pound test, it has an ample backbone to set the hook on bass with ease. The rod is super light and casts well with the lighter baits. All of the Wide Eye series are made to handle any type walleye action you choose - jigging, rigging, slip bobber presentations, and trolling. This has got to be one of the best freshwater fishing rods out there.
Fuji IPS Reel Seats
Fuji K-Frame Guides
Toray IM9, 640K strain rate Nano-Resin Blanks
Weights as low as 3.5 ounces
If you are an active walleye angler, then the KastKing Wide Eye Walleye rod is for you. And, if you like to fish any other freshwater species, I can bet you will find a Wide Eye that fits the bill. Without a doubt, these rods are right up there best freshwater fishing rods are concerned. The 2018 National Walleye Tour Champion Dylan Nussbaum uses these rods, and trust me when I say this guy knows a good walleye rod.
KastKing Perigee II
Another top notch fishing rod in the KastKing lineup is the Perigee II. This rod comes in an amazing amount of styles and weights, and starts at only $49 bucks making it a low cost entry into the freshwater fishing rod division. I also have several of these, but for me the 6-0 medium fast ultra-light spinning rod rated for 2-6 pounds can't be beat for tossing light spoons, spinners and tiny crankbaits for trout and bass. The Perigee II offers anglers a ton of two-piece rods to make traveling or hiking onto that favorite honey hole a snap.
Toray 24-ton carbon matrix KastFlex blank
Fuji O-Ring Guides and Graphite Reel Seats
Super Lightweight…and under $100 bucks!
KastKing PTS (Power Transition System) hybrid spigot joints in Perigee II 2-pcs rods transition power smoothly throughout your fishing rod blank. Specialized high technology computer control wrapping at four angles (0⁰, 45⁰, 90⁰, 135⁰) keeps the power flowing. The spinning rods in this series is a great choice for any of your angling needs.
KastKing Resolute
Staying in the same price class as the Perigee II is the KastKing Resolute series. This series, which are all two-piece rods, is a great addition to any arsenal. The Resolute series offers 16 spinning rods with weights ranging from a 4-6 ultra-light rated for 1-4 pounds, all the way up to the 6-6 rated for 12-20 pounds, and every combination in between. The KastKing Resolute is an easy addition to the best freshwater fishing rod line-up, and you need to add one to your rod locker.
Tournament Performance at Value Price
American Tackle MicroWave Air Guide System
SuperPolymer Handles and Fighting Butts 
KastKing Resolute fishing rods are designed to deliver tournament performance at a value price. Sensitive and powerful IM7 KastFlex carbon rod blanks give you a light rod ranging from ultra-light to heavy powers. With KastKing's Power Transition System, these incredible performance rods that feel like 1-pc rods are designed for all freshwater species, making it a great addition.
KastKing Speed Demon Pro Tournament
By far the top of the line KastKing fishing rod in my opinion. The Speed Demon is the elite of the group, and even though it is the elite fishing rod, it is not over-priced, so any angler can grab one or two if they like! I own 10 of these rods and would not trade them for any other brand out there in today's fishing rod marketplace. The Speed Demon only offers five spinning fishing rods, but all five are worth a look for the serious angler. It is a tight grouping more suitable for bass, trout, catfish, salmon etc. in my opinion as the ranges are in the 4-10, 6-10, 8-17 and 10-20 pound classes. The lighter 4-10 model is a very good trout or small panfish rod however.
Elite Carbon Blanks with Nano Tube Resin Technology
Fuji Reel Seats
Fuji LV Guides with Alconite Rings
WINN Golf Style Grips for Comfort
KastKing has spared no cost in building these rods to ensure that they look as good as they perform! You'll be proud to have the entire series on your boat knowing that you're using a true performance rod and will have confidence in its durability, workmanship and quality. There is no question that this series is definitely one of the best freshwater spinning rods out there.
In Conclusion
These are just a few of KastKing's freshwater series of rods. They make a lot of others that could well be one of the best freshwater fishing rods around, but in this writer's experience, the four above are the top of the group.
All four of these rods will have a place in your rod locker, backpack, or truck of the car waiting to jump out and explore that new found lake or stream.
After using all of these rods, and believe me, this is a tough choice, I feel the Wide Eye Walleye rod offers as good a line-up as any other company where best freshwater fishing rods comes into play. As an angler, don't be shy as all four, plus the entire KastKing line-up will serve your fishing needs to the fullest.
Photos and captions
Whether you fish walleye or any other freshwater species, this series has a rod for you.
The top-of-the-line KastKing rod. This rod series pairs well with a wide array of reels, making the perfect freshwater set-up.
The Perigee II comes in a wide range of options in weights and power, making it one of the best freshwater fishing rods around.
This two-piece power house will serve your freshwater needs well, and the two-piece rod makes carrying in to your favorite hot spot a breeze.