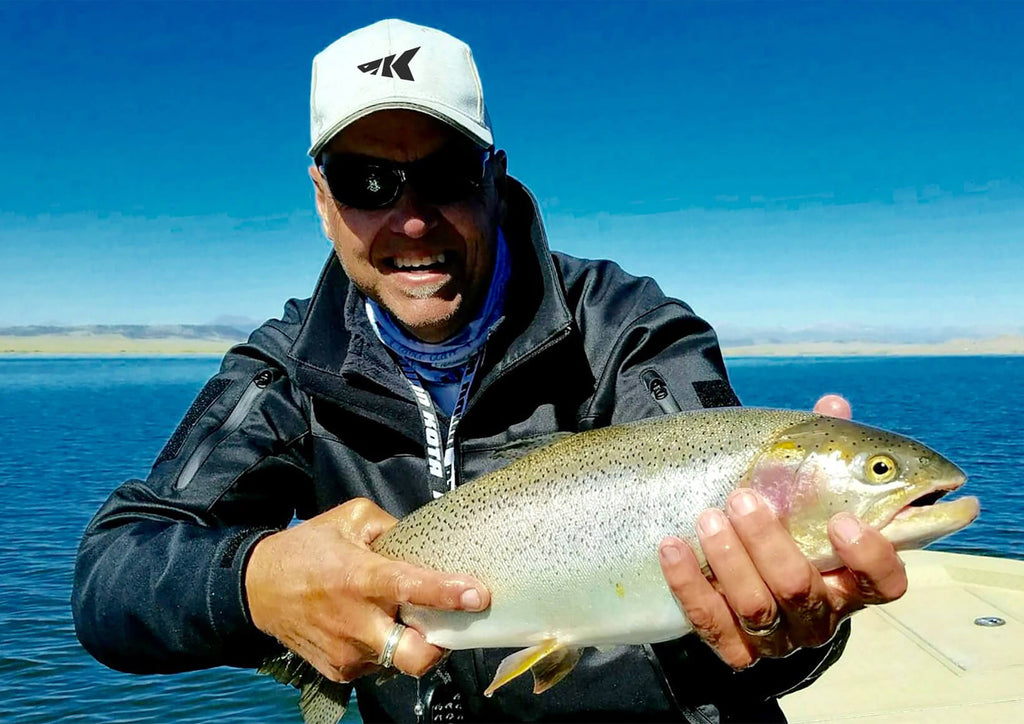 Best Fishing Line for Trout
I think you will agree with me that choosing the best fishing line for trout can be a hard task. Or is it? It turns out that if you learn to match your line accordingly to different situations and you understand each line's pros and cons, finding the best trout fishing line isn't so difficult.
I have spent quite a few years trying to figure out trout. I must admit that my time was mostly dedicated to which color fly they wanted or what scented bait would entice them to bite. I never pondered much about what the best fishing line choice would be for trout. For several years I would have hit or miss results that I just chalked up to those clever fish figuring me out. I went through a phase of using heavier test because I had broken off a few trophy trout. I placed the blame on my line instead of my lack of properly utilizing my drag. Needless to say, my success rate of catching any trout suffered. It was then that I learned a new term, line shy. My choice of line was spooking them.
So, what is the best line for trout fishing?
I wasn't completely off base to use a heavier fluorocarbon, monofilament, or even a light weight braid because all of these lines have their time and place in trout fishing. I was having more luck in murky water when I was bait fishing because my heavier line or light braided line wasn't as easily detected by the fish. Breaking down the different types of fishing lines for trout and the best situations to use them in can increase your chances of catching these finicky fish.
Monofilament Line
Monofilament fishing line seems to be the most popular choice among the trout fishing community as a whole. It is versatile, comes in an array of colors and sizes, it works with most trout fishing methods such as trolling, casting and bait fishing, and is typically the least expensive line you can buy.
That being said, there are so many on the market today and that makes choosing one a tough decision on its own. However, not all fishing lines are created equally. Some are far superior to others. I suggest purchasing a premium monofilament line, it may be a little costlier, but it is well worth it.
While mono line may be considered one of the best fishing lines for trout it does have some disadvantages. One problem is that it tends to coil. It is the "memory" from being wrapped around your reel that can make casting a chore, especially when you are using a lighter lure on a heavier weight line. Your line may not glide as easily through your guides hurting your casting distance. These coils tend to sit on the water instead of sinking. It is possible to stretch the line by tying it to a stationary object and applying just enough pressure to remedy the problem. You may just wind up snapping your line and creating a bigger headache. Monofilament fishing line is also prone to nicks when fishing abrasive structure, so inspecting your line and removing damaged line will have to be something that you should stay mindful of.
Investing in a premium monofilament could save you from these woes. They outperform their cheaper quality competitors by giving you solid hook sets, stronger knots, less memory and less line twists. Advantages to premium line include more strength at a smaller diameter and a ultraviolet coating that improves the life of the line.
My pick: KastKing Premium Monofilament Line
Fluorocarbon Fishing Line
Fluorocarbon is the Houdini of fishing lines. Now you see it, now you don't! Once submerged it is truly an amazing disappearing act and that is the magic of catching line wary fish. In addition, fluorocarbon line has low memory, more strength against abrasion and harmful UV rays. This line also boasts less stretch which makes bites easier to detect. Keep in mind that fluoro sinks faster than mono and can be stiffer at heavier tests so it may not be the best choice if you are fishing with floating baits. It can make an excellent fluorocarbon leader for either mono or braided line if you are trolling or casting.
My pick: KastKing Kovert Fluorocarbon Fishing Line
Braided Fishing Line
Braid line is not the most popular choice among trout anglers, but it is something that may be worth a try. Not all braid line is cut out for trout fishing, so you will want to look for braid made specifically for spinning reels more commonly known as superlines. You can be sure that if you cast with this type of braid there will be no memory. Light lures will cast quite a distance very smoothly. You will definitely feel even the slightest tick as the sensitivity is incredible due to the near nonexistent stretch of the line. It is very buoyant which allows for easier line management and is incredibly strong for its diameter.
The major disadvantage to using braid line is that it is not invisible. If you are fishing stained water you can get away with it, but if the water is clear you will want to tie on a leader. As mentioned, a fluorocarbon leader is the best bet if you're going for an invisible line. Also, some lines tend to fray with abrasions or bleed color, the latter not being so much a performance issue as a cosmetic flaw.
My pick: KastKing KastPro 8X Finesse Braid Fishing Line
Fly Fishing Line
If you are a beginner or even an intermediate fly angler you may be very intimidated by the multitude of fly lines available for trout. I know that I am. My recommendation is to start with a Weight Forward line preferably one with a welded loop on the front. The welded loop makes it easier to attach leaders without having to worry about learning knots to tie leaders on directly. WF lines have become increasingly popular among new fly fishing anglers as they are fairly easy to cast with a heavier head that turns over easy. These lines are also a great choice when using heavier flies such as streamers.
Chances are your fly rod has a line weight suggestion stamped either on the blank or handle. This is only a suggested line weight and is not etched in stone. You can play with this number without compromising your rod. A size up or down two line weights may be needed to adjust to the conditions of your fishing excursion. Something as simple as dropping down a size in your line can be beneficial. Even with the weight difference you will be able to send that dry fly a great distance and with a shorter leader for less impact on the water.
Heavier fly line can benefit you when fishing tight areas. The heavier line will load your rod with little effort and reach short distances with ease.
My pick: KastKing Propel Fly Fishing Line
Conclusion
I hope that this guide has helped you in determining the best fishing line for trout, and one that will work for you. Keep in mind that you will need to adjust your line for certain conditions such as water clarity, depth, and trout species that you are targeting, as well the fishing tackle, baits and technique you are using. You want to go with the lightest line possible that you can get away with as trout are quite wary and will flee if anything appears unnatural. You may be able to fool farm raised trout for a couple of weeks, but they too learn to be just as keen on line as their wild counterparts. Ultimately the trout will determine the best fishing line.
Good luck catching your limit!
Sandi Kennedy is an avid multi-species angler from New Jersey, fishing everything from the swamps to the saltwater coast.