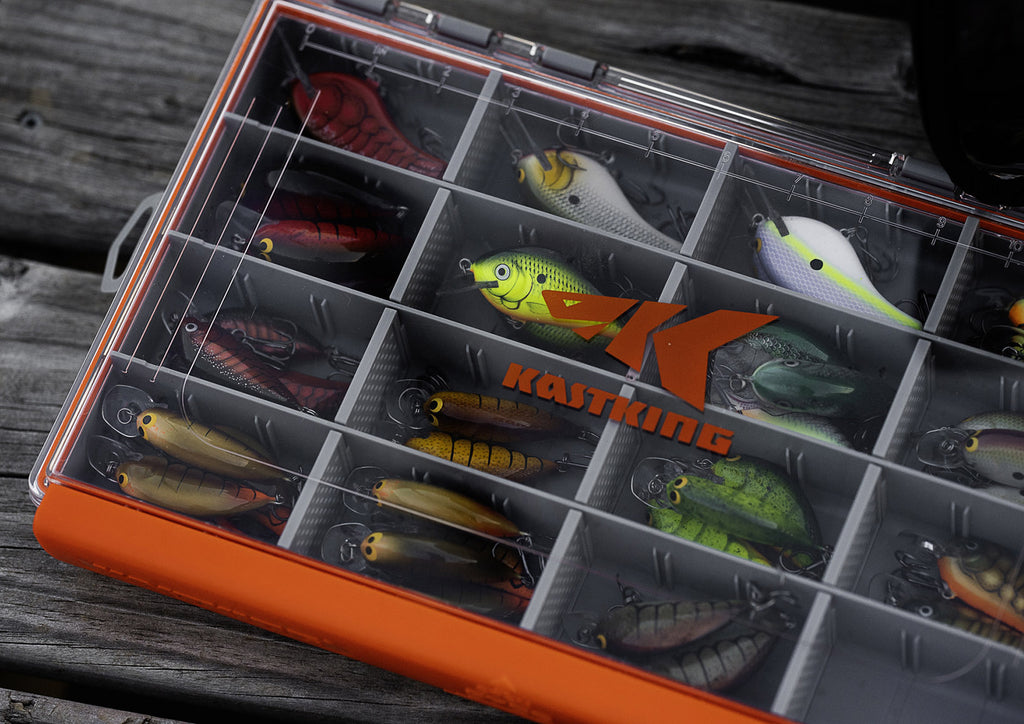 Best Tackle (Storage) Boxes for Fishing
Are you an angler that has every size and shape lure that a manufacturer makes? Do you have every lead head, Texas weight, drop-shot weight and weighted hooks? In another box do you have every size hook you could possible use in your lifetime, let alone a day of fishing? Well I do! And that is why I need the best fishing tackle box available. Have you ever opened your storage box and the hooks on some lures or just the hooks themselves rusty? Rusty hooks are the kiss of death and are probably less than half their original strength. Do you want to lose the best bass of your life due to a faulty hook, just because your tackle box was at fault? KastKing has, what I feel, one of the best new storage tackle boxes out there today. If you want to save your gear, and make sure it lasts a long time, then add the new KastKing Hyper Seal Waterproof Tackle Box to your gear.
I have used virtually every fishing tackle box (storage) on the market over the years. They have all worked okay, but to me, nothing beats the new KastKing Hyper Seal Waterproof Tackle Box. This box is not only made to last, but it will clearly outperform most boxes where waterproof and durability comes into play.
Two Sizes
The Hyper Seal fishing tackle box comes in two standard size boxes – 3700 and 3600. These boxes will easily fit into a number of the KastKing tackle bags, and any boats tackle storage locker or draw. The boxes come with enough dividers where you could put one hook in each compartment if you wanted!
Great System
One of the best features of the dividers is the way they fit into the box. They not only go all the way to the bottom, but best of all, fit extremely tight to the bottom which prevents snaps, weights and even trebles from lures to be able to slide underneath.
Each divider has small holes to allow for additional ventilation during storage. Each fishing tackle box comes with a desiccant to keep your lures rust free. This is important for moisture left behind when returning lures to the box. For me, I have a simple rule of thumb which works while on the boat. I do not put any lure away until the end of the day, this way for the most part they will be dry. However, anglers walking the banks do not have this option. The desiccant will help, but you really should try to "shake dry" any lure to minimize moisture in the box.
The transparent lid makes it easy to identify which lures are in the box before opening, plus the boxes come with an easy to identify labeling system so you know what tackle box you are grabbing, without having to search for the "right" one.
Totally Waterproof
The HyperSeal Tackle box is fully waterproof to prevent rust. It is shock and wear-resistant, and its sturdy frame with a heavy-duty locking latch prevents moisture from entering and protects fishing gear. The tackle boxes come with a unique sealing ring attached to the lid which effectively ensures all your hooks, lures and more remain completely waterproof.
These are not flimsy fishing tackle boxes. They are built tough with heavy duty construction to ensure durability for the lifetime of the box. Your lures will be well protected from the elements, and protected from the weight of various boxes being stored on top of one another while traversing to your favorite fishing hole, or crashing through waves on one of Lake Erie's "bad" days! Tackle boxes in storage compartments of boats take a beating when running lakes, especially on bad days. If you have an older boat like my Javelin, then they lie on top of one another and are getting pounded by each brutal wave you jump. These boxes will stand up to that pounding and not break like a lot of others out there.
Look Ma…One Hand!
KastKing's HyperSeal One-Hand open and close latching system is fast and secure. With one simple motion, you can quickly open the full-length latching system to access your lures or terminal tackle. When finished selecting the proper bait, quickly and securely close the box with just one hand.
The new KastKing Hyper Seal Waterproof tackle Boxes are a must-have addition to your arsenal. Lures and tackle can run put quite a hole in your wallet. Hooks these days are $5 a pack, soft plastics about the same or more. Lures can go beyond ridiculous in the wallet category. How would you feel if that $25 swimbait you bought had rusted hooks after using it once?
These new fishing tackle boxes will end the need for any other box. They are durable, built to last, and will ensure years of water free service for all your tackle and lures. Before you close out your shopping list, pick a few of these boxes up… you can thank me later!