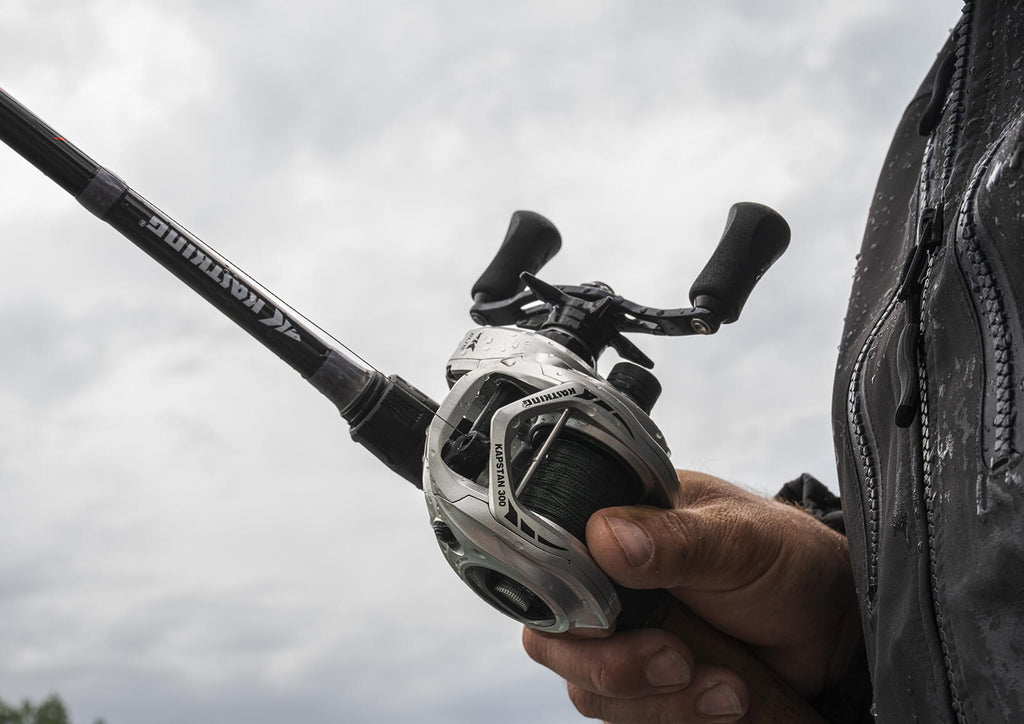 Catfishing With KastKing Gear
Much like Bass Fishing, the consumer market for Catfishing Tackle can be just as maddening and overwhelming while the selection of a rod and reel combo can be a daunting task. One may ask him or herself "where do I begin?" Is everything out on today's market made to catch more fish than fishermen? With today's Viral Marketing efforts (Facebook, YouTube, Instagram, Tik Tok etc) the market seems overly saturated with rods, reels, hooks, sinkers all designed with one thing in mind—-to catch more and bigger Catfish.
Many YouTube Gurus might have you believe that every Catfish swimming is over 15 pounds. This is just silly and simply not true. But even with today's age of information there still remains many myths surrounding Catfish. The intention of this article is not to get too much into depth of certain Catfishing specifics but to offer consumers an affordable and highly effective Catfish rod and reel combination.
The KastKing Kong Rod
Before the release of one of the top selling rods in KastKings 9 year history, was a rod called the KastKing Kattech. Although a fantastic rod they were discontinued because of its high cost and return on investment. These were great, high quality rods but were limited for heavier fishing requirements. The Catfishing market was indeed overwhelmed with specific Catfish rods and the Kattech sadly did not get the attention it deserved. However, in early 2021 KastKing released the KONG rod which was aimed to target big fish not just Catfish. This opened many doors in the "Big Fish" community. At the present time, there are currently 9 different variations of spinning and casting models available. The Kong rod offers much more versatility for catching fish from two pounds to two hundred pounds. Whether it is Catfish,  Alligator Gar, Sturgeon or even saltwater giants like Tuna there are rods rated from Medium power all the way up to Heavy, Very Heavy and even Extra Heavy.
Metaphorically speaking your Catfishing rod does not necessarily need to be a broomstick.  As an example, the Medium Heavy Kong rod is sensitive enough to catch a 5 pound channel catfish, yet more than robust enough to land 30 to 40 pound Flathead or Blue Catfish. Many anglers prefer to use circle hooks or some hybrid variation such as the double action or Kahle design. Regardless of your personal preference of hook, the Kong is designed with a heavier backbone blank with a soft-tipped chartreuse rod tip for early strike detection. Most skilled Catfishermen don't like too stiff of a rod because fish potentially feel too much resistance and can be inclined to drop the bait. In many of these situations a large amount of Catfisherman tend to keep the reel engaged so when the fish takes the bait, the rod tip loads up and the hook sets itself. Others like to utilize an adjusted free spool bait alarm such as a "clicker" or "bait-runner" option on their reels. Both options are effective but it's all a matter of personal preference.  Each method has its pros and cons and will be discussed in the Reels section.
KastKing Reels for Catfishing
Today's Catfishing reels are required to have a reputation of being tough, reliable, easy to use yet affordable. KastKing offers many options for Catfishing that exceed these expectations and goes further than just these simple essentials. KastKing has at least 4 solid options that include a line counter, a low profile reel or a Spinning reel and all have an alarm system instilled. Now, let's take a look at some personal favorites
The KastKing ReKon
The KastKing Rekon with its aesthetic and slick design is available in 2 sizes, both with or without the line counter. ReKon is a conventional reel marketed for many species of fish including Salmon, Trout, Walleye and of course Catfish. Using the line counter feature there is a more accurate consistency to keep your bait in the strike zone repeatedly without the guesswork. This reel has great power for up to 30 lbs of drag. Being a baitcaster the line capacity is exceptional and can hold 320 yards of 25 lb test line in the 20 size model. The ReKon also has 2 handle options the double EVA grip or the round Powerhandle. The ReKon also comes with an audible baitclicker and of the 3 baitcasters being discussed this one has the most sensitive baitclicker.
KastKing Rekon Reel
The Kastking Rover
As one of Kastkings original reels, the KastKing Rover to this day remains one of Kastking's most dependable and best selling reels. A round conventional baitcastimg reel, the Rover is a flagship reel and is being marketed as a new classic. With its nostalgic look and feel it has also been adapted to the saltwater market.  Many Shark fishing guides use this reel as well by removing the level wind and making it more beach and saltwater friendly. This reel too has a bait alarm or the standard "clicker" mechanism to indicate a fish taking out line. This option is now pretty standard on many conventional reels in the 5000 size class of reels and up. Also, the reel comes with a thumb bar spool release compared to the Rekon which is a lever. Personally, I prefer the thumb bar. This reel is also available in a power handle which can also be purchased separately and interchanged with any size model.
Talking again my personal experience with this reel goes back almost 7 years because I was reluctant to spend 120 dollars on another 6000 size Elite series Catfishing reel that had once again failed me. At literally half the price, I was SUPER impressed and I even bought 3 more. I found the 50 and 60 size reels to be equivalent to the 6500 and 7000 size reels. Fact remains my original is still in use today catching many fish up to 30 pounds.
Kastking Rover reel
The KastKing Sharky III Baitfeeder
Many anglers have recently made the switch from conventional reels to open faced spinning models. Some people prefer and find it less hassle and more convenient to use spinning tackle over conventional and baitcasting tackle. And if you have any knowledge or heard of KastKing as a brand; surely you are aware of The Sharky III spinning reel. The quintessential reel, this is the most sought after and probably highest rated of all of the Kastking reels. Did you know it comes in a Baitfeeder model? Until recently, spinning reels with Baitfeeder options weren't readily available. Shimano and Penn are obviously big names in the Fishing industry; they offered a few options, but the reels would retail anywhere from 150-300 dollars. The Sharky III Baitfeeder weighs in at a fraction of that cost.(most models ranging in the 50-60 dollar price range). And from my personal experience has the most audible sounding baitfeeder. The Baitfeeder option has the advantage of setting the drag on how much line is taken out when a fish decides to run with the bait. This is a really nice feature because it can be adjusted to many factors such as current velocity or if you have a hard pulling,lively baitfish on the other end. Sometimes fish such as Flathead Catfish don't make hard, aggressive attacks and more or less grab and slowly swim away. In this case m, you can set your drag a little more loose so you are aware that the fish has the bait. When I'm out night hunting for Catfishing I throw 2-3 rods out at the same time and I always like to have at least one spinning outfit in the water. Check out the reviews on YouTube and/or Amazon. The positive reviews are overwhelming.
KastKing Sharky III Baitfeeder Reel
The KastKing Kapstan Elite 300
Marketed as a swimbait reel for throwing large 1-2 oz baits for larger gamefish, The Kapstan 300 is my personal favorite of all the baitcasting outfits. As the name implies it is an Elite reel made with high quality components and it shows. It has a higher price tag but performs the equivalent of reels that retail for $400. Best way to describe the performance of this reel is just smooth all the way around. Instead of a round reel it is actually a low-profile model. It has a different but much better and effortless approach to Catfishing. The shear power of this reel is unsurpassed with 35 lbs of drag which will stop a freight train in its tracks. I've actually witnessed many people use it for North America's largest Freshwater fish, the White Sturgeon in Colorado and Oregon and also for the 2nd largest species(respectively) the Alligator Gar in Texas and Louisiana. This reel seldom backlashes and handles big fish with pleasure.
KastKing Kapstan Elite 300 Reel
One of the best features is the incredibly loud baitclicker. With an easily accessible switch on the left side of the reel(right handed retrieve), the clicker is so loud that it will actually startle you if you get a bite in the middle of the night while getting your heart racing with excitement. To my knowledge, this is the loudest bait alarm system (non electronic)on the market. This reel comes with twin EVA handles but on Kastkings website and Amazon they offer a custom power handle. This 100 mm aluminum alloy handle provides more turning force, higher torque and reduces overall effort and wrist fatigue. This gives you the fishing reel leverage needed to fight big, strong fish and gives you a superior grip even with wet hands.  Of all the reels for Catfishing this is the reel that checks all boxes
Honorable Mentions
KASTKING BRUTUS ROD A low priced budget friendly option for the weekend Catfish angler. Features a chartreuse strike tip for easy strike detection.
KastKing Megatron Reel Another highly regarded spinning reel available up to a size 6000. A lot of power and torque with this reel
KastKing Royale Legend 200 Large profile high capacity swimbait reel. Similar to Kapstan but not as high end and lacks baitclicker mechanism. Still a good, moderately priced alternative.
Conclusion
In conclusion, I'd like to reiterate and summarize the main points being that you don't necessarily need the most expensive high end or heaviest gear to catch Catfish despite what a lot of social media might have you believe. Most functional equipment will suffice and there are some pretty high caliber Catfish combinations available from KastKing that won't necessarily break the bank. In my attempt, I've tried to list features, advantages and benefits to KastKing rod and reel outfits that will satisfy your needs in both your endeavors and your finances. Also the use of spinning reels and how they can be highly advantageous due to their ease of use, durability and Baitfeeder option. This was to dispel the myth that Spinning Reels aren't tough enough or made for everyday Catfishing. And finally that just because a rod or reel may not be marketed for Catfish it still has the potential to be a solid option in your Catfish outings. Many times there is still a better choice but oftentimes it comes down to preference in your adventure.