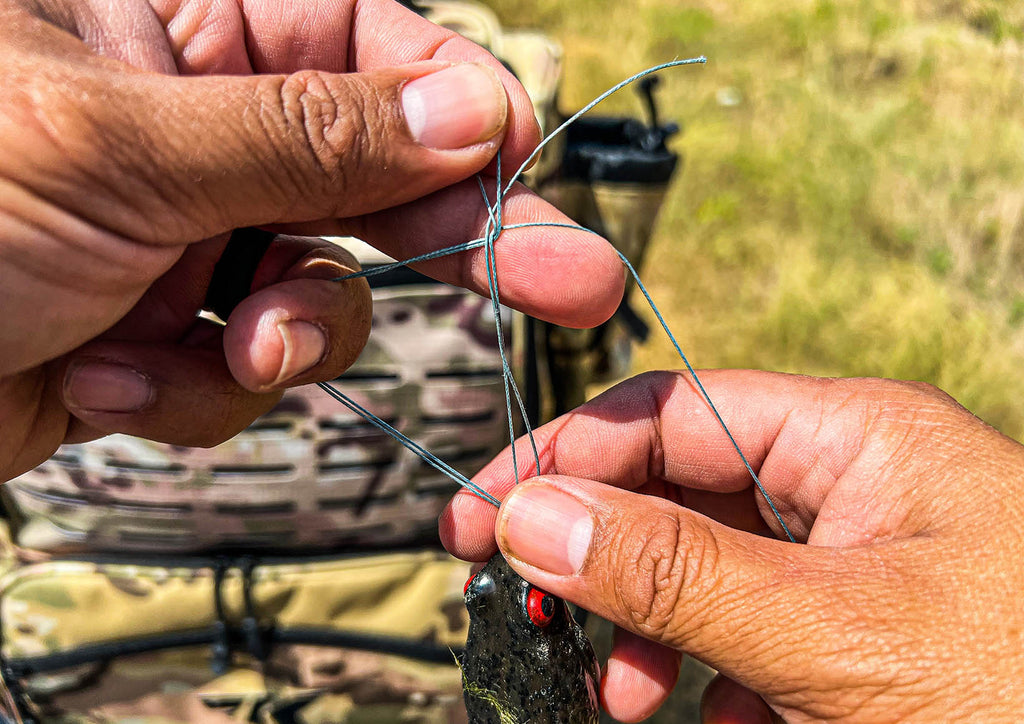 Choosing the Right Braided Fishing Line For Saltwater
When you're considering which fishing line to use on your next fishing trip, it can be tricky to decipher through all of the options available. Do I go for a fluorocarbon, monofilament, or braided line?
It is universally accepted that a braided fishing line is your best option for saltwater conditions. From beaches to boats, rocks to piers - a braided fishing line will always be most helpful in getting you set up correctly.
In this guide, we'll take you through some of the best options for braided fishing lines and which conditions would be best for each line. That way, on your next trip or angling competition, you can be sure that it is your skill that's put to the test – not your equipment.
What are braided fishing lines?
Braided fishing line is one of the newest types of line available to anglers all over the world. Since its introduction, it is one of the strongest types, which is one reason why it is favoured in saltwater conditions.
They're manufactured from a combination of nylon, polyethylene or polypropylene. These materials are known for their strength and have the bonus of being incredibly difficult to break. The sharp teeth of some fish, debris underneath the surface of the water, or any other material that the line may come into contact with in saltwater conditions should be no match for the strength of a braided fishing line.  
Its pure unrivalled strength isn't just due to the material used in its construction but the fact the way that the material is woven and twisted to create one larger strand of fishing line. By twisting and weaving the material, not only are you maximising the strength of the line, but you're able to keep its flexibility intact. Any strong fighting fish will need a line that is not only strong enough to deal with it but also flexible enough to keep in time with a fight.
Size and Strength
Braided fishing lines come in different sizes, with each size having a different diameter and breaking strength. The larger the diameter of the braid, the more weight it can hold before breaking. A 20-pound test (lb) braided line has a diameter of 0.009 inches (0.23mm), while a 30-lb test braided line has a diameter of 0.012 inches (0.30 mm).
The sizing of the line completely depends on the conditions you're fishing in and any special type of saltwater fish you may be looking for. The heavier and harder fighting the species, the larger the braided line you may need. Be careful, that your reel and spool can hold the diameter of the fishing line.
Advantages and Disadvantages
There are many advantages when it comes to using a braided fishing line in saltwater conditions, namely its strength and flexibility. However, there are other added benefits too that include:
Stretch – the lack of stretch of a braided line in comparison to mono or fluoro which increases its sensitivity. This is particularly important when you're deep-sea fishing.  
Visibility – their small diameter relative to their power is a great asset. But what's also great is that they're less visible than other types of fishing lines making them less obvious for potential bites.
Disadvantages
As with most fishing lines, each has its speciality. For a braided line that is its ability to have zero stretch, incredible strength, and flexibility.
However, the price can be quite steep with all of these great features packed into such a small form factor. So, if you accidentally drop them into the water, they're going to sink to the bottom and be lost.
Just be careful with how you're using your braided line. If you need added strength and zero stretch for deep water fishing, then it will be your perfect accessory – but its price point will be higher than fluoro or mono.
The Best Braided Lines For Saltwater
KastKing features a whole list of best-selling braided lines with 11 affordable options to choose from. But when it comes to Saltwater Braided Fishing Lines these are our favourites:
KastKing SuperPower Braided Fishing Line
Ranging from a 6lbs model to an 80lbs model, the KastKing SuperPower Braided Line has more than a few options available. At a great and affordable price-point of $14.99 for the base model, the SuperPower is used all around the world.
Its best features include:
Zero-Stretch
Affordable
Abrasion Resistant
Long Cast Distances
Great for Sensitive Fishing
Robert W. said, "Kastking braided line really stands up to the tough environment and big fish of surf fishing. It's my go-to line. Great value too."
KastKing Destron Fishing Line
With 10 different strength options and seven colours to choose from, the KastKing Destron Fishing Line is a stunning option to take away on your next fishing trip.
Coming in at $24.99, its features include:
2nd Generation MultiTuf Fiber – extreme knot strength
Ultra-Thin Diameter/Zero Stretch – great resistance
Color Fast Technology & Abrasion Resistant Coating
Superior Castability – lighter and can float in water
Randy said, "I switched All my reals over to the Destron Braid, my casting has improved along with more hook ups."
KastKing KastPro 13X Finesse Braid Fishing Line
Known for its extremely smooth performance, its 13-strand construction makes it smooth, supple, and great for those long casting distances. If you find that you need a little bit of extra smoothness and length during your casting, then the 13X Finesse is the one for you.
Its best features include:
Incredibly Smooth 13-Strand Braid
Ultra-Thin Diameter
Knot Strength
Abrasion Resistance
All of these features are jam-packed inside one of the smoothest performing braided lines on the market with a price of just $29.99.
Final Thoughts
When it comes to your saltwater fishing experience, you're going to want a braided fishing line regardless. The one that you choose is entirely up to you, but you're going to have to think about the conditions that you're fishing in, whether it's rough or smooth, and whether the types of fish you're looking for are small or large.
In any case, the SuperPower, 13X Finesse, and Destron are perfect for any occasion, especially with the strength options available for each.
Let us know how you get on with them!