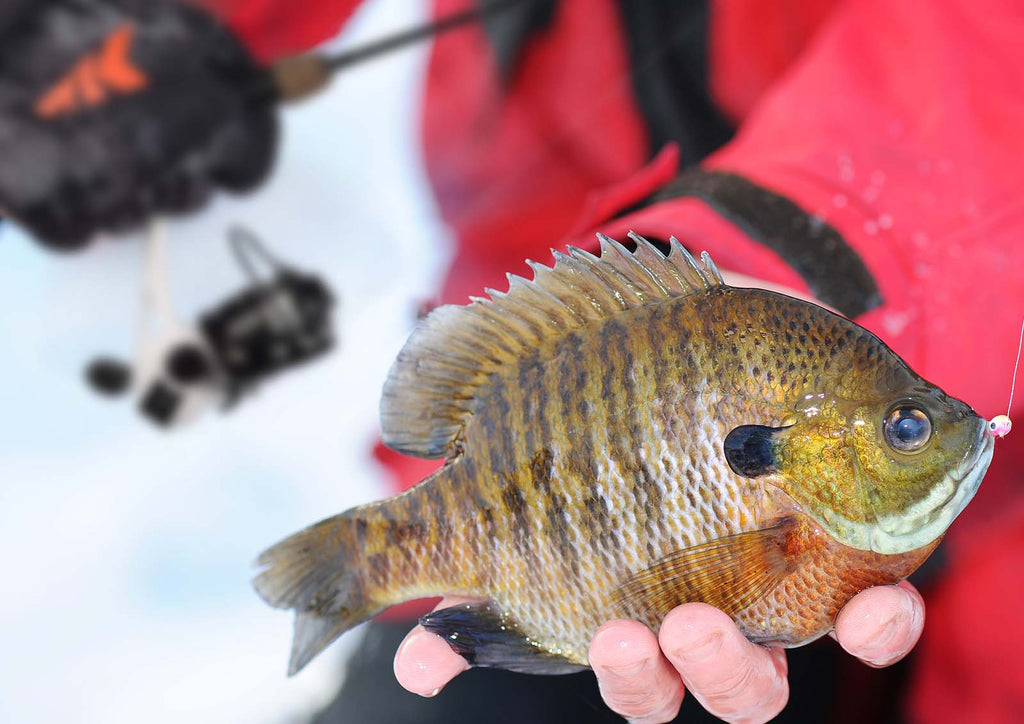 Why Should You Use a Spinning Reel for Ice Fishing?
There are a lot of reasons why anglers opt for spinning reels for ice fishing. In my opinion, a spinning reel, and I am talking a basic spinning reel with minimal bearings and simple gears is the way to go when ice fishing. Have you ever been on the water and had baitcasting or revolving spool reel ice up in cold conditions? Had a line roller cut your line due to ice? These are just a few reasons why spinning reels are the best way to go when you hit the hard water for some ice fishing. I know a lot of anglers that fish the ice every winter.
I live in New York, and even though our winters can be mild, we almost always have the opportunity to hit the ice. After speaking with anglers, and showing them the Royal Legend II, they all agreed that this spinning reel is the perfect choice for ice fishing. They all loved the smooth finish, the lightweight and smooth drag, but most of all, the extended reel stem so they could easily wear heavier gloves. 
Silky and Colorful
The KastKing Royal Legend II ice fishing reel has options for ice anglers that really makes sense. The first option I like is the finish on the body. The body offers a super slick, hi-gloss finish that sheds water, which in turn will reduce icing to a minimum. Another neat feature is the color options. Oftentimes, ice huts are somewhat dark, and at times anglers fish in low light – early a.m. or dusk conditions. The reels are offered in red, green and white, making it easy to differentiate what bait/lure is on an outfit. Believe it or not, the lack of water and ice build-up, plus the color options will add to your ice fishing experience.
A Better Choice
Baitcasting reels in my opinion should never be used for ice fishing. They have too many parts where icing up could cause an issue. The levelwind for one is a real killer that will clog with ice and often cause a break-off or just stop working. On a spinning reel, the bail only has one simple spring, a sealed line roller, and a simple three disc drag for super smooth operation in any condition, even those frigid below zero days on the ice.
KastKing Royale Legend II Ice spinning reels have exceptional 5+1 shielded steel ball bearings that will give a smooth operation, but not too many bearings to have to worry about freezing issues. Add in the precision cut zinc alloy main gears and manganese brass pinion gears, and this is a tough little reel. The non-rusting reinforced graphite body and rotor and a tough anodized aluminum spool just add to the already stellar features of this spinning reel – which is built for ice fishing!
Long Foot
Out of all the ice fishing spinning reels pout there, I do not know of one that offers an extended reel foot stem. This to me is a game changer where cold conditions come into play. Have you ever tried to use heavier gloves when ice fishing, but every time you reel, the glove smacks the bait and just flat out gets in the way of a smooth retrieve? KastKing's extended stem gives you ample room to wear heavier gloves and still have plenty of room to spare.
Light Lines
The last reason to use a spinning reel for ice fishing is lighter and thinner lines or braid. Whenever I fish through the ice, my line choice is usually 4-6 pound test monofilament or fluorocarbon. Small ice jigs and bait are best worked with these lighter lines. Even with Finesse style baitcasters out there, I still feel the spinning reel is a better choice. With light lines, comes the drag. A spinning fishing reel will almost always have a better drag system then a baitcasting reel.
One of the staples when ice fishing is yellow perch. They taste great and are very easy to catch with jigs or bait.
The Grease Factor
Have you ever tried to pour oil in the winter? It comes out a lot like molasses! Imagine a reel filled with heavier oil or gear grease, and then think about how well your reel will work in frigid, below freezing temperatures in the middle of the lake! I opened up the Royal Legend II and the KastKing Zephyr 1000. What I found was a very light and thin gear lube that will not freeze or get heavy and thick under cold conditions.
The Final View
For ice fishing, there is no better choice than a spinning reel. A spinning reel, especially the KastKing Royal Legend II, with its extended reel stem, is by far the best choice. Small spinning reels match better to small ice rods as well. Add in the spinning reel features – smooth drag, lightweight body and frame and simple gears and light grease all make for an exceptional option. Before you hit the hard water this year, make sure you grab the new KastKing Royal Legend II; then again, grab all three colors!