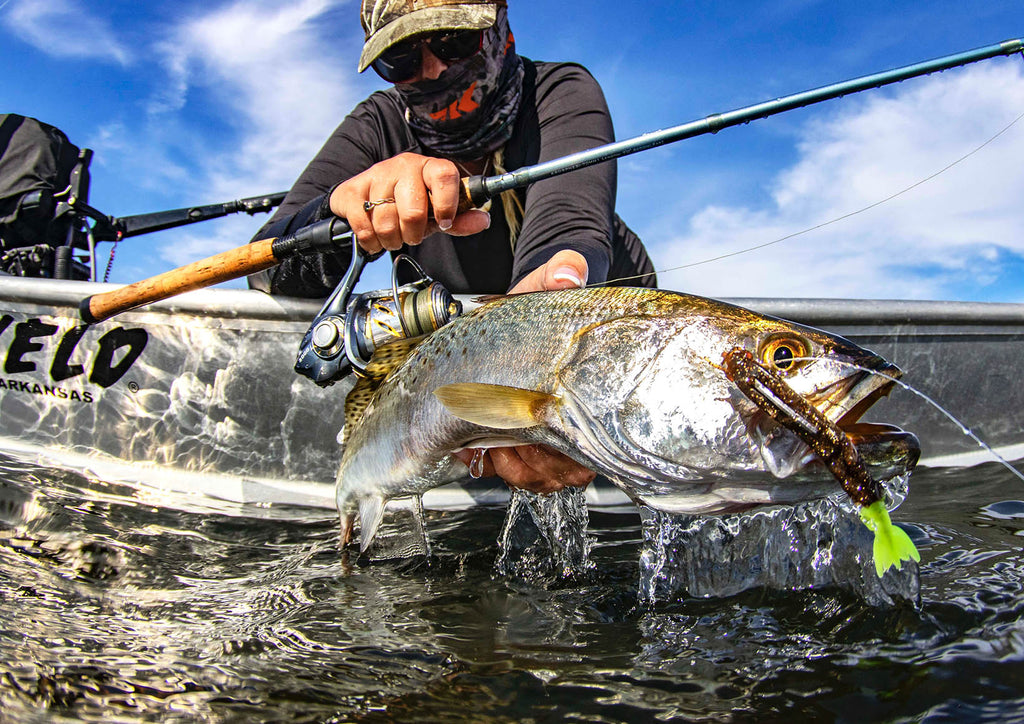 The "Right" Inshore Saltwater Spinning Reel
For years, anglers only used baitcasting reels for inshore saltwater fishing, but in the last 10-15 years, saltwater spinning reels, and rods, have become the staple on most angler's boats and along the shores. The "right" inshore spinning reel is an easy choice, and can vary depending on your tackle and target. Saltwater spinning reels come in a wide array of sizes, and do not necessarily have to be "saltwater only" reels. There are many KastKing reels that will hold up in the salty side if you take a little care. Let's see what I feel is the best saltwater inshore spinning reel, and what others will make the cut and why.
As in any fishing, before you can pick the gear, you need to know what you plan on doing. All inshore fishing is not the same. There will be times when you will be making long casts to busting fish crashing through baitfish. There will be other times when an underhand pitch close to bridge pilings may come into play. And then again, there will be times when you are just bouncing the bottom working a jig or bucktail.
Speed – yes or no?
When I first started surf casting back in the early 70s, the reel of choice was the Crack 300 or Penn 706Z. Both these reels were low gear ratio "coffee grinders" that took in line slowly, but unbelievable cranking power for big fish. The speed of the retrieve comes into play at times when using a spinning reel. There were no "real" fast retrieve spinning reels, not did we have the need for them. If we wanted to get the lure back in quicker, we reeled faster! Fast forward to today's angling and reels come in from super hi-speed to low gear ratios, all of which can have a place in your arsenal.
Bear in mind, how well the reel is made and how resistant it is to saltwater should have more of an impact in my opinion, then the gear ratio. In all the years I have fished, never once did I say to myself, "I need a higher or lower gear ration." Gear ratio on a spinning reel for saltwater is more of a "want" then a "need."
The Build
To me, the best spinning reels for saltwater use are the ones that have high IPS ratings, quality components, machined parts and a lot of bearings! If you search the gamut for saltwater specific spinning reels you will find every major manufacturer has their version. And, believe me, they all make high quality, solid reels. Then we have the KastKing advantage where what is the best saltwater spinning reel shines. KastKing makes, in my opinion, one of the best saltwater spinning reels on the market today – the Kapstan Elite Saltwater Spinning Reel. Let's scroll through a few of their reels and see if we can find the "right" inshore spinning reel for your needs. Although the only KastKing reel specifically made for saltwater is the Kapstan, there are a few others I have used extensively in the salt with no issues.
Kapstan Elite Saltwater Spinning Reel
I first got my hands on this reel back in June of this year. The one I grabbed was the 5000. I felt it would be a good match to my 11-foot surf stick, but could also double for casting from the boat with one of the Estuary series of rods in the 8-foot class for big stripers and blues on popping plugs or live bait. Although the specs call it "engineered for offshore fishing," this reel is a great match for inshore, pier and beach fishing.
This inshore spinning reel is a great build offering a quality design and components. As for saltwater resistant, the IPX6 rating makes saltwater virtually impossible to gain entry into the gear case. Wash this reel off after every use, and I am sure it will last a lifetime.
IPX6 Waterproof Rating
15 EverSeal rubber rings to keep water out of main gear housing
Intrusion Shield System includes labyrinth-style greased sealing grooves that reduce rotational resistance and provide an innovative water-tight seal
Triple, quad or double drag system depending on size
Six double shielded stainless bearings
8-pin stainless one-way bearing insures zero issues with reversing
Coming in at under $200 for the largest size 8000, this is truly a top inshore spinning reel that you need to add to your arsenal of rods and reels.
Sharky III Baitfeeder– 6000
If you like to fish bait, then the Sharky Baitfeeder III is the way to go. This reel offers anglers the ability to fish bait, and have the same "clicker" effect you get on a baitcasting or round style reel. The reel is a solid edition to your inshore saltwater spinning reel option. It also can be used casting artificial lures, so you really get two style reels in one.
10 + 1 Stainless Bearings
Front and Rear Drag Options
Carbon Fiber Drag – Smoothest drag available
CNC Aluminum Braid ready spool
What I liked about this reel is the weight. It is extremely light for its size, making tiresome effort while casting a lot during the course of a trip. The dual drag feature also makes it easy to have drag pressure to fish, and drag pressure on the baitfeeder system when it is in use.
Spartacus II – 5000
I have been using Spartacus II inshore fishing reel for a few months now in the back bays of Long Island in search of blues, school size stripers, albies and bonito. I fish for these with spoons, tins and popping plugs. The reel has worked well, casts great with no issues and has held up great. It boasts a lot of solid features and is a great bargain on the wallet.
As for maintenance, the bottom line with this reel is it is not impervious to saltwater intrusion. It offers what most reels not made for saltwater offer – bearings and good components. Then again, at a retail price under $50, getting several seasons of zero issues makes it a solid inshore spinning reel option.
22-pound triple disc carbon drag
Hamai cut precision gears – extremely accurate and precise dimensions
Oversize stainless main shaft for strength
Ceramic line roller – great for saltwater applications
This reel is tough. It offers a good bail system, strong drag and has worked well in the saltwater environment where I used it. After months hard use, the reel shows no flaws and works as it did when I first took it out of the box.
Solid Inshore Fishing Reels
The best inshore spinning reel by far is the Kapstan Elite, but the Sharky and Spartacus will serve your needs well on the inshore fishing grounds. The key with any type of saltwater gear is maintenance and care. After every outing, and I do not care what time you get home, all your rods and reels should be hosed off with freshwater. That means you also need to take the spool off and clean the drag washers too!
I have and use all three of these reels a lot… they are great additions, grab them all, or if nothing else, grab yourself a Kapstan Elite!