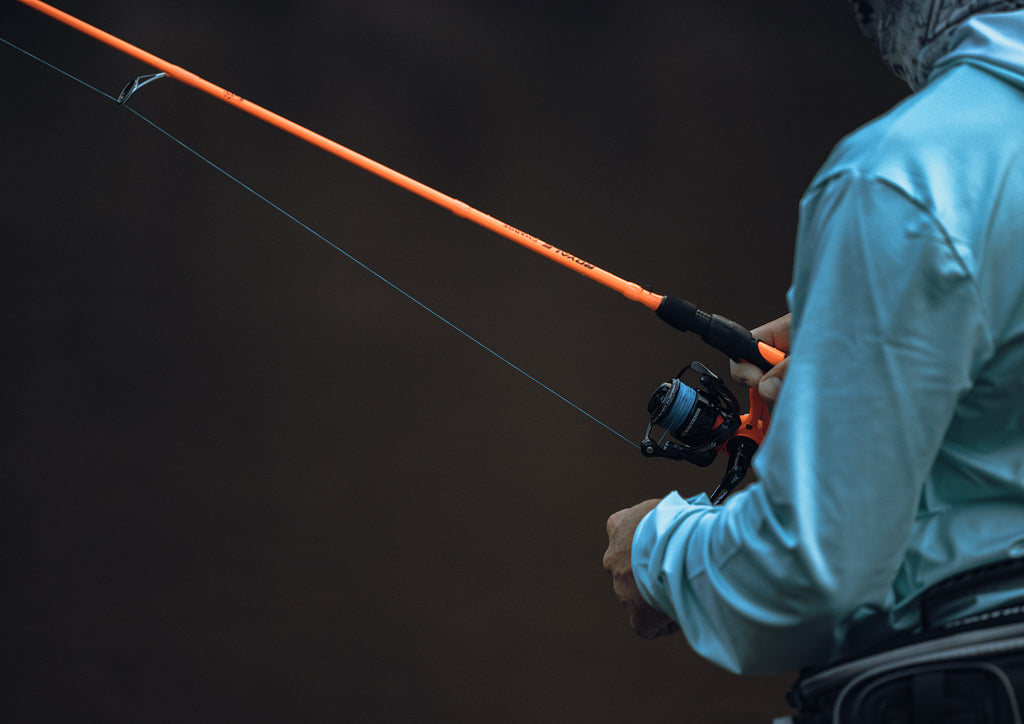 Choosing The Right Braided Line
Fishing line can be a confusing choice to make. After settling on braided fishing line from the assortment of fluorocarbon and monofilament opions, it should get easier. Should. Instead, anglers are left with strand count, color, thickness, and strength decisions. Fear not; we will cover all the nuances of selecting a braided fishing line to simplify your next purchase.
Strand Count
Strand count is one of the most counter-logical aspects of braided fishing line. The lower strand count line is comprised of thicker strands. Thicker strands on the lower count line make the line a larger diameter than the higher strand count. For reference, a four-strand 25lb test line will be thicker than an eight-strand line. While most anglers will default to the thinnest line possible, there are some reasons why the low strand count is better.
Firstly, the thicker line has higher abrasion resistance. Four (comparatively) thick strands like on the Kastking Extremus can take more knicks and rubbing against cover than the more delicate strands of high count lines. Secondly, dovetailing into the first reason, the thicker strands are more aggressive. In areas with dense cover like thick lily pads or submerged pilings, the coarser line will saw through the soft cover.
A higher strand count is ideal for anglers looking for an ultra-sensitive line that casts easily. The six or even eight-strand weave is more responsive and smoother, creating less drag. The high sensitivity in high strand count braid makes it ideal for anglers looking cast long distances or fish lures requiring subtle presentation like topwater baits.
Thickness
Following close on the, heals of strand count is the thickness of your braid. A thinner braid will increase the capacity that an angler can fit on their reel. Increased capacity is a major influence as to why anglers choose braid to begin with. Braid like KastKing's Kastpro is 75% thinner than monofilament of the same strength. A thinner line also cats better by creating less drag, just like strand count thickness will depend on what type of fishing you are doing. With techniques that don't require much casting but require tremendous strength, like flipping jigs, a thicker braid is the choice. When trying to cast long distances, especially with lightweight lures like a soft plastic, thinner lines work the best.
Strength
A huge advantage of braided fishing line is its incredible strength rating. Braided line punches well above its weight with the. Complex weaving processes like that of the KastKing's mechanical "Diamond Weave" creates a line that is ten times stronger than steel, eclipsing the breaking weight of the lines rating. Strength can be a double-edged sword. For example, if a line becomes snagged on an outcropping or with some fishermen stuck in a tree, there may be no way to break the line other than cutting it. Braided line's heavy strength is great for dragging lures and even fish out of dense cover. Largemouth bass and even saltwater species like snook will wrap themselves around plants and stumps to escape anglers. Having a high break strength allows anglers to muscle fish away from this cover and potentially out of these songs too. 
Color
Color is a consideration that is low on the list of concerns for many anglers, but it should still warrant consideration. While the thin diameter of the braid already keeps the chance of spooking a fish to a minimum, it isn't always enough. By selecting a green or darker color braid, anglers can reduce the chances fish will see the line when conditions are murky. For clear water conditions, white or gray can work well. Some conditions call for extra visibility. When trolling or fishing multiple lines, high visibility colorations are preferred. When trolling, fish are focused on the movement of the lure and not the line that is usually barely in the water. Fishing multiple baits, such as when crappie or catfishing baits are often suspended from a low visibility leader, so line color doesn't matter.
KastKing uses a colorfast coating to lock color in. A color that won't fade from the sun or time in the water. 
From fishing ultralight stealth setups for wary freshwater fish to literally cranking fish out of their mats of cover, braid has an option. With an understanding of the differences in strength, color, strand count, and thickness, an angler can find the perfect option for their style of fishing. While it may seem difficult to find so many different styles of braided fishing lines, KastKing has everything anglers need, from the ultra-sensitive to the sea monster slaying. Your next personal best fish is waiting. What braid will you choose to land it on?