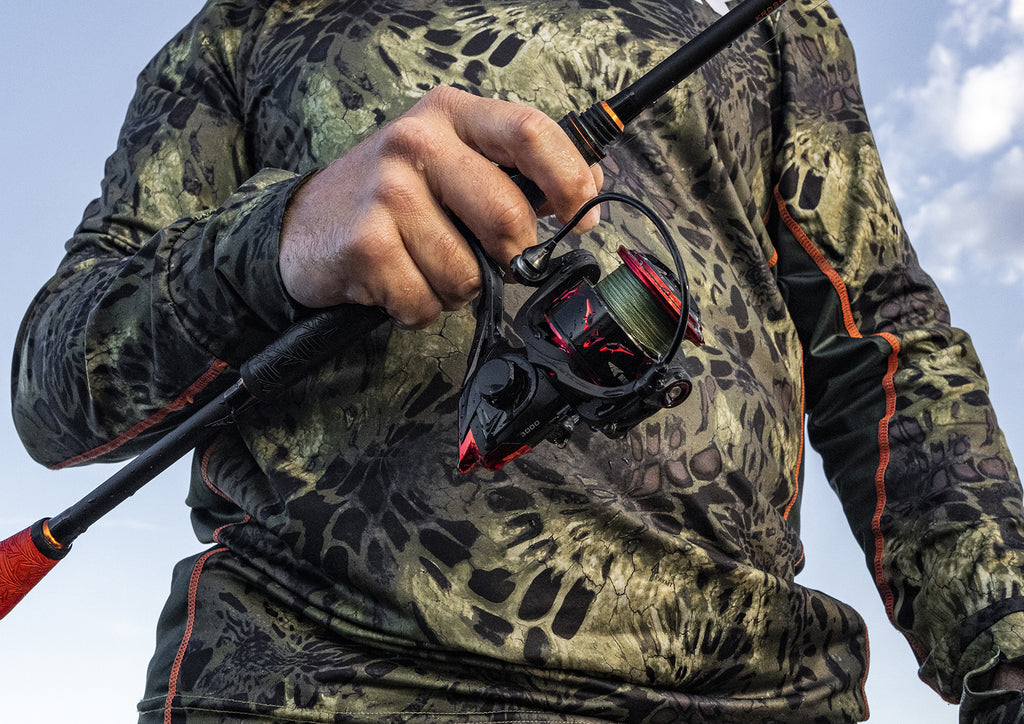 The Best 3 Braided Fishing Lines Of 2022
Deciding on the right type of fishing line may seem like the most complicated of choices. To some, it may even seem like one of the least important equipment items. But that is where they would be wrong.
Arguably, each piece of fishing equipment is essential in getting its user to become successful. Each item works in tandem with all the others to create the smoothest, strongest, and ultimately most comfortable angling experience.  
But if you want those ultra-smooth casts, smooth drag performance and strength in reeling in some trophy fish, then the line that you use is as important as ever. But when you're not sure where to start, it can be overwhelming with such variety, from monofilament lines and fluorocarbon lines to braided lines and fly lines.
In this guide, we'll explore all the advantages of braided lines, as well as the Best 3 Braided Fishing Lines of 2022.
What is a braided fishing line?
Well, it says it within the name. A braided fishing line is essentially made through weaving fibres of high-strength material to create a strand of line. The interwoven strands will help create a strong line with even stronger abrasion resistance.
Some of the benefits include:
It's super thin meaning you can spool your reel with more line and increase the distance of your casts.
It's slick which allows casting to be smooth.
Incredible strength – not only is it outstandingly strong but it comes with incredible abrasion resistance capabilities.
No stretch – making it super sensitive.
With all of these benefits, it is no wonder that it is a fan favourite within the angling world. Take a look at the next section to see our Top 3 Braided Line recommendations for 2022.
When would you use a braided fishing line?
The most obvious answer to when an angler would bring out a braided fishing line is when they need something with a little stretch and a large casting distance. If we think about some of the fish that pose great challenges, there are two types – big and heavy or small and agile – both playing into two different methods of fishing. A braided fishing line plays into both hands. 
But we're going to go one step further and give you some real-world examples of when you might need to use a braided line – to help you get a better understanding. 
When you've chosen to fish on open flats - a light braid works well.
Fishing around structures – stronger line builds allow you to quickly pull your catch from the structure whilst having the abrasion resistance to stay strong in the process.
When you're working plugs and lures – the sensitivity of the braided line makes it perfect for those baits that have any movement involved with them. It allows any angler to feel everything that meets the hook and gives even greater contact. Ultimately, it leads to increased catch ratios.
When you need lots of line – with a braided line you'll find that you can load more line onto a smaller reel due to its diameter. Don't worry though, its size won't compromise its strength.
High Winds – braided line reduces the impact of any wind knotting. Its practically zero stretch capability and low memory allow for incredible strength.
Top 3 Braided Fishing Lines
#1 KastKing SuperPower Braided Fishing Line
With its name providing insight into just how good this KastKing Braided Line is – it truly feels as if it has a superpower. With incredible knot strength, its dynamically incorporated strands make tying knots simple and solid. Its special treatment that negates the use of wax coating allows the line to zip through the guides giving a great lure swimming action.
Other features we love include:
Low memory – less chance of wind knots and more chance of catching those trophies.
Greater Abrasion Resistance – you won't ever have to worry again about your line breaking or becoming weaker. Coming across rocks or tough structures in the way of your catch – the SuperPower can get past those in a breeze.
Zero Stretch – with practically zero stretch you'll be granted ultra-high sensitivity.
Diameter – unlike other braided lines on the market, the SuperPower Braided Fishing Line allows you to spool more line onto your reel.
Coming in at just $16.99, we think this braided fishing line is a winner. At a great price point, you're guaranteed features that take you to the next level.
#2 KastKing Destron Braided Fishing Line 600 yards
At a slightly higher price point ($24.99), the Destron Braided Fishing Line (600 yards) can be sold in seven different colour variations. With 10 strength options ranging from 6lbs to 80lbs, this braided line has unparalleled strength and toughness. It is the MultiTuf fibers that underwent machine-induced reverse spin, and pre-treatment that allow for the strength to be increased dramatically compared to other braided lines on the market.
Other features we love include:
2ndGeneration MultiTuf Fiber – Enhanced with Ultra-High Molecular Weight Polyethylene material provides great knot strength
Zero Stretch and Ultra-Thin – thinner diameter allows for a thinner line without compromising on its strength. With its zero stretch capabilities, you'll feel everything that meets your line – you can focus on what matters
Abrasion Resistant Coating – alongside our CFT which allows for the colour of your line to remain, our abrasion-resistant coating makes your line stay stronger for longer.
#3 KastKing KastPro 13X Finesse Braid Fishing Line
Our final recommendation is one of our favourites. Priced at $29.99, the KastPro 13X Finesse Braid Fishing Line is expertly designed to bring you the best design.
The 13X in the name refers to the 13-strand braid consisting of ultra-high molecular UHMPE fibres. They're crossed 36 times per inch which creates a smooth, supple, and long casting line for all your favourite angling methods.
Other features we love include:
Ultra-Thin Diameter – 75% smaller in diameter than similar monofilament lines. Made specifically for finesse techniques, the ultra-thin diameter allows you to do this.
Knot Strength – fantastic line to leader and line to lure knot strength. Set your hook hard and off you go with incredible sensitivity.
UHMPE Fibers – 10x stronger than steel.
Abrasion Resistant – fish around trees, rocks, and other tough structures without hampering your fishing experience. Our expert product allows you to push further and harder, catching bigger trophies in the process.
Head over to our product page to get your customised 13X Finesse Braided Line now!
Roundup
Braided lines are known for their quality, durability, and abrasion resistance. With practically zero stretch, you'll have an ultra-sensitive line to help you finesse any technique that you try. Watch your catch ratios increase whilst you proactively challenge an angry, quick-moving species.
Enjoy your new line and let us know how you get on!