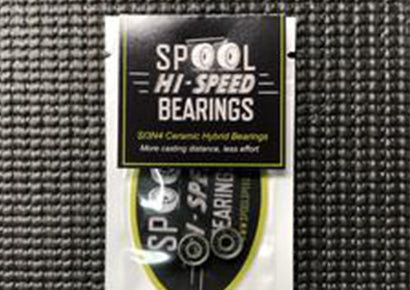 Does KastKing Use Spool Speed Bearings In Their Fishing Reels?
KastKing is often asked if KastKing fishing reels have Spool Speed bearings.
 KastKing manufactures dozens of different baitcasting reels and spinning reels. Some of the KastKing fishing reels use MaxiDur bearings, which is a KastKing bearing material, not stainless steel, but has properties that add durability and greatly reduce corrosion. Many KastKing baitcasting reels and spinning reels use shielded stainless steel bearings. In the KastKing Bassinator Elite baitcaster, KastKing Extreme Speed Nano Polished Stainless Steel Ball Bearings from Japan are used, they are extreme speed bearings, which equal the casting performance of ceramic ball bearings.
At this time KastKing has chosen not to use ceramic fishing reel bearings for a couple of reason. 
The Expense of Ceramic Fishing Reel Ball Bearings
Ceramic bearing are expensive. Using them would be counterproductive for the KastKing Affordable Innovation motto. The cost of ceramic bearings would push the selling price of a KastKing fishing reel into a price range that would not likely meet consumer demand. 
Ceramic Reel Bearing Noise
Yes, ceramic ball bearings work well and don't need lubrication. But, a big negative is that ceramic bearings are noisy. And yes, adding oil does reduce the noise, but that defeats the asset of not needing lubrication; right? KastKing has quality control standards for bearing noise. Ceramic bearings can't match that requirement. Bearing noise is a common complaint among fishing reel buyers.
 About Spool Speed Bearings
Spool Speed or Speed Spool Bearings (as they are sometimes incorrectly called) are ceramic bearings. With that said, the cost of the bearings and their inherent noise don't meet the needs or standards of KastKing.
In some future fishing reel products KastKing Extreme Speed Nano Polished Stainless Steel Ball Bearings may be used, which are the ball bearings used in the Bassinator. They spin forever, are extremely quiet, are available at a lower cost, and they help KastKing fulfill the Affordable Innovation philosophy and "Designed for performance; Engineered for the Win." KastKing Bassinator Elite baitcasting reels are used by bass fishing tournament pros and serious recreational anglers.
Info About Ceramic Fishing Reel Bearings
For more information about ceramic fishing reel bearings you may wish to read the KastKing Blog article - Does Kastking Use Ceramic Ball Bearings In Fishing Reels?