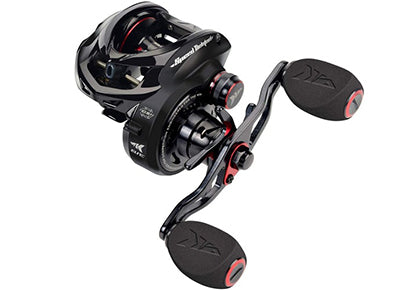 Has KastKing Made Any Improvement In Their Products Since The Beginning?
If you have ever wondered if KastKing has made improvements to their fishing tackle since they started this is a story you will want to read.
KastKing Has A History Of Improving Products
"I've been at KastKing since the beginning," says KastKing CMO Tom Gahan. "In the early days we didn't have the engineers and designers that we added in later years. We not only made changes to products, we also eliminated some that didn't meet customer satisfaction. As we grew; we learned. It was a struggle at the beginning to find a balance between providing the best fishing reels we could for the best price. Experience is a good teacher. As KastKing progressed, it was always on an upward spiral. We always strived to be better and not stagnate. If a product wasn't eliminated outright, we worked at improving it."
The Case of The KastKing Rover
The iconic KastKing Rover conventional round casting reel was one of the original KastKing fishing reels and is a good example of changes at KastKing since the beginning. As the Rover series climbed, the casting reel underwent a few more significant improvements and changes to increase the drag and stronger side plates were added. All of the ball bearings were upgraded from regular ball bearings to MaxiDur Double Shielded Stainless Steel Ball Bearings, and two more ball bearings were added at critical points. The quality of the gear side covers were improved by upgrading them to thick aluminum. Plastic idle gears that are still being used by other major brands were upgraded to patented brass idler gears in the Rover. The carbon drag was increased by about 50 percent. Some of the other changes along the way were cosmetic, although the classic red color of the KastKing round conventional casting reel has always remained.
You can watch the whole story in this video: FIVE YEARS LATER the KastKing ROVER Fishing Reel - a Conventional Baitcasting Fishing Reels HISTORY https://youtu.be/OT4kUtFBGdg
Royale Legend Baitcasting Reel Makeover
The KastKing Royale Legend baitcasting reel was in the lineup for a long time. This KastKing reel has been many anglers' favorite baitcaster since 2014. It's another example of change over time. With upgrades in technology and new developments, KastKing decided on a redesigned model with improved features and created the Royale Legend II baitcaster. 
KastKing Royale Legend Series Royale Legend II Baitcasting Reels were totally redesigned for comfort and super performance. It's a compact size low profile baitcaster fishing reel combined with a concealed side cover release that makes the reel comfortable even after thousands of casts during a fishing trip.
The new Royale Legend II casting reel has carried the legacy and set a new bar for performance and durability. For the first time, KastKing implemented the double bearing supported pinion gear technology to a $40 reel, that delivers a 35% increase in smoothness under load compared to the original Royale Legend. This new design structure increases durability by an astounding 30%.
Royale Legend II provides faster gear ratios than the previous models. The new 5.4:1 gear ratio model is perfect for crankbaits or slower presentations, while the 7.2:1 gear ratio model that quickly picks up fishing line at 29.8" per turn is great for pitching jigs or burning baits at high speed. Compact design also saves weights for Royale Legend II, making it just 7.2oz, which is lighter than most of graphite side covers and frame casting reels available today.
KastKing's new Royale Legend II casting reels are equipped with an extra-hard stainless steel main shaft, Hamai (Ham-Eye) precision machined brass gears, diamond shape ceramic line guide and CNC aluminum spools for strength and durability.
The new Royale Legend II fishing reels include a newly designed, dynamic magnetic braking system with 8 magnetic buttons, compared to only 5 or 6 on most other reels. Royale Legend II's ten-level adjustable braking system eliminates casting issues while maximizing casting distance and fishing line control in windy conditions.
KastKing Speed Demon Baitcasting Reels Evolve
KastKing came out with the Speed Demon high-speed baitcaster several years ago, which underwent improvements and evolved to the KastKing Speed Demon Pro baitcasting reel. Then, in 2020 KastKing implemented numerous improvements and rethought the design of the Speed Demon series and introduced the Speed Demon Elite. It is the world's fastest baitcasting reel with a 10.5:1 gear ratio. Some other improvements over the Speed Demon, in addition to being an even faster reel, are: Hamai Cut brass main gear and pinion gear, CNC aluminum alloy frame with carbon fiber side covers, "Demon Eye" design micro-control magnetic brake system, line memory dial, patent-pending line guide, easy maintenance oil port and water drainage port, palm-perfect design and a short main shaft for weight reduction, higher speeds, and longer casts without noise. 
KastKIng also made the Speed Demon Elite available in a  8.5:1 gear ratio. Two different ratio models were never the case with the original Speed Demon casting reels. 
With the addition of the KastKing Research and Development Center in 2020, it has given the KastKing brand a new resource to comprehensively test new products at every stage of development, before release, and again after fishing with them for a period of time. 
So, there you have it. These are only a few examples of has KastKing made any improvement in their products since the beginning