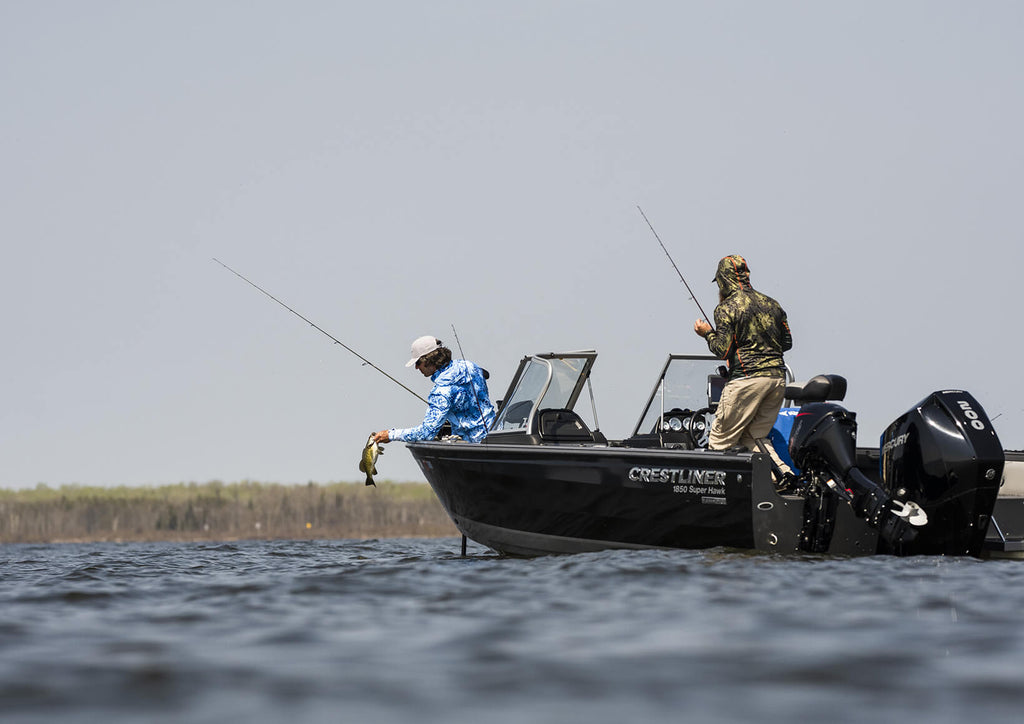 Fishing Reels: Pros and Cons
Fishing reels come a wide variety of styles, and they all have their pros and cons. There are high-speed reels – spinning and baitcast, low profile baitcasters, round revolving spool, fly reels, spinning reels from tiny to very large and spincasters. They all have their place in the fishing world, but some are better for certain circumstances than others, while some will be multi-faceted.  
The Spincaster 
The first reel up is the old Spincaster, which has been around since 1949 when Zebco introduced the closed face reel. This reel, with its push button design was a hit for youngsters. It was very easy to cast as all you had to do was hold the button down, then let go. Ease of operation made these reels a good choice for beginners.
Although these reels have come a long way as evidenced by KastKing's Brutus Spincast Reel, they still have some drawbacks, but they are minor. The reels were never "great" in the drag department, and are better suited for relatively light line due to the small pins used as line pick-ups. 
The "starter" reel built for ease of use and great for the kids.
The Fly Reel
The fly reel is a simple round reel where casting is made by pulling line off the reel while working the rod. These reels fill a niche where anglers opt for this style of fishing. Fly fishing is great on the flats of Florida where presenting a fly in the subtlest of ways is needed to entice strikes from wary fish. They are also a good option for tossing a small size 22 ant fly for brook trout.
The only real downside to these reels is type of angling you plan on entertaining. The fly reel is not made to throw heavy sinkers for bottom fishing, nor very good at speed cranking a spinnerbait. These reels are made for flies, streamers and small poppers. 
Round Revolving Spool 
The Round revolving spool and round baitcaster is another early reel that has been here for a long time – back around 1820. These reels were used in both freshwater and saltwater, and on panfish all the way up to tuna and sharks. As years moved on, the levelwind option was added, making the reel great for freshwater. These reels are super for straight down fishing from boats, trolling the canyons or large lakes and jigging spoons and the likes. The reels, due to low gear ratios are very powerful.
On the down side, round revolving spool reels for the most part do not cast that well. Sure you can cast them, but it takes a lot of practice and a trained thumb. They are also very limited where a fast retrieve is need as most are low gear ratio reels. 
The round style reel is best for saltwater trolling, jigging and bottom bouncing, but smaller models can be used in the freshwater casting game too.
The Baitcaster 
The baitcaster is today's modern freshwater go-to reel for most applications. In fact, now that we have the KastKing Bait Finesse Fishing Reel, they are even used for light applications. The key with baitcasters is they are built for accuracy, speed and cranking power as they come in a wide range of sizes and gear ratios. For the most part, baitcasters are small – 100-300 sizes are typical. They can be found in low gear ratios for cranking, or high ratios for speed retrieves, ratios in between for other applications.
The throwback of baitcasters is backlashes or over-runs. This is where you make the cast and within seconds your line explodes on the reel making it look an instant Chia Pet! The only other slight downside is they are not easily serviced unless you have a pretty good handle on reel repair knowledge.
A great reel for accuracy in freshwater and light saltwater applications
Spinning Reels
The spinning reel which has been around since 1905, is probably the most versatile all-around reel. The spinning reel comes in sizes from tiny size 50 ultra-light freshwater models to large offshore beasts like the size 8000 KastKing Kapstan Elite Saltwater Spinning Reel. These reels have quality drag systems that can put a tremendous amount of pressure on fish. They make casting a breeze, and there are no issues with backlashes as the spool is fixed and does not spin. These reels are the mainstay where any type of casting is needed. Depending on the size, you can cast heavy loads for bottom fishing from the beach, or light jigs for sliding the bait up under a dock.
The negatives are minimal where spinning reels are concerned. The one negative I have found is the line roller. If you do not maintain the line roller and pay attention to it, it can get bound up and not spin, causing friction and possible line breakage issues. The other small issue is when the bait is flipped, it can add to line twist. And, lastly, if you do not pay attention to the line on your spool, a gigantic wind loop will come flying off on a cast. 
The spinning reel is the most versatile reel.
In Conclusion
Out of the four styles of fishing reels, the most popular is the spinning reel. This reel is easy to cast for all ages, and comes in all sizes. The baitcaster and round revolving reels fill the need for flipping jigs, speed cranking and heavier weights and trolling respectively. The fly reel is your go-to "fly fishing" reel, while the spincaster, with its simple design is great to get the kids started.