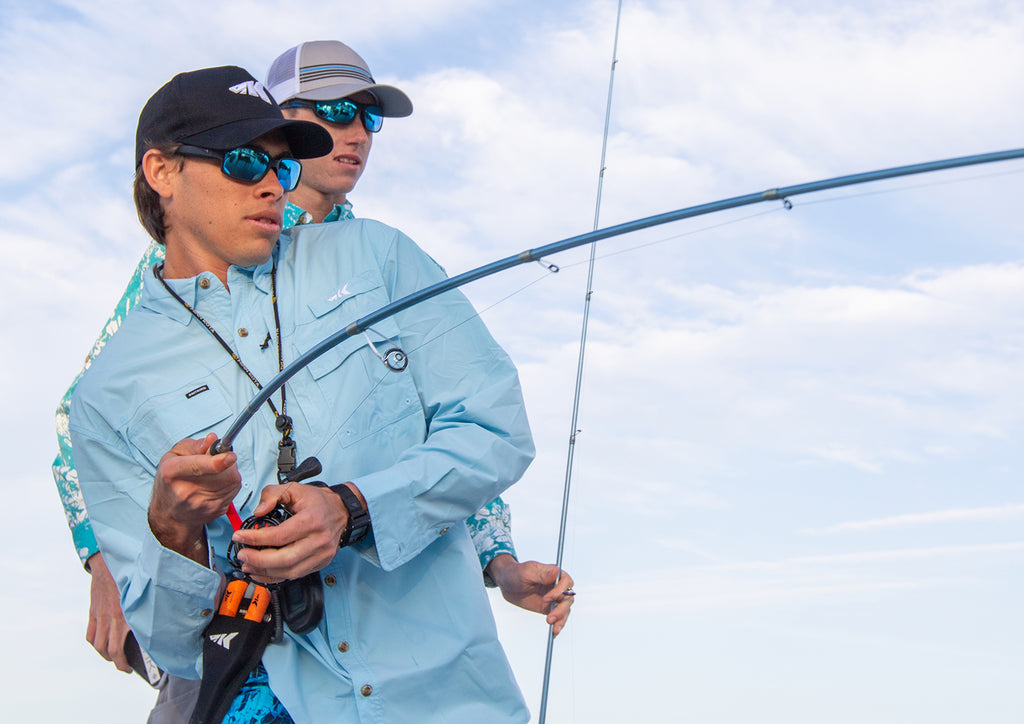 Saltwater Fishing Gear: Getting Started
All around the United States and many other countries lies huge bodies of saltwater. These waters hold a plethora of marine life, including some great species for anglers to target. If you are like some, saltwater fishing may be new to you. Before you head to the saltwater side of things, let's take a look at what you will need to get started in saltwater fishing, and the gear you should start with.
The Fishing Bag
One of the first items you need is a tackle bag! Sure, you could use the bag you house all your freshwater gear, but come on, do you really want to be changing out tackle depending on whether you are plying the freshwater grounds or hopping into the saltwater arena? The Kastking Fishing Tackle Bag lineup offers several sizes to handle your needs. For starters, the "Hoss" is a good starter bag that will hold enough gear to get you going, and is easily toted around. For me, I prefer the "Lunker" because it holds a ton of gear…and I tend to carry quite a bit! The largest model, the "Hawg" is a true beast and is probably best to transport gear to the boat where it will stay rather than back and forth to the house.
Hoss

7-3600 Trays
4 Mesh Pockets
7 Exterior Pockets
25

Lunker

4-3600 Trays
8-3700 Trays
4 Mesh Pockets
10 Exterior Pockets
7X13X10.6

Hawg

5-3600 Trays
12-3700 Trays
5 Mesh Pockets
12 External Pockets
4X11X15.4
The mid-size KastKing bag is a perfect for toting all the saltwater tackle you could need on a given trip. 
The Fishing Tools
Just like freshwater angling, you will need a good set of tools. For saltwater, they are similar, but you might want to up the sizes a little. In saltwater you will be dealing with larger fish to fillet, larger hooks and swivels, and most of the time heavier fish! 
The KastKing Speed Demon Pro fishing plier in the 8.5 inch length offers a full 3-inch jaw length, which is ideal for unhooking fish and offers a firm grip for minimal slippage. For filleting your favorite catch, the KastKing Spartacus fillet knife in the 9-inch size class will make filleting a easy. If you are like me, and release most of your catch, then you have to have a KastKing Waterproof Floating Digital Fishing Scale in your bag at all times to get an accurate weight on the trophy before you release. And last, but not least, you should have a good quality landing net. Frabill makes an awesome product and is available in various size hoops and handle lengths depending on whether you are on a boat, or fishing the pier or dock. The knotless telescoping conservation net offers a handle length from 25 to 60 inches, plus a large hoop up to 23 X 26 inches for those trophy stripers, drum, summer flounder and more. 
The Fishing Reel 
Unlike freshwater where most times the tackle you are using is in the 1 ounce and under range for the most part, saltwater fishing will see jigs from 2 to 8 ounces, sinkers to hold bottom up to 16 ounces and more, plus a variety of large lures weighing 2 to 6 ounces. For these weights, you need a solid set-up. 
The KastKing Rover series of reels will get the job done in the round style reel department. They come in a variety of sizes, and will handle whatever weights in the lure, sinker or jig range you choose. The smaller size 40 is good for all around inshore saltwater action, but if you want to battle a big boy like a 150-plus pound tarpon, then you might want to opt for the largest size 90. The reels also come in right and left handed retrieves. These reels are ideal for boat and pier fishing where casting is at a minimal most of the time.
For casting, there is only one reel I would highly recommend, and that is the new Kapstan Elite Saltwater Spinning Reel. This is the latest in a great lineup for KastKing. The reel is super smooth and is built specifically for saltwater. The reel comes in various sizes to meet all your casting needs. Whether you are casting small soft plastics to bridge abutments or heaving large 4-ounce Bottle Plugs to stripers along the beach, the Kapstan Elite Spinning Reel will get the job done.
Having the ultimate spinning reel and valuable tools at your disposal will make the salty side a breeze. 
These reels can be matched to any of the Kong Series of rods. Simply pick the Kong that best suits your technique. If you are casting from the pier, the 10-foot model is a great choice. Are you jigging spoons for stripers or bluefish? Then go with the 7-6 casting model. For inshore soft plastics and lighter lures, the 7-foot spinning rod will match nicely to the Kapstan Elite 3000. These are just a few, and the combinations are limitless.
The Fishing Line
For fishing line, I like to keep it simple. In saltwater I prefer braided line with a fluorocarbon leader, plain and simple. For the Rover the KastKing Destron Braided Fishing Line, which also comes in 600 yard spools is a great choice. For lighter inshore action, 20-pound test will work well. If you are fishing deep water wrecks or rockpiles, then 30-50 would be a better option. On the leader end, I use the same pound test leader as the main line. For the spinning reel, I will always go with the smoothest and best braid I can find. For me, nothing beats the KastKing KastPro 13X Finesse Braid Fishing Line. This is not a line just for finesse fishing. This is by far the smoothest, longest casting line around. For spinning, I use either 20 or 30-pound test, and with this line, I guarantee you will cast farther than you have ever before.
Hooks and Terminal Tackle
For hooks and terminal tackle I have always found the best way to get what you need is to visit your local tackle shop. They will steer you in the right direction on hook size, sinkers, lures and jigs to make your day a successful one.
Saltwater fishing is a ball of fun, and the trophies you catch can be quite rewarding. And, if you like eating fish, nothing beats the variety of saltwater options out there. Tuna on the grill, blowfish isn't called chicken of the sea for nothing and best of all, sea bass broiled with a little lemon and garlic.
When getting started in saltwater fishing, fill your bag with specifics for what you may target. For me, it is inshore fluke, bluefish, blackfish and striped bass, so I carry jigs, bucktails, soft plastics, sinkers and snelled hooks.