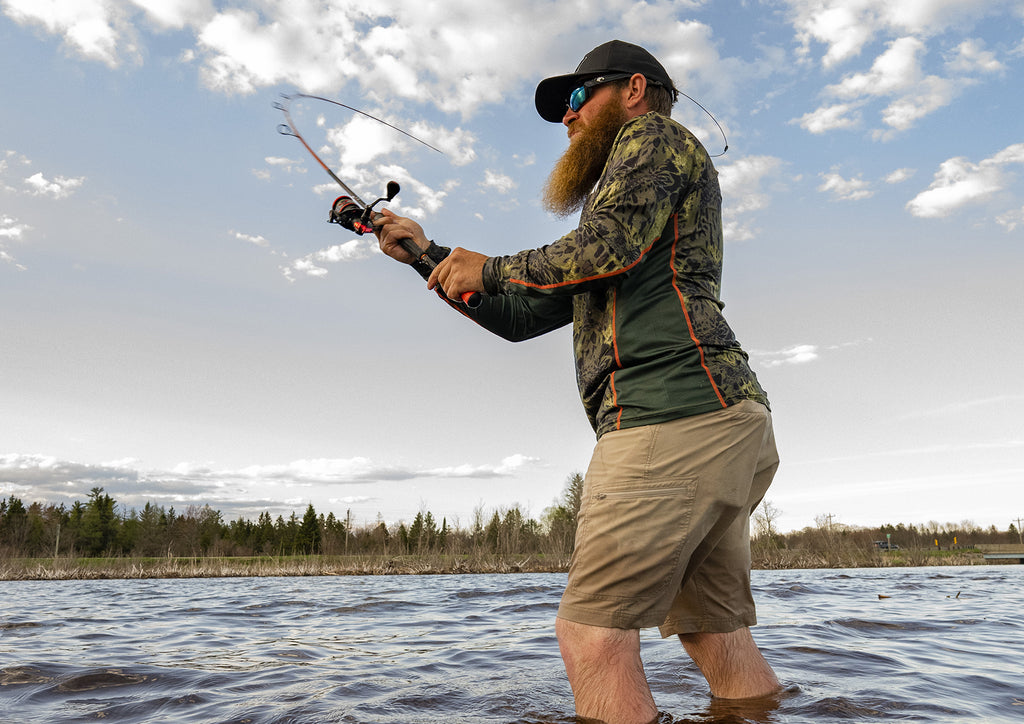 Rod And Reel Combo Buying: What You Need To Know
As an angler, most of us purchase our rods and reels separately. I feel anglers do this partly because for years, rod and reel combos were not offered in quality outfits. I also feel rod and reel combo buying sometimes resulted in less than stellar results as far the "match-up" was concerned. In today's market, many manufacturers make high end, high quality and most of all "matching" rod and reel combos. KastKing is at the top of the food chain where quality combos come into play.
Why a Combo?
Let's face it, if you are an angler, most of your rods and reels are paired with a rod, and that reel may never come off that rod except for winter cleaning and or storage. If you are a freshwater bass angler, there is no question the rod and reel are paired permanently! I know this because at any time, I have at least 20 paired rod and reel combos in my rod locker.
Most of my "combos" were purchased separately, but then paired. However, the pairing was done way before the purchase. The rod was filtered to what type bait, lure and line I was going to use, then the reel was matched to fill the need and work well together. The rod and reel also had to be well balanced, which again was researched before the purchase.
The Old Combos 
Rod and reel combos have been around for decades and longer, but the early rod and reel combos were mostly inadequate and poorly matched. I remember seeing combos in a large sporting goods store that had a size 4000 reel matched to an 11-foot surf rod. And, to make matters worse, it was a smaller size 4000 then most! There was no way that reel could handle the line needed to work well. On the other end of the spectrum, I have seen large conventional/revolving spool reels matched to freshwater baitcasting reels. Come on guys, what the heck were these companies thinking? 
The bottom line with the older, earlier year, rod and reel combos is that, well, quite frankly, they were useless as a "real" rod and reel combo option. Most of the combos were overweight, not matched correctly to line, reel and rod, plus were made from other than "good" components.
The Positives
Rod and reel combos have come a long way over the years. Let's take a look and see what you need to know when looking for a rod and reel combo, then glance at a few KastKing has to offer.
First and foremost, you have to make sure the combo is well balanced. If the rod and reel combo is not balanced, fishing with it all day will be impossible, and even fishing for shorter periods of time may be uncomfortable. 
Is the rod and reel made for what you plan to fish for? I see anglers at the local docks, lakes, boats and piers at times with rod and reel combos no-where near what they are intended for. If you are fishing for panfish at the local lake, the combo cannot be rated for handling bank sinkers of 4 to 6 ounces. 
Rod and reel combos will have ratings as a "pair" and you need to match them to the type of fish or method of fishing you plan to engage in. 
Another important factor is price point. Is the rod and reel combo going to be one you use every trip out, or one you may tote around in the back of your truck for those – "heh, there's a lake, lets fish." 
Three Great KastKing Combos 
KastKing offers 11 spinning rod combos and eight casting rod combos. The three below are made well and priced to get you in the game with a high-end combo. If your budget is a bit smaller, check out some of the other combos offered as well.
Spinning Bundle for Advanced Fishing
Length-Action-Power: Spinning-6'10/Moderate Fast/Medium Light
Line weight – 6-10 pound test, Lure weight - 1/8-1/4 ounce
Details: 1 Pcs /8+1 Guides /4.13oz /Drop Shot
Speed Demon Elite 2000 Reel
13X Finesse Line
Ned Rig Kit 
Spinning Bundle for Walleye Fishing 
Length-Action-Power: Spinning-6'8/Fast /M
Line weight (lb.) -6-12 pound test, Lure - 1/4-5/8 ounce
Details: 1Pcs /8+1 Guides /3.8oz /Power Jig
Zephyr BFS 1000 Reel
13X Braided Line
28-Piece jig kit 
Casting Bundle for Bass Fishing 
Cliff Crochet Spirale Rod - Length/Action/Power: 7'4/Moderate Fast/Medium Heavy
Line weight (lb.) – 12-25 pound test, Lure – 1/4- 1 1/2
Pieces | # of Guides | Rod Weight(oz.): 1Pcs /9+1 /6.44
Speed Demon Elite Deadbolt Reel
KastPro Braided Line
Deluxe Frog Kit
Anyone of the three combos above will have you fishing all day with no fatigue, and will make fighting and landing your favorite species a blast! Hit the water with one of these, you won't regret it.