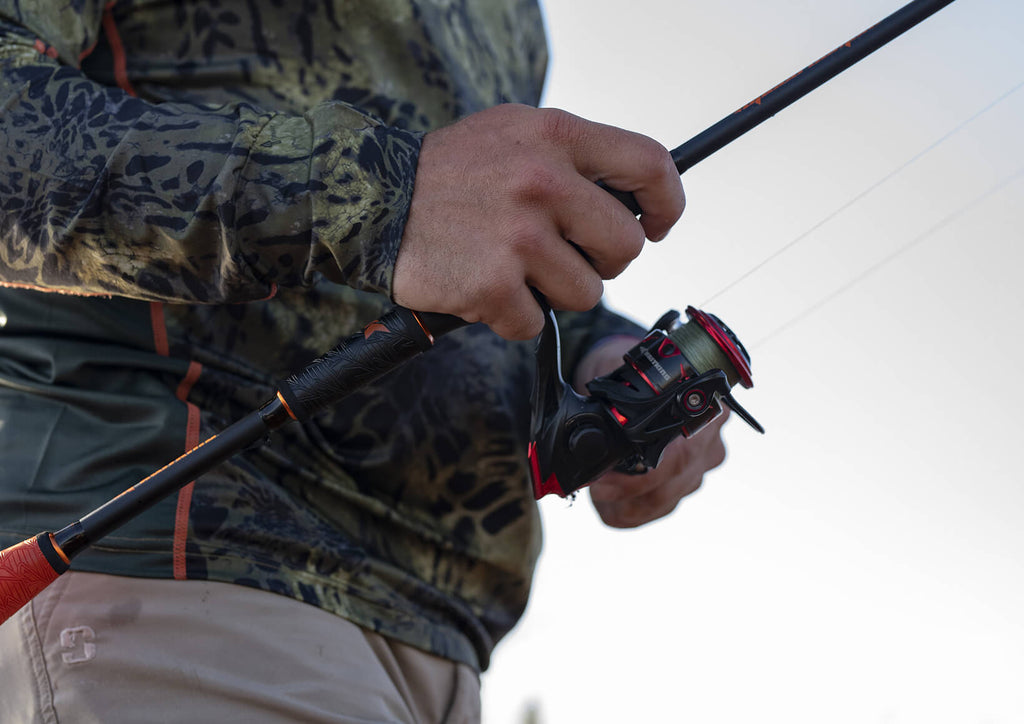 What Is The Best Fishing Line For Spinning Reels
Spinning reels have grown in popularity due to their reasonable learning curve. Especially if you're new to the fishing world, you can be overwhelmed by the diversity and range of choices in fishing equipment. At KastKing, we understand that when you're getting started choosing the right gear isn't always the easiest process in the world. That's why we're here to help.
To put it simply, fishing can be split up mainly into Casting and Spinning. Whether it be a rod, reel, line or tackle they all work best with either a spinning rod and reel or a casting rod and reel.
In this guide, we'll take you through the steps to choose the best fishing line for spinning reels. But first, what is a spinning reel?
Spinning Reel
If you're just starting on your fishing journey and you want to act as more of a generalist rather than only fishing for specific sorts of fish i.e., bass fishing, then a spinning rod and reel are most likely going to be your best bet due to their all-round capabilities.
Some of the benefits of using spinning reels include:
Throw lighter lures farther
Casting into wind is much easier than baitcasting
Skipping lures is much easier
Lure sinks straighter and more accurately
Suitable for right and left-handed anglers
Easily adjust the drag mid-fight
Whilst some professionals still swear by spinning reels, they are incredibly versatile making fishing for those newbies far easier. It helps with those challenging conditions that amateurs may never have come across before nor have the skill to navigate.
So if you've chosen a spinning reel, what type of line do you need?
Best Fishing Line for Spinning Reels
On the whole, there are five main types of fishing line on the market:
Fluorocarbon
Braided
Mono
Fly
With all these choices available to you, with many different options per fishing line type, it can be difficult to make the right decision. You don't want to find that you've invested in some fishing line for it only to work best with baitcasters.
When it comes to fishing lines for spinning reels, there are only two options that you're going to want to consider, Fluorocarbon and Braided Lines. Due to properties that allow for increased strength and accuracy, it makes line management on spinning reels far easier.
But which is the best?
Our recommendation, especially if you're just getting started in the sport is a braided line. Its thin diameter and properties that create little to no stretch make fishing a joy rather than hard to manage. Their strength and abrasion resistance will help them to last longer, especially in tricky conditions.
If you find that you're not sure which one to go for as they both hold amazing characteristics, think about this.
Spinning Reels are best for lighter lines and smaller baits. You're going to want a thin diameter otherwise your spooled line could jump off the reel spool whilst you're casting and ruin your chances of that 'big catch'.
Regardless of your preference, we'll give you some recommendations for braided, fluorocarbon and monofilament lines that work best with spinning reels.
Which Braided Line is Best for Spinning Reels
For those of you that are just getting started, the KastKing SuperPower Braided Fishing Line is a great option. With a price on the lower end at $14.99, you're getting incredible value for money.
Its features include:
Low memory – giving you better casts that go father and have a decreased chance of obtaining any wind knots.
Ultra-High Sensitivity – you want to feel all of those movements so that you can counteract and fight the fish as best as possible
Zero-Stretch – don't worry about your line jerking when you cast your line. The Zero Stretch capabilities allow for a superior hook setting that increases your number of catches
Thin diameter – compared to some of the other braided lines on the market, the KastKing SuperPower has a small diameter perfect for spooling on spinning reels.
Which Fluorocarbon Line Is Best For Spinning Reels
Fluorocarbon Fishing Lines can certainly be used for Spinning Reels especially when you're fishing in windy conditions. Because Fluorocarbon is slightly heavier than braided lines it will maintain its cast resulting in better distance, accuracy, and catches.
Our recommendation would be the KastKing Kovert Fluorocarbon Fishing Line and Fluorocarbon Leader. Sitting neatly at $7.99 it is possibly one of the best value for money products on the market. We'd insist that you go for a line that is under 8lbs otherwise, you may experience poor casts and accuracy.
Its features include:
100% Fluorocarbon designed in Germany to be sensitive and shock resistant – great for tough conditions
Invisible under water – perfect for highly-pressured water or if you need a low vis line to increase your number of catches
Fast Sinking – the Kovert is 80% heavier than water and therefore can sink much faster giving distinct advantages#
Which Monofilament Line is Best for Spinning Reels
We're all aware that all these different lines have their strengths in certain situations. Where the Monofilament line comes in handy is when you're on a boat or centre console in the middle of your water area.
When fishing from a boat, distance isn't a factor. The monofilament line has exceptional durability, and great casts and won't give you any issues if you spool it correctly.
Our recommendation is for KastKing World's Premium Monofilament Fishing Line. Priced at $8.99, the premium line is jam-packed full of incredible features that make it one of the top Monofilament lines today.
Its features include:
Low memory – so that you can have longer more durable casts, all whilst enjoying easier handling and casting.
Abrasion resistant – don't worry about those tough conditions or rocky areas. The abrasion-resistant properties of the Premium Line make it an expert in any situation.
Low Absorption – the line is much quicker and easier to retrieve, so you can fish in any condition.
Quality – the monofilament line designed by KastKing reduces line breakage at the knot making it an ideal option for freshwater or saltwater fishing.
Roundup
With today's technology and development of superior fishing lines, it truly isn't a heartbreaker whether you go for a braided, monofilament or fluorocarbon line. Whilst the braided will be best in most conditions due to its durability, thin diameter and easy casting ability, as long as you get the setup correct and weight options accurate with the monofilament and fluoro, you can cast any of these with a spinning reel.
The trick is knowing why you would use a spinning reel. Always remember, that it is for casting lighter lures with even lighter lines. So, keep that in mind whilst you're shopping in our online store!