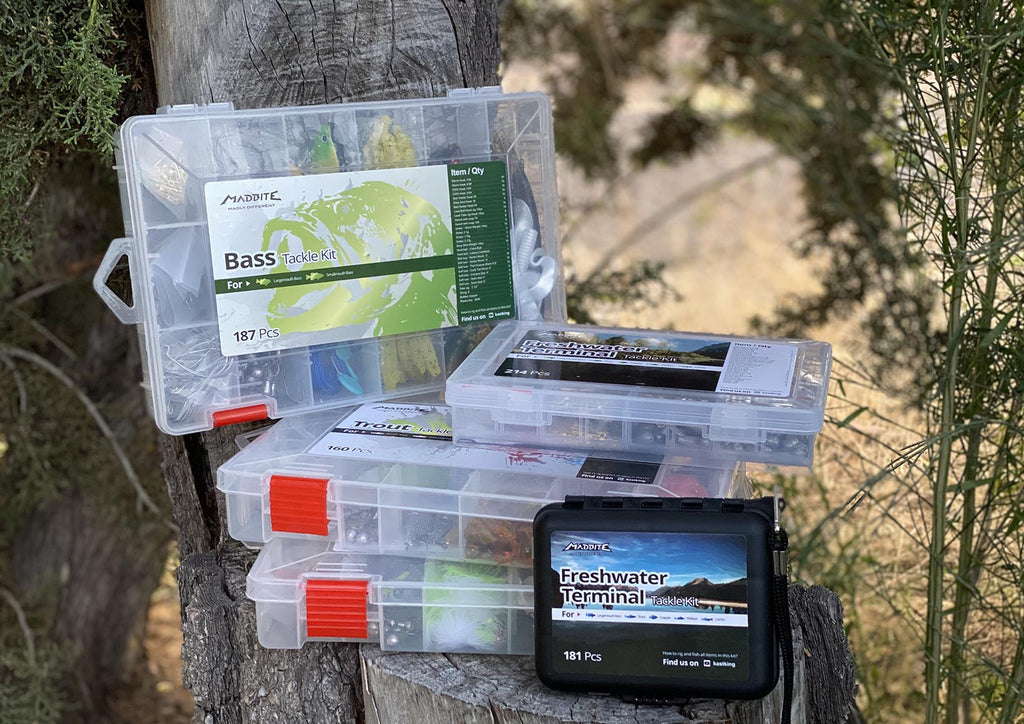 Anglers are blasted with terms and phrases that can overwhelm even the most fluent linguist. For this article, we are clarifying what Terminal Tackle is. Terminal Tackle, in basic terms, is anything attached to the end (or terminus) of the line. The stuff we tie onto the end of the line that helps catch fish. While it's all tackle, only the items attached to the line end are called terminal tackle. Understandably, this is still confusing. We will use this article to explain the different kinds of terminal tackle and provide some examples.
Swivels
Swivels are the wire connector that allows for two types of line to be joined together. Snap swivels allow angles to rapidly change lures or rigs without having to retie the lure to the main line.
Barrel swivels are two wire eyes joined by a metal tube called a barrel. The barrel swivel allows the lure to twist without twisting the line. Barrel snivels are valuable when fishing natural baits that need to flutter or swim freely in the current.
Three-way swivels. Three-way swivels contain three wire eyes connected to a metal ring. Just like a barrel swivel, it allows the lines to rotate freely, but the advantage is with specific rigging methods, the weight can be suspended on its own line instead of attached to the main line.
Hooks
Hooks come in various styles depending on what they need to be attached to. Most hooks are single hooks where one piece of wire forms one hook. Treble hooks are common on lures like swimming plugs where a fish could strike from any direction. The three barbs on a treble hook increase the chance of the fish being hooked. There are dozens of hook designs, but the most common styles are bait keeper, octopus, and offset.
Bait keeper hooks are single wire hooks with extra barbs on the shank, allowing bait like rubber worms or even cut fish to stay on the hook even after being cast and retrieved.
Octopus hooks are more curved than a regular J-styled hook. The deep curve allows anglers to present baits with minimal impairment to the bait. This is a common hook for live bait where a long bait keeper hook would cause the worm or minnow to move awkwardly.
The offset style of hook is designed for soft plastic baits. Anglers can use rig this hook deep inside a ribber bait and keep the hooks barb hidden inside the lure. The hidden barb prevents the lure from being snagged on grass or weeds.
Weights
Weights can be attached to the mainline to get lures closer to the bottom or help sink faster. Split shot sinkers are clamped to the line, and the angler can add or remove weight to reach the desired depth. Egg and bullet sinkers slide up and down the line allowing the bait to drift naturally in the current. Bullet weights are also the favored choice when rigging Texas or Carolina style, where the lure can penetrate weeds and lily pads and "stand" on the bottom.
Other weights or sinkers are designed to keep the bait planted on the bottom in one place. Depending on the bottom structure, a pyramid or bank sinker can be used. The pyramid sinker works best in sandy areas where the edges can dig into the sand and hold against the current. Bank sinkers are a rounded shape and are best used in areas where there is little current.
Jig heads fit between the category of hook and weight. Jig heads are weighted hooks that allow anglers to fish soft plastic baits in a different presentation than with bullet or split shot sinkers. Jig heads are popular with lures like tubes and grubs where anglers bounce the baits up and down in the water column, also known as jigging. There are specialized jog heads known for "Ned rigging" these jig heads have a flat base and an eye that extends backward so that the rig sits vertically on the bottom.
Bobbers
Bobbers or floats are a piece of terminal tackle used when fishing with natural baits. Bobbers keep the bait suspended above the bottom, allowing certain species access to the bait. Bobbers also act as a strike indicator, alerting anglers to a potential bite before the line goes taut.
Leaders
Leaders are a separate length of line that depending on the situation, can be a heavier or lighter weight than the main line. When targeting fish with sharp teeth like pike or sharks, many anglers use a length of steel or wireline to avoid the sharp teeth from cutting through. For clear conditions, when fish are wary of line, a lighter line or fluorocarbon leader is popular. Fish like snook and trout are particularly wary of heavy lines, so a thinner diameter leader is the preferred option to exclusively lighter lines.
There are many different items that fall under the term "Terminal Tackle". Luckily they can all be broken down into smaller, easier to understand groups. For those who are just starting out or looking to build an improved tacklebox KastKing has several all-inclusive tackle terminal tackle kits to provide anglers with high-quality gear with one package. Available in species specific kits you cant go wrong.