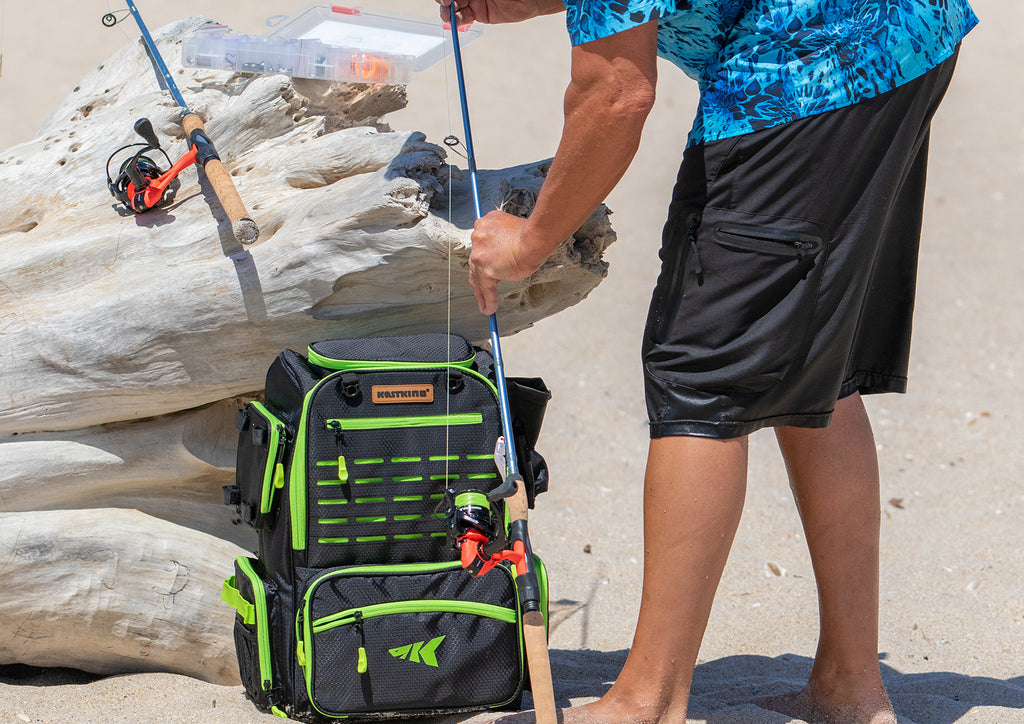 The Best Fishing Backpack With Rod Holder
The use of fishing backpacks has evolved since their first introduction. As the amount of equipment being used started to increase, there was a need for something to make transferring that much simpler. But what started out as a simple backpack to hold a few essentials, soon transformed into high-tech backpacks that go further than essentials – including cooling sections, water tanks, charging ports and even rod holders. 
Whether you're new to the world of fishing or an experienced professional, the chances are you're going to need one. With all the new elements being introduced to help your catch ratio increase, you're going to need a place to store all of it without taking up the entirety of the boot of your car. 
In this guide, we'll explore some of the greatest fishing backpacks on the market including those ultra-crucial rod holders. 
Why do I need a fishing backpack? 
A fishing-specific backpack is key to your comfort whilst on the riverbed, inshore or out at sea. It gives you all the convenience you could ever need by allowing you to have all the gear you could ever need. Going for a catfish-specific fishing day, bass fishing or perhaps you only need certain gear? Don't make it hard work for yourself by lugging around all your fishing gear – instead, pack what you need in a fishing backpack. 
But its sole purpose isn't only for fishing gear. If that were the case, you could buy pretty much any old backpack, which would do the trick. With fishing-specific backpacks, you're able to carry around your whole day – from a packed lunch and sunscreen to your MadBite Species Tackle Kit, rod, and reel setups.
Essentially, whatever you need for full-days fishing can go in your backpack. Gone are the days of going back to the truck, car, or campsite because you forgot a component you weren't expecting to use. Now, fill up your backpack and off you go – easy and convenient. 
Our Recommendations
With so many options available to all consumers, the decision on which one to pick up can be tricky. At the end of the day, it is an important decision – too big and it will feel like you're lugging it around. But too small, you won't be able to fit in all the essentials.
Let's make this decision slightly easier for you with our Top 2 Fishing Backpacks with Rod Holders.
#1 KastKing Fishing Tackle Backpack
When you're wanting to stay mobile whilst out on your fishing trip, the best thing you can do is pick up a KastKing Fishing Tackle Backpack.
Designed specifically so that you can stay mobile, its pocket and compartment system allow you to always have everything you need without strain. Whether it is a scorching summer day or a miserable downpour, the PVC layering and hydrophobic coating allow your backpack to stay dry no matter the weather.
Its best features include:
Fleece Lined Sunglasses Compartment
2 Rod Tie-Down Bungees
Removeable False Bottom
Organized Pockets
Large Full-Length Storage Pocket
2 Front Slash Pockets with 2 Mesh Pockets
Reel Handle Tie-Down Bungee
2 Rod Pockets
3 Rubber Coated Mesh Pockets
Priced at $69.99, the KastKing Fishing Tackle Backpack is great value for money. With all your universal pocket needs coupled efficiently with its mobile design and rod holder systems – you won't ever need another backpack.
#2 KastKing Bait Boss Fishing Tackle Backpack
Our second recommendation is slightly higher priced at $99.99, however, is aimed towards those that are regular anglers, holding more equipment and potentially out on the water for longer.
The Bait Boss Backpack is one of the most versatile on the market, holding everything you'll need for your trip away. Its inclusion of zipper pockets, rod holders, bottle holders and expert padded back support, means that you'll be ready for anything that comes your way.
Our favourite features include:
Extended Workbench Area
PVC Clear Pockets
American Flag Snap Badge
Shoulder Strap Zipper Pocket
Roundup
No matter how experienced you are at fishing or your speciality, both of our premium fishing backpacks with rod-holders are perfect for your everyday needs.
Each comes with its own advantages, from versatility to mobility, so that you can be comfortable throughout your day. Include your lunch, and top up on some sunscreen, all whilst utilising a workbench for your tackle gear.  Both of our options come designed with more than one rod holder, so if your day takes a slightly different turn – you can be prepared.
Stop wasting time on the water by lugging around equipment in clunky bags. Look sophisticated and professional with our range of fishing backpacks with rod holders.