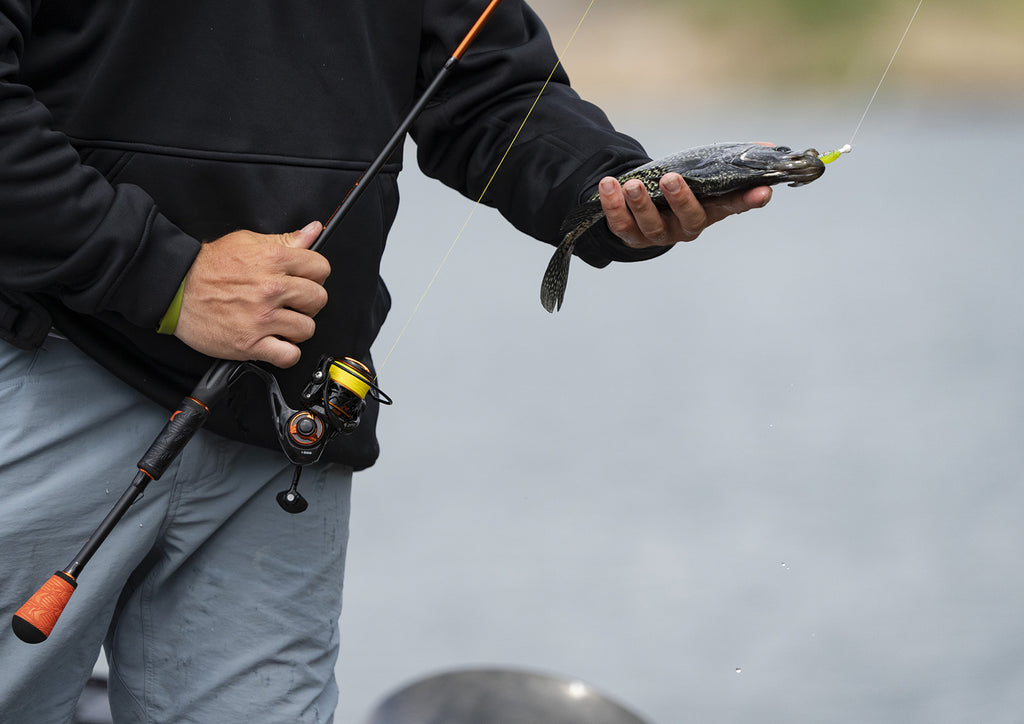 Crappie Fishing Techniques
Panfish action is a load of fun for anglers of all ages. They fight hard, make great table fare and are pretty easy to catch. One of the all-time favorites amongst anglers is crappie. For the most part, the crappie I am referring to is the black - (Pomoxis nigromaculatus). The black crappie's range is widely debated, but as of 2005, they were found in all 48 contiguous states, Canada and had been introduced in Mexico and Panama. Okay, you get the picture…the crappie is all over the place and a great way to fill an afternoon on the water! 
Before we get into how to catch these feisty critters, you need to know where to find them. Crappie can be found in most lakes, reservoirs, kettle hole ponds, and larger rivers. For the most part though they do not like current and prefer docile to almost stagnant waters. A key to crappie fishing is cover as they love to hide in groups near submerged timber and aquatic vegetation, but also like sand and muddy bottoms. So you see, basically any state you fish, I am sure you can find a body of water that holds crappie.
Another note, but not one I really hold hard fast is when they feed. From a scientific standpoint, the word on the street is they feed in the early a.m. and then again from around midnight to 2 a.m. Oh please, do you really think they are on that tight of a feeding schedule? If you have ever targeted or caught crappie, you know they feed throughout the day and night.
Live is best… but don't overlook artificial lures
Don't be fooled by the angler that preaches artificial lures only as the best way to target crappie is with smaller live shiners, minnows or small pieces of a nightcrawler. An adult crappie, you know those slab side 12 inch plus fish, feed more on crustaceans and insect larvae, but will still take a live shiner if presented.
As adult crappie prefer smaller type offerings, trout lures and baits are also great for crappie. I have had crappie on trout magnets, Johnson under-spins, soft plastics, small Mepps spinners, spoons and even small crankbaits. And, there are even times when you can knock 'em dead on a small topwater popper. If the fish are schooled and in the feeding mood, they can be caught easily!
I have never tried this method, but in reading up on it, spider rigging is a sure-fire way to fill your bucket real quick. Spider rigging is where eight (8) long rods are protruding from the boat and rigged with live minnows. If you had used your electronics to locate a school of fish, you can bet once the minnows hit the water, chances are all eight rods will be bent over.
Some anglers troll for crappie using small crankbaits. I have never trolled for crappie, but I have caught them on crankbaits, and sometimes, it was a larger 2.5 size crank meant for largemouth bass. Running small swim shads, smaller Ned rigs, spinners and spoons through schools is deadly. If you find them hanging out on submerged tree branches, then vertically jigging hair jigs or small trout magnets could have you bailing them.
Crappie are also great for hard water action come wintertime. Sure, finding them can be a little tough, but using sonar through the ice before drilling a hole will make it a better trip. You can also scope out potential ice areas where submerged structure can be found before the lake freezes over. If the structure is there, chances are, crappie will be there after ice forms. Small ice rods tipped with minnows is a guaranteed producer, but I know a lot of anglers that jig them up as well.
Rod, reel and line
For me, crappie fishing is best done with lighter tackle similar to what I would use for trout. The main difference between the two would be rod length. For trout, I want a smaller 6 foot or less rod. Whereas for crappie I like a slightly longer rod rated for 4-12 pound test and 7 feet in length. Match the rid with a KastKing BFS 1000 or Sharky III 3000-5000 and the set-up is complete. Use braid as it will aid in casting lighter lures, but always have a trace of fluorocarbon leader on the end. If you plan on ice fishing, the KastKing Konvert Twin Tip ice rods paired with the KastKing Royal Legend II ice fishing reel is the way to go. The neatest feature about this reel is the extended stem, making it easy to wear thicker gloves in extreme weather and not interfere with the process of working the reel and flipping the bail.
Crappie fishing can be fun for the entire family. They are easy to catch, fight real well and also taste great when fried up. If you want to get a kid involved in fishing, finding a school of crappie will have them hooked in no time.