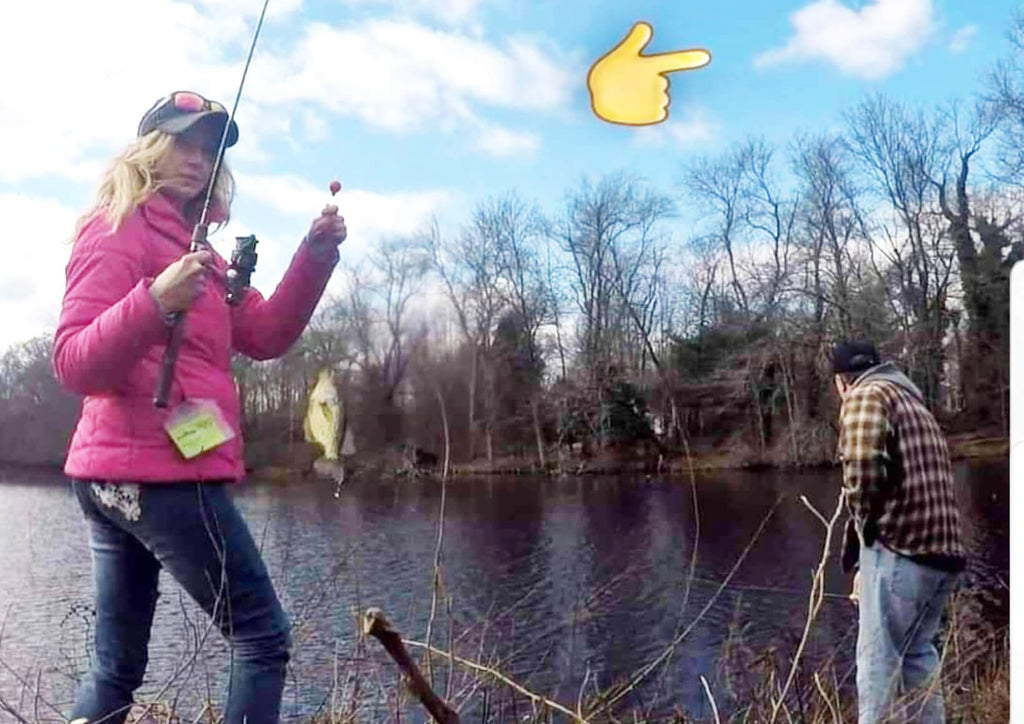 Get Hooked On Love This Valentine's Day: Go on a Fishing Date
If I had a dollar for every time that someone said to my husband, "I wish my wife or girlfriend would go fishing with me," you could be sure that I would be spending those dollars on more fishing gear. I was usually within earshot of those conversations, and after the passerby had moved on, I would reiterate their words assuring my husband that he truly was a lucky man to have me as a fishing buddy.
I often wondered why these men weren't successful in convincing their significant others to go fishing with them. All my husband had to do was ask and I cheerfully tagged along never imagining that one day I'd have more lures and fishing rods than clothes and shoes. Yes, I love fishing that much.
Ask Her Out
So asking her to go with you is the first step. That really should go without saying, but some people just assume that if she was interested in fishing she would ask to go. I really don't think that I would have ever asked my husband to take me. It was just something he did by himself or  with his friends. It was a nice surprise when he asked me to go with him, just us. I was excited to try something that he was so passionate about even though it meant getting up before the sun did. So ask her, maybe she has been waiting for you to ask.
Your Place or Mine?
Before I was comfortable holding fish.
If you have already asked and she doesn't seem interested at all, try a different approach. Offer to take part in one of her favorite activities. You just might find a new favorite hobby yourself! Who knew that you were so great at line dancing, shopping for bargains, or could make such an amazing work of art out of a lump of clay?
Encourage her to step out of her comfort zone all the while letting her know that you will be there to support her even if it means karaoke. Trust me the payoff will be better than your version of "I Will Survive."
More Cuddling Not Coddling
Help her, but don't baby her. If she isn't keen on tying on fishing hooks, putting bait on, or unhooking a fish, offer to show her how. It might take a few times or a couple of trips, but be patient, she will get it. When she is ready and willing to do these things herself don't hover, let her do her thing. Chances are she will ask for help if she really needs it.
Part of the Gang
We even started to dress alike!
 If you decide to bring her along on a trip with your crew make her feel welcome. Nothing feels weirder than everyone acting different because "she's" there. She's got to meet your friends sooner or later, right? If she can hang with your friends in all of their glory, dirty jokes, curses and off-color stories are likely, then she is a keeper.
A Date to Remember
I think mine was bigger.
I am so thankful to have something that my husband and I can enjoy doing together. So, I encourage all  fishermen to ask their ladies on a fishing date. Remember that fishing can be very romantic! Pack a picnic lunch, bottle of wine, take a scenic boat ride, or enjoy a beautiful sunset together. Catching fish will be a bonus, it is the quality time that you spend together that is most important. Good luck building a stronger bond with your loved one as I always say, "the couple that cast together, last together."
Since Valentine's Day is just around the corner I thought that I would throw together a list of gifts that you could get for your future fishing partner!
Nothing says I love you like giving her the gift of her very own fishing rod and fishing reel. A KastKing spinning combo is perfect for the beginner. Just imagine how romantic it will be to have your arms around her, helping her to make the perfect cast! Next year you can get her a baitcasting combo!
A girl can never have too many bags. She will love this functional accessory.  This light-weight, versatile sling style shoulder bag weighs only 9 ounces and helps to organize essential gear for fishing, hiking, biking, hunting, canoeing, and kayaking.
As a bonus, don't forget to tuck one of these kits in her sling bag. Each MadBite Species Specific Fishing Tackle Kit gives you everything that you need to go fishing. There is a  bass fishing tackle kit, trout fishing tackle kit , and panfish kit for crappie, bluegill, perch and more. All of the fishing lures and bait are neatly packed in a plastic tackle box for storage and transportation.
You can't go wrong with the fishing tools of the trade. She will quickly realize why these are a must for the beginner as well as the seasoned angler. The floating lip grip will not sink and it holds your catch securely.  Tungsten carbide line cutters cut through mono, fluorocarbon and braided fishing line with ease. Made from steel they will never bend or break. These pliers are very useful to rig up and unhook fish.
She will adore these stylish sunglasses and she will be able to actually see what she is targeting. They come in an array of colors and styles, she may just want more than one pair.
A fishing license is also a great gift idea if you just can't wait for a free fishing day in your state. Make sure to practice safety if you go out on the water, have lifejackets for each of you, check the weather ahead of time, and take the time to make a float plan that you can leave with a friend or family member.
Have fun and celebrate every fish that you catch together!
Happy Valentine's Day!
 Sandi Kennedy is an avid multi-species angler from New Jersey, fishing everything from the swamps to the saltwater coast.