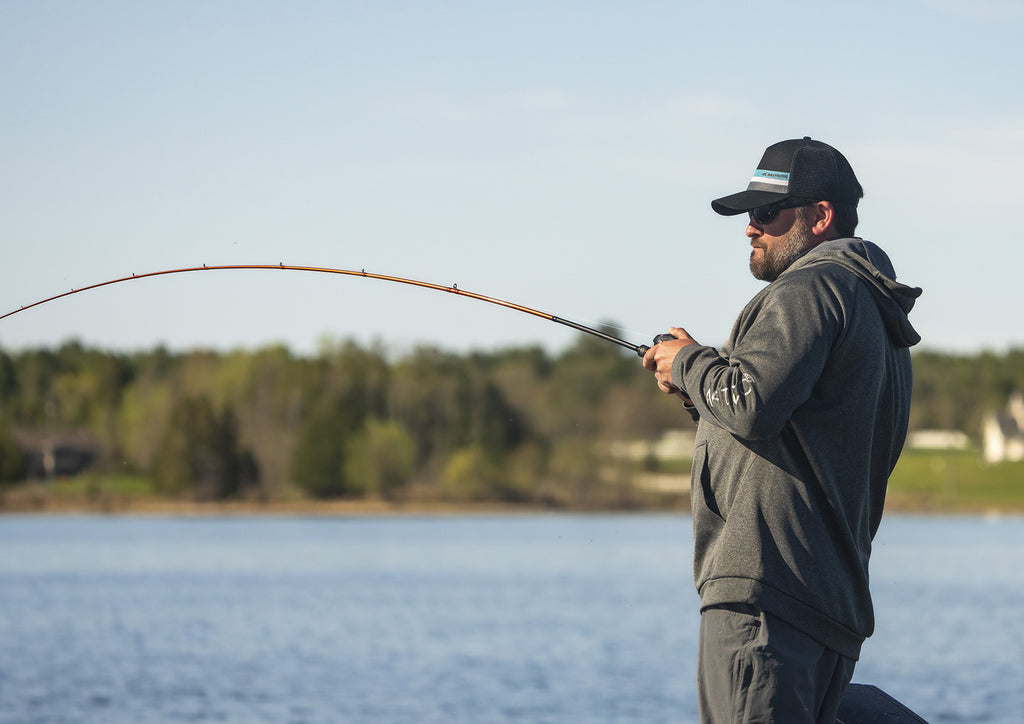 Best Fishing Gear For Catfish
Getting all the gear you need to go Catfish fishing can be a long process. Forking out hundreds of pounds only to achieve poor performances is never going to result in a happy customer. So, what do you really need for catfish fishing, and how might it be different from other types of fishing?   
Before we can delve into the specifics of the best types of bait, rods, reels and other accessories, we need further explore what a Catfish actually is. Let's explore some Catfish characteristics, so we can be more successful when our long-awaited fishing trips finally arrive. 
What is a Catfish?
Catfish are freshwater fish that can reach lengths of up to 5 metres. Whilst reaching the full 5-metre capacity is pretty rare, the average species reaches 80cm and weighs in at 7.5kg. 
There are over 4100 species of Catfish, however, most have a cylindrical shape with a rather flat body that is covered in slime. They get their name from their 'whiskers' located on their nose, cheeks, and chin. You may be surprised to know that Catfish don't have any scales which makes them a highly diverse species. It is their unique characteristics which make them so popular around the world, however, they are mostly found inland or in coastal waters. 
Most Catfish live near the United States; however, they are not uncommon in coastal areas all around the world, including Antarctica. 
But what makes them so fun to try and catch? 
Their natural instincts force them to fight hard against any danger that they see, which includes experienced anglers. Due to their high abundance in most areas, they are certainly a favourite to find and test your skills against. 
Although they are known to stay in coastal areas, they are also extremely common in inland areas, especially river bands, deep holes and anywhere that holds some sort of cover. You'd most likely spot them during nighttime when they come out to locate food. Due to their whiskers, they can have a heightened sense of taste and smell, which makes using your bait even simpler. 
Catfish Fishing Gear
Whilst there are many variations of fishing equipment to choose from that suit your specifications, the following pieces of equipment will make your experience simpler. 
Rods
For best results, you'll want to choose a 6–7-foot rod with a medium-heavy spinning rod. Due to Catfish length and weight, and their ability to fight hard against experienced anglers, you'll be wanting that extra bit of power with the medium-heavy rod.
Our recommendation of rods comes in three options:
Reels
We've got a range of reels for your Catfish needs ranging from baitcasting reels, spinning reels and casting reels. Essentially, for beginners, you'll want to use a spinning reel as they tend to be more simplistic. However, if you're more skilful and experienced, the extra power of a casting reel may come in handy. 
Below are some of our recommendations:
Line 
One of the most popular types of lines for Catfish fishing is a braided super line that ensures there is a minimal stretch, smooth performance, and a thinner design. 
Catfish are an interesting species of fish. Whether it is a light or heavy line, a high-strength monofilament line will never let you down. Here are some of our recommendations:
Bait
Due to their nature, Catfish are pretty much attracted to anything that comes their way. They aren't too fussy with the type of line or bait that they swim towards. Whilst they are hard-fighting fish, which is why you need a higher durability line, the bait that you use can vary. 
Some of our recommendations include:
With these options, you get the variety that you need to test what works the best in your location. MadBite are a specialist brand that only produces the highest-quality tackle, so you can make sure that you're as successful as possible. 
A Brief Summary 
Luckily, Catfish aren't a fussy species of fish. Whilst you're going to make sure you have a strong rod and reel combination with a line to go with it, you'll be able to win the fight over any strong fighting fish. 
Sometimes, this might not be enough, and you may want to extend your equipment collection. Whilst we have a range of prices on our products in this guide that will help those of you that are beginners, amateurs and professionals, our store has even more products available.