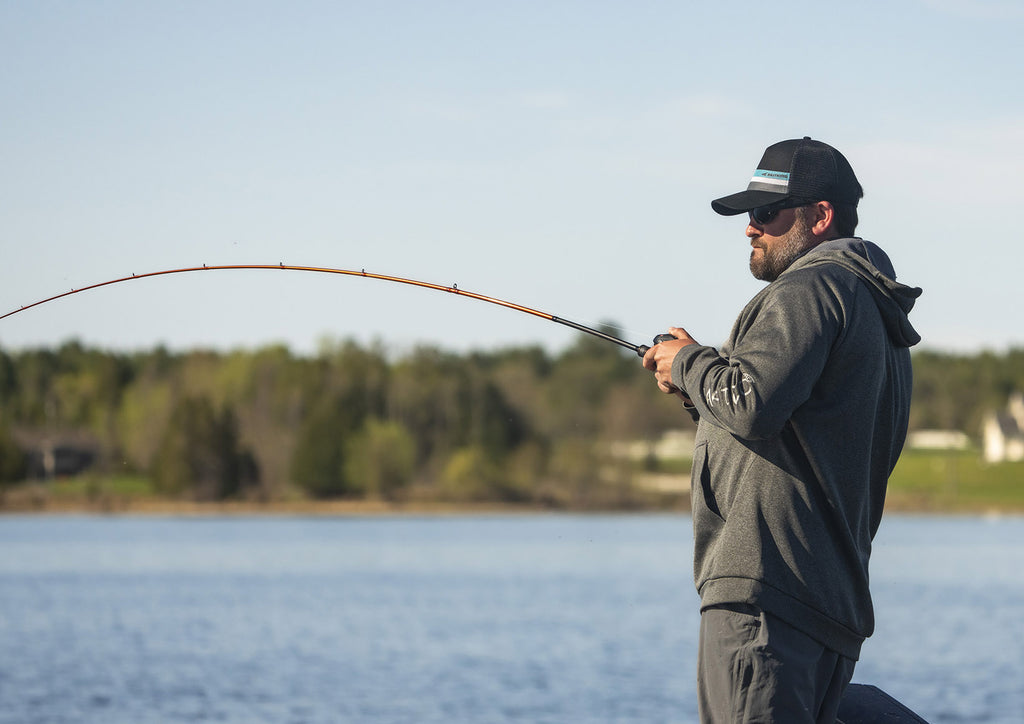 Bladed Baits: Bang Em, Swim Em, Pitch Em
Blade baits have been around since Ron Davis invented the original Bladed jig in Greenwood, South Carolina in 1998. Since that time, many other manufacturers have come up with bladed jig baits, and there are quite a few home-made ones out there too. KastKing's MadBite line has also added a unique bladed bait, which I am sure will land a few big ones.
Fish 'Em
The biggest key with blade baits like the MadBite Bladed Jig Fishing Lure is the start of the blade after your cast, after ripping and pausing through grass or a drop back. What I mean is the time it takes for the blade to begin its initial vibration. The most direct contact the blade has with the jighead is going to mean the faster it starts up. The MadBite has a unique hook eye that attaches directly to the blade, making it as close as you can get.
KastKing lineup of bladed baits come in 3/8 and 1/2 ounce weights, and five different color patterns.
After you have your MadBite Bladed Jig tied on, pick a trailer for your fishing needs. I like two types - crawfish imitator or a swim type (Keitech Swim or Berkley Grass Pig and Yamamoto Zako). On the crawfish side, one of my favorites is the Big Bite Baits Fightin' Frog which comes in 3 and 4 inch models. The swimming trailers are best suited for colors matching forage in the lake – shad, perch, bluegills etc.
The Hot Spots
Unlike some lures, a blade bait can be fished in almost any condition. Pre spawn, spawn, post, cold water, warm water, heavy or light cover, grass fields, stumps and docks. If there are bass in hiding, a blade bait will get them biting. 
In the early part of the season I like to throw the bait at the mouths of creeks or points. Bass will use these areas as staging points for the pre spawn before heading to the actual spawning grounds. The key with these areas in my opinion is to have the bait just skimming the bottom in a way where you can feel it touching, but not dragging. 
Big smallmouths cannot resist a well-placed bladed jig
Another area I like is any grass area close to deeper water. These areas are another bass holding magnet as they can lie in ambush, but yet head deep if needed depending on weather or water temperature. For grass I fish two different methods. The first is to fish it just above the grass tips, barely touching, but occasionally allowing it to fall into the grass. When this happens, and it hangs slightly, rip it hard out of the grass to the top again. Another method would be to fish it in the grass and each time it hangs, rip it through. This hang up, rip, hang up, rip will often induce vicious reaction strikes. 
Working lily pads with a MadBite bladed jig is also an easy feat. As I always fished spinnerbaits in lilies, fishing a MadBite bladed jig to me was no different. Make your cast past the field, or into an opening and then slowly and steadily reel the bait towards the pads. As it hits the pads, work it through, trying to avoid hanging up. You have to practice, but in essence you will be bouncing the bait off the pad stems. If it does hang up, ripping will usually break it free. For pads, I also like to use braided line as the braid seems to cut through stems if needed. 
Have you ever flipped a jig under a dock? Well, your bladed jig can achieve the same results if not better. The bladed jig will allow you to flip it in, then offer a nerve wracking vibration to that peaceful bass making him become aggressive instantly! For me the key, and we mentioned this earlier, is the quickness of the blade beginning its vibration. This is crucial for docks. You want that blade vibrating fast, so after the flip allow it to settle them lift fast with your rod tip and begin reeling. This will get the blades vibrating quickly. The new KastKing Speed Demon Elite Deadbolt reel is a great choice for this as the "no drag' concept will allow the tension and no slippage to get the blades moving. 
Rod and Reel 
For me, the best rod and reel combo is the Speed Demon Bladed Jig rod. This rod is 7-foot, 3-inches long and when paired with the Crixus ArmorX in the 7.2:1 gear ratio you have the perfect weapon. The rod is rated for 10-17 pound line and 1/4 to 3/4 ounce baits. The rod has good action and a sensitive tip making subtle bites easily detected. As for the reel, the gear ratio is high enough to get the blades "thumping," yet low enough to evoke a lot of power. The Speed Demon Elite Deadbolt also offers a good gear ratio for bladed baits at 7.4:1. 
There are many soft plastic baits that make great trailers on bladed baits
In Closing 
Bladed jigs have and always will catch fish. They are easy to work, come in a variety of forage matching colors, plus by adding a variety of trailers, a very versatile bait. I never go fishing, whether it be in a tournament situation, or just out having fun with the grandkids where I do not have at least one rod rigged and ready with a KastKing Bladed Jig!