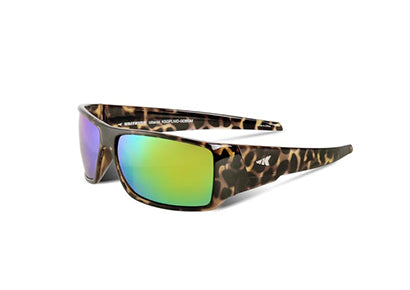 Do Kastking Sunglasses Come With Cases?
Taking care of your KastKing sunglasses is important to help extend the life of your eyewear. Let's take a look at the proper care and what is included with KastKing sunglasses.
What comes in the box?
Each pair of KastKing sunglasses includes a microfiber pouch and a zippered hard case, both help to prevent lens scratches and other damage. Storing your KastKing eyewear in a case will help to protect them, but there are also other things you can do to extend the life your sunglasses.
What do I need to do to care for my KastKing sunglasses?
Most of us don't do a very good job of caring for our sunglasses. But properly storing and cleaning your sunglasses will not only provide better vision but it will also help to extend the useful life of your sunglasses.
The first thing you want to do is be sure to always store your sunglasses in either the microfiber pouch or the molded hard case. It is easy to throw your sunglasses on the dash of your car or in the side door in your car or on your counter at home, but if you don't put them in a case first there is a good chance you will scratch the lenses or damage the coatings.
Next be sure to clean your eyewear on a regular basis. Washing the lenses removes oils and dirt which can damage coatings and cause lens scratches, washing the frames will remove oils or lotion from your skin reducing the chances of them slipping off.
For proper sunglasses cleaning follow these simple steps.
Run warm fresh water over the sunglasses (lenses and frames)
Using a mild dish soap on your fingers gently rub the lenses, frames, hinges, and nose pads. Make sure you do not use abrasive soaps or soaps with lotion. Abrasive soaps can scratch the lenses and soaps with lotion can leave a residue on the lenses making them difficult to see through clearly.
Run warm fresh water over the sunglasses to rinse off all the soap.
Dry off with a non-abrasive lint free towel. Do not use paper towels or a shirt, there is a good chance of scratching the lenses.  Paper towels are very abrasive, and a shirt could have dirt particles imbedded into the fabric which can cause damage to the lenses.
What if my sunglasses are dirty but I don't have access to fresh water and soap?
If you cannot wash your sunglasses with soap and water the next best option is to use the microfiber pouch included with your sunglasses.  This microfiber material will remove oils and dirt from your sunglasses without scratching the lenses or the finish on the frames.
Some things you DO NOT want to do with your sunglasses:
Do not wash your sunglasses in the ocean. The saltwater has sand and salt particles that could scratch the mirror coating and lens. In addition, the saltwater could cause the metal hinges to corrode.
Do not clean your sunglasses with paper towels or your shirt. This can lead to a greater chance of scratching your sunglasses.
Avoid touching the lenses with your bare fingers and getting sunscreen, lotion or other chemicals on the lenses. Oils in your skin can sometimes react with sunscreen and damage lens coatings.
Do not use abrasive cleaners, soaps or detergents that may leave a deposit on the lens.
 In addition to putting your sunglasses in a protective case, follow these simple steps to care for your sunglasses and they will last a long time!
By Scott Thomas
Watch this brief video How to Clean Sunglasses