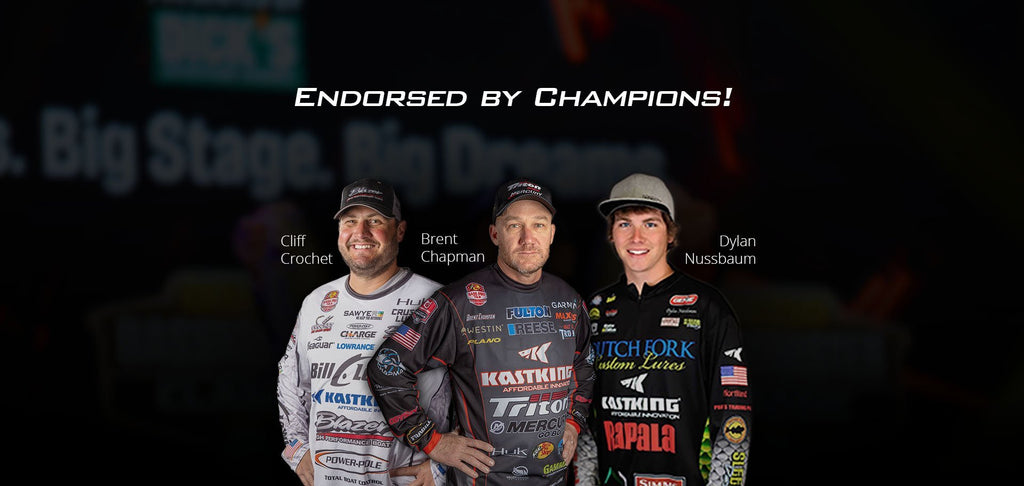 What Products Does KastKing Make?
What products does KastKing make is easy to answer, but it's a long answer.
KastKing makes a variety  of fishing tackle products: KastKing rods, KastKing reels including KastKing spinning reels, and several models of KastKing baitcasters, spincast reels, fishing combos, KastKing fishing line, KastKing sunglasses, fishing tackle management, fishing tools, accessories, and apparel.
KastKing Fishing Rods
KastKing rod model series are KastKing Speed Demon Pro Fishing Rods primarily for use as a remarkable bass fishing rod, Spirale casting rods, Krome rods for salmon and steelhead, KastKing WideEye Walleye fishing rods, Resolute rods, Crixus Rods, Royale Select rods, Brutus rods, Resolute rods, Crixus rods, KastKing Perigee II rods, telescopic fishing rods, KastKing KONG for big game fish and the KastKing Estuary inshore fishing rods for saltwater. And, KastKing is always coming out with new fishing rods. More KasyKing fishing rods are due out soon! 
KastKing Fishing Reels
KastKing offers an abundance of baitcasting reels covering a wide range of prices and species,, There are saltwater fishing reels, freshwater reels, bassfishing reels, trout fishing reels, salmon fishing reels, and reels for catfishing and most every kind of fish. KastKing top of the line baitcasting reels are the KastKing Elite series that include the Bassinator Elite baitcasting reels, Royal Legend elite baitcaster, Kapstan 300 Elite large capacity low profile casting reels, and Royale Legend II 200 large capacity baitcasters.  
Then there are Royal Legend 2 and Royal Legend GT baitcasters KastKing Spartacus one and two plus Spartacus Maximus Metal baitcasters, Valiant Eagle Baitcasting Reels, Crixus and Crixus Armor X, which is an all aluminum baitcaster, MegaJaws baitcasting reels, ReKon Line Counter reels, and Rover round casting reels that are a favorite reel among catfishing people. And of course, the Zephyr BFS reel. 
KastKing spinning reels include KastKing Speed Demon Spinning Reels, KastKing Speed Demon Pro spinning reels and baitcasting reels, the KastKing Valiant Eagle series spinning reel, KastKing Brutus spinning reel, Summer and Centron, which are often purchased as an ice fishing  reel, Crixus spinning, Megatron all metal frame spinning reel, and the best selling Sharky III. Baitfeeder spinning reels include the Pontus and Sharky Baitfeeder. The Sharky is for saltwater fishing. As with the case of the fishing rods, KastKing is always developing new products and this list will be updated at a later date.
 KastKing currently has two spincast reel products in the lineup. They are the Cadet and the Brutus spin casting reels. The Cadet is a smaller frame spincaster.
This post is supported by this fun video: WHAT PRODUCTS DOES KastKing MAKE? Ft The KastKing Fishing Robots