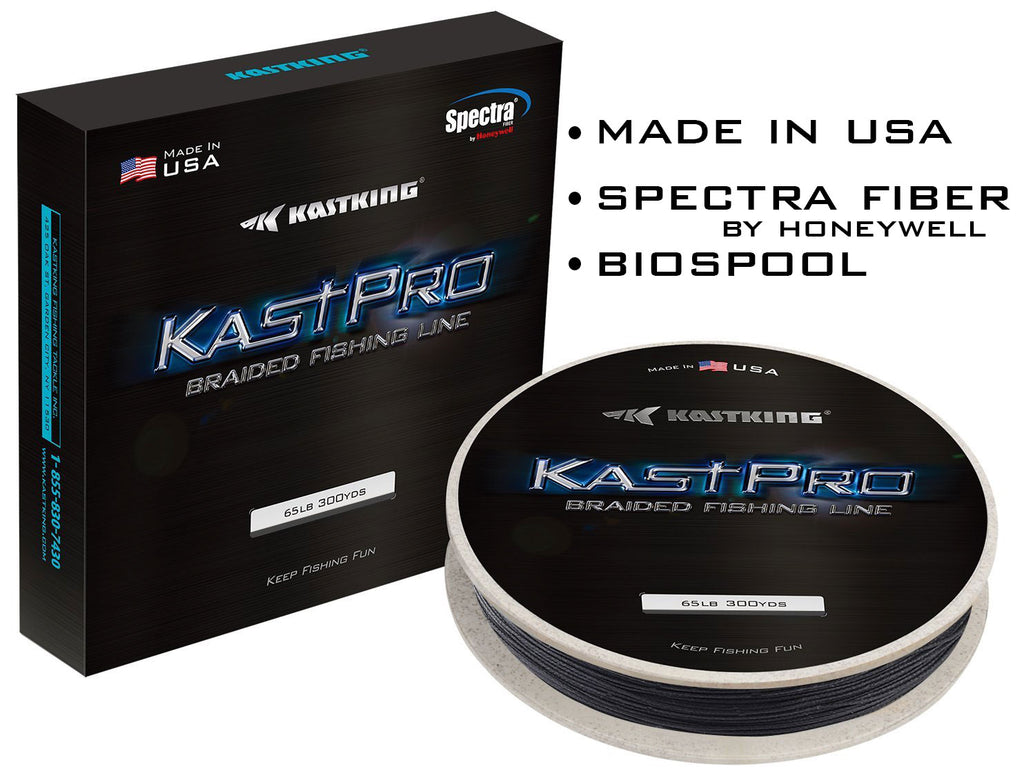 Does KastKing Have American Made Products?
KastKing has thousands of different products available to consumers, which KastKing products are made in the USA?
KastKing KastPro Braided Fishing Line Made in the USA!
We are very proud of our KastPro Braid fishing line and it is, in fact, proudly made in the USA using the highest possible ISO 9001 and Aerospace AS9100 standards. KastPro braided line is made using 4-carrier (strand), Spectra fibers and is available in 5 popular colors including Black, Coastal Blue, Combat Green, Hi Viz Yellow and Ultra Pink. Each color is available in breaking strengths from 8-80 lbs and in both 150 yard and 300 yard spools.
 Highly Abrasion Resistant
KastKing KastPro braided fishing line is made using an aggressive "Diamond Weave", 4-carrier (four strand) process which is exceptionally thin but highly abrasion resistant. It is the perfect braid line for the toughest conditions in both fresh and saltwater fishing.
 KastPro Is Color Fast
 KastPro is coated to be color fast and industry best fade resistant. We use a bio solvent coating that penetrates and wicks deeply into the fibers which maintains the color longer and increases the abrasion resistance even more.
 Thin And Zero Stretch
Not only is KastKing KastPro braided fishing line exceptional thin which makes it easy to cast on both spinning and casting reels, it has virtually zero stretch. Braided lines and their no-stretch properties make them ideal for fast hook sets
 KastKing KastPro Is Spooled On The Environmentally Friendly Bio-Spool
 All American made KastKing KastPro braided lines are spooled on KastKing Bio-Spools, which are made of a wheat straw-based material that is designed to decompose in a landfill environment to reduce bulk and preserve our environment.