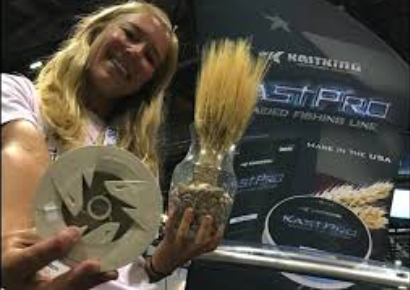 Where Are KastKing Products Made
Although many people think that KastKing products are made in China, that is only partially true. KastKing is a brand of Eposeidon Outdoor Adventure, Inc., which is an American company incorporated in the state of New York, with headquarters in Garden City, Long Island New York. Most of the KastKing product concept and design work takes place in the USA. There is a KastKing product design office near Atlanta, Georgia and a product development office near Denver, Colorado, which also manages new product testing.
KastKing does manufacture fishing reels and fishing rods in China, right alongside almost everyone else including Lew's. Abu Garcia, Penn, and most other brands in the fishing tackle industry. In fact, more than 80% of all fishing tackle is made in China. Even more interesting to note, most of the fishing rods and fishing reels for all brands come from just one city in China, Weihai that is located on the coast of the Yellow Sea. It is often called the Fishing Tackle Capitol of the World! Weihai was originally a small coastal fishing village, so you can see how it became dominant in manufacturing fishing tackle.
Okay, as we said, KastKing manufactures products in China right along with other major fishing tackle brands, but that is only part of the entire story. KastKing also manufactures fishing reels in South Korea, and obtains some parts from Japan. KastKing makes products in Germany, such as KastKing Kovert fishing line, KastKing sunglasses components typically come from Italy and are designed with engineering from Switzerland.
But hold on a minute… KastKing also produces products in the USA. For example, KastKing solely produces KastKing KastPro braided fishing line in America.
So as you can see, Eposeidon and its KastKing brand are truly an international company creating and selling fishing tackle on a global basis. What keeps KastKing's prices low and affordable are its direct to consumer business practices, which doesn't rely on warehouse distributors, expensive traditional advertising, and the added costs of retail stores. KastKing does not rely on cheap parts or cut corners in manufacturing to keep prices down. As you may realize, the production costs of a KastKing reel are about the same as other major brands.
This video supports this blog; Where are KastKing products made? 
For a more behind the scene stories about KastKing, please refer to our other articles about KastKing: How Long Has KastKing Been In Business, Who Owns KastKing, How Many Employees Does KastKing Have, and Where is KastKing Located. They all create an interesting picture of the development of the fastest growing brand in the fishing tackle industry. We hope this article answers your question of Who Owns KastKing.