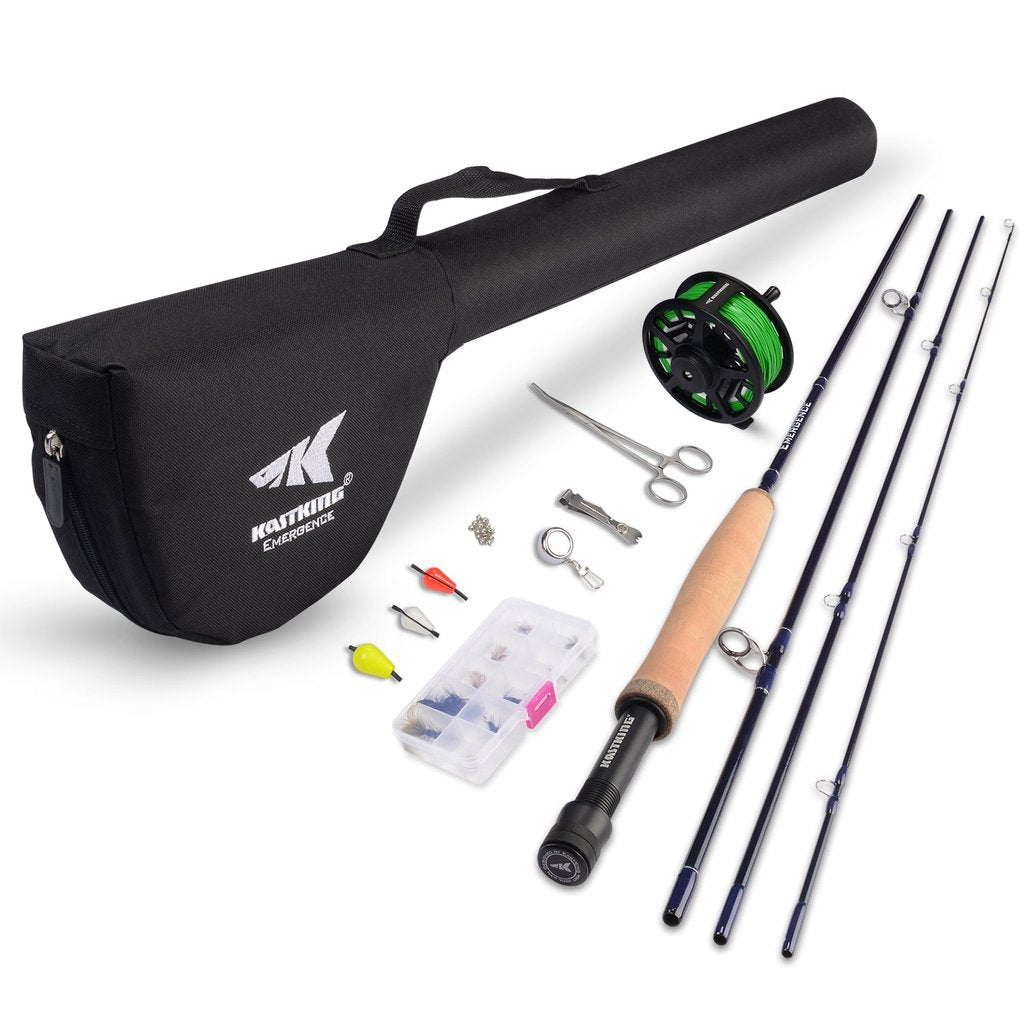 Does KastKing Sell Fly Fishing Products
Does KastKing Make Fly Fishing Products Like Fly Rods, Fly Reels, Fly Line And Tools?
Floating Fly Lines Are Used In More Than 90% Of All Fly Fishing Conditions 
Floating Fly lines are used in most fly-fishing situations. They are extremely versatile and can be used in both still water and moving waters conditions. KastKing makes an incredible floating fly fishing line called Exergy. This is a full 100' long fly line that features double micro-loops which makes leader to line connections much easier and thinner. Exergy floating fly fishing lines are available in many different colors and are available in line weights from 2 to 10. 
KastKing BioSpool
Exergy floating fly lines come on environmentally friendly biodegradable spools called BioSpool. It is a fishing tackle industry first. KastKing BioSpool is made from sustainable wheat waste. Unlike standard plastic fishing line spools, KastKing BioSpool will naturally decompose in soil over time.
Fly Fishing Does Not Need To Be An Expensive Sport
Many anglers consider fly fishing to be just to expense to try. They often hear about fly rods that start at $200 and go all the way to $1000 or more. Fly fishing reels can also be extremely expensive and range in price from just under $100 to a several hundred dollars. At KastKing our goal was to make affordable but high-quality Fly Rods and Fly Reels that that would allow anyone to participate in this incredible sport. 
KastKing Emergence Fly Combos Are A Great Way To Get Starting In Fly Fishing 
KastKing began manufacturing the Emergence Fly Combo in 2018. The Emergence Fly Fishing Combo includes everything you need to get started in fly-fishing or to upgrade the gear that you currently have. The Emergence combo includes a beautiful 4-pc graphite fly rod, an aluminum fly reel that is pre-spooled with backing, floating fly line and leader. Also included are essential fly-fishing tools, a dozen high quality flies and a travel case. Basically, all you need is a fishing license and you can begin fly fishing today. Emergence Combos are made in different sizes for different fishing conditions from a 7 ½' 3 wt to a 9' 8 wt for larger fish and flies. 
How Do I Learn More About Fly-Fishing 
In addition to creating quality products like the Emergence Combo, we have also produced a complete series of instructional videos that is available on the KastKing YouTube channel that will cover everything you need to know about how to get started in fly-fishing such as fly casting, tying knots, tools and equipment, and much more.
By Al Noraker
Learn How To Fly Fish In This Video - Fly Fishing Basics