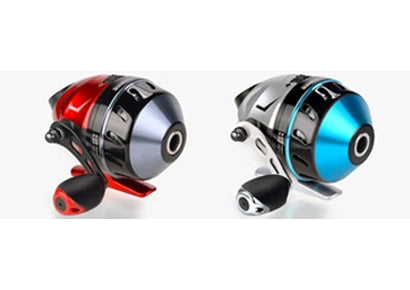 Does KastKing Have Fishing Reels For Kids?
Does KastKing make kids fishing reels is a question we are happy to answer.
Taking kids fishing and fishing with family is an enjoyable pastime. KastKing has always had a slogan, KastKing Keeps Fishing Fun. By creating affordable fishing reels for kids, we are doing that. In fact, KastKing makes fishing reels for kids of all ages. Getting kids outdoors and learning how to fish makes for great memories and creates a pathway to fishing as a lifelong sport.
 About Kids Fishing Reels
Here are a couple of styles of fishing reels that are appropriate for children. You will want a very small chassis reel for the younger ones. Spincast reels are a popular choice.  These are often commonly referred to as push button reels or Zebco reels. Zebco is a brand of reel that has become synonymous with spincasting reels. Sometimes spincast reels are also called Bullet reels. Again, bullet reels refer to a  Zebco spincast reel model, but has become a generic term for spincast reels. Another option would be a small open face spinning reel as a first fishing reel for kids who are a little older.
 Baitcasting Reels For Kids
 For kids, or for anyone learning how to fish, a baitcaster wouldn't be the way to go to get started fishing. Even a good casting reel in the hands of an angling professional can have overruns or birdnests. It's best practice to have someone learning how to fish not get frustrated at the start.
 KastKing Makes Kids Fishing Reels In Different Sizes
KastKing offers two smaller 500 size spinning reels; the KastKing Summer and KastKing Centron spinning reels. KastKing also sells a lot of those fishing reels for ice fishing.  But, they also work great as a kid's fishing reel at an affordable price. KastKing also makes two different models of the aforementioned push button reels – the KastKing Cadet spincast reel and the KastKing Brutus spincaster reel.
KastKing Spincast Reels For Kids
Push button reels are designed for anyone to use at any age or fishing experience level. The KastKing Brutus was the first spincast reel offered by KastKing and it has sold extremely well. It has a larger body then the Cadet and may be a better choice for older kids. But, Brutus does offer some great features. Brutus spincast reels are built for smooth performance with five stainless-steel, double shielded ball bearings that make this the smoothest bullet reel available today. It has a double paddle handle with durable rubber grips that can quickly and easily be changed from left hand or right-hand retrieve by simply removing the handle retainer cap and moving the handle to the opposite side of the reel. This important feature means that you can have just one spincast reel that best fits any angler's fishing style or anyone who wants to go fishing.
The KastKing Cadet spincast reel is an ideal push button reel for young anglers. It has a smaller body that can more easily accommodate small hands. A KastKing Cadet Spincast Fishing Reel is ready to catch fish as soon as you take it out of the box. The Cadet Spincast reel delivers performance and ease of use while providing an exceptional value in a quality spincasting fishing reel. KastKing Cadet spincasting reels are loaded with features normally only found on more expensive reels such as two fishing line pick-up pins for better fishing line retrieve and ease of operation. Cadet only comes in a right hand retrieve model, but is offered in two colors; red and blue.
KastKing Cadet and Brutus fishing reels both come pre-spooled with 10 lb test monofilament fishing line. Just put one on a rod, add bait, and take a kid fishing.
We hope this answers your question - Does KastKing Have Fishing Reels For Kids?