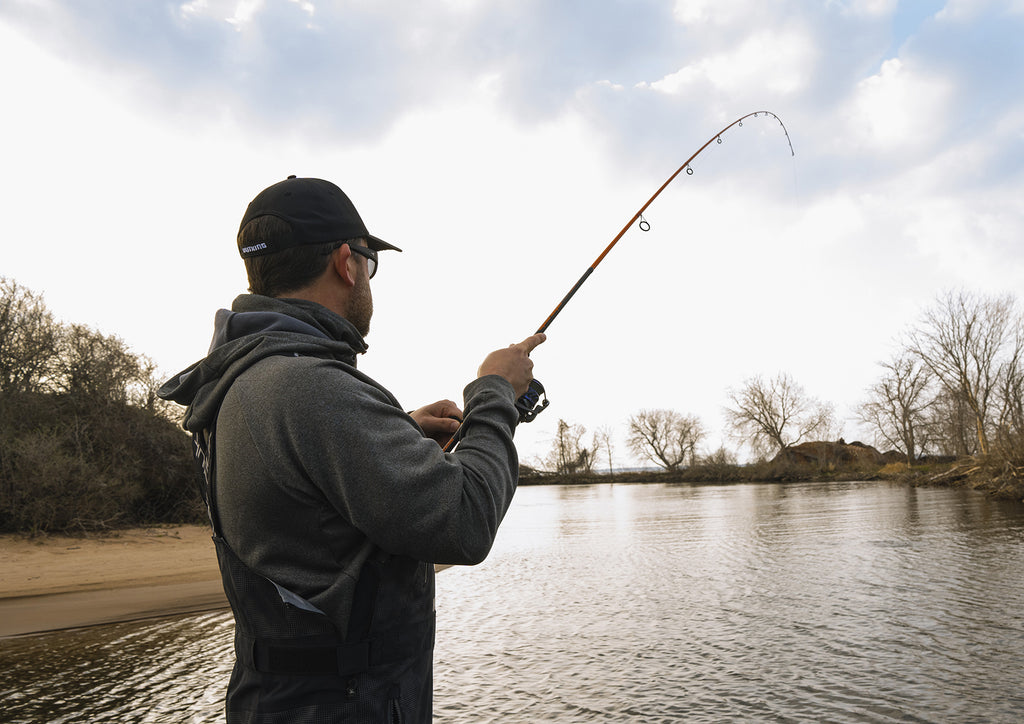 How-To: Picking the Correct Pole Length
Fishing poles come in lengths from very small 4 foot or less to large surf rods over 11 feet, but choosing the right pole length is critical in your choice. Just like in all fishing, the pole length should match the reel, targeted species of fish and comfort level for the style of fishing you plan to entertain. It's like the old saying, "Never bring a knife of to a gun fight." In fishing, you would not want to bring an ultra-light 6 foot rod to target largemouths using heavy jigs. And, you wouldn't bring an 11-foot surf pole to fish from your kayak! Let's dive into pole lengths and make sure you are well-prepared for your next trip… and the pole you bring is the one best suited for the fishery.  
My grandson Andrew used a light action rod and small worm for this bass.
There are a lot of different fishing situations where the pole length really comes into play. Before you can determine what is the "right" pole length you have to determine where and what you will be fishing for. I have said this statement for a lot of other articles on fishing, and for the most part, the species will determine your gear, and I mean all your gear. Below is run down of a handful of rods for specific situations and fish. These are poles I have used for a variety of species. They can be switched out to whatever you fish for, but just match bait/lure size, fish size and species to fit. 
Freshwater Spinning/Casting 
For freshwater spinning/casting poles, the choices are wide, with poles in various lengths and weight classes. 
There are a ton of choices, and choosing the "right" pole length may encompass a lot of different choices
If you are targeting white perch, crappie or trout to name a few, fishing poles between 4-5 and 6 foot are well suited. They will typically be in the 2-6 or 4-10 pound class, offer a fast or very fast taper, and are perfect for throwing very light, up to 1/4 ounce baits.
Speed Demon - KRDSPNSDP-610FT1, 4-10 pound class

Great for small hair jigs, Ned rigs and small swimbaits

Perigee II - KRDSPNPG2-46UL1-C, 1-4 pound test

Super small jigs – 1/32 ounce, small in-line spinners
When we get into the casting poles, with the finesse poles the exception, most poles are slightly heavier, longer and boast solid backbones to lift fish or pull heavier baits.
For me, rods in the 7-0 to 8-0 foot classes are the go-to poles for the style of fishing I do, which is mainly smallmouth and largemouth bass. The poles I like can handle baits from 1/4 to 1-1/2 ounces and even slightly larger. They can pull a hog through heavy cover, rip a crankbait through grass and fish deep diving crankbaits.
Speed Demon Swimbait Rod, 10-25 pound class

All around solid pole for a variety of heavier baits – jigs to 3/4 ounce, larger deep diving crankbaits and large swimbaits.

Perigee II - KRDCSTRS-73M1, 8-17 pound class

Fishing square bill crankbaits, blade/spinnerbaits and various stick worms.
A heavier baitcasting pole is best suited for pulling bass out of the slop (grass, lily pads etc.)
Pier/Dock Fishing
In the KastKing lineup, the all-around best fishing pole length and style for dock and pier fishing is the Kong series. They are durable, come in a variety and weight classes, and will easily fit the bill. These are a solid choice when picking the right pole length.
Kong - KRDSPNKG-8M2, 10-20 pound class

This pole is great for throwing rigs and baits for bottom dwellers. It has enough length to toss the bait, but short enough to be manageable. I use this for 1/2 to 3/4 ounce bucktails while pier fishing for summer flounder, weakfish and bluefish.

Kong - KRDSPNKG-10MH2, 15-40 pound class

Coming in at 10-feet in length, this rod is the big boy of the series that will allow longer casts with larger lures and baited hooks and sinkers. These are great for piers that have deeper channels or rips 50 to 75 yards off the pier/dock.
Inshore Boating 
For inshore boating, there are two series of rods I like – the Resolute and Estuary. The Resolute is my choice on the baitcasting style, while the Estuary is my spinning rod for inshore boating.
Resolute - KRDCSTRT-70MH2, 10-20 pound class

Great pole to match up with one of the smaller KK Round Rover reels. Bouncing bucktails, sinkers and bait rigs for small drum, summer flounder, blowfish, sea bass and porgies can all be easily accomplished.

Estuary - KRDSPNESI-76MH1, 10-20 pound class

Are you one of those anglers that loves to cast from your boat? If so, this is the rod you "must" have. This rod is the perfect length (7-foot, 6 inches) with enough power to throw Diamond jigs to 2 ounces, Epoxy lures, bucktails and popping plugs to prowling predators. 
In Conclusion
Choosing the "right" fishing pole length is not a difficult task. You need to know what you are planning on targeting, what is the "type" of angling you are going to do. Are you fishing a dock or pier? On a boat, or freshwater angling? There is no "perfect" rod for every situation, and that is why we have the choices available through KastKing. The eight fishing poles above are only the tip of the iceberg where choosing the right pole comes into play. However, these eight are a great starting point to better understand what "you" need to do, to choose the "right" fishing pole length.