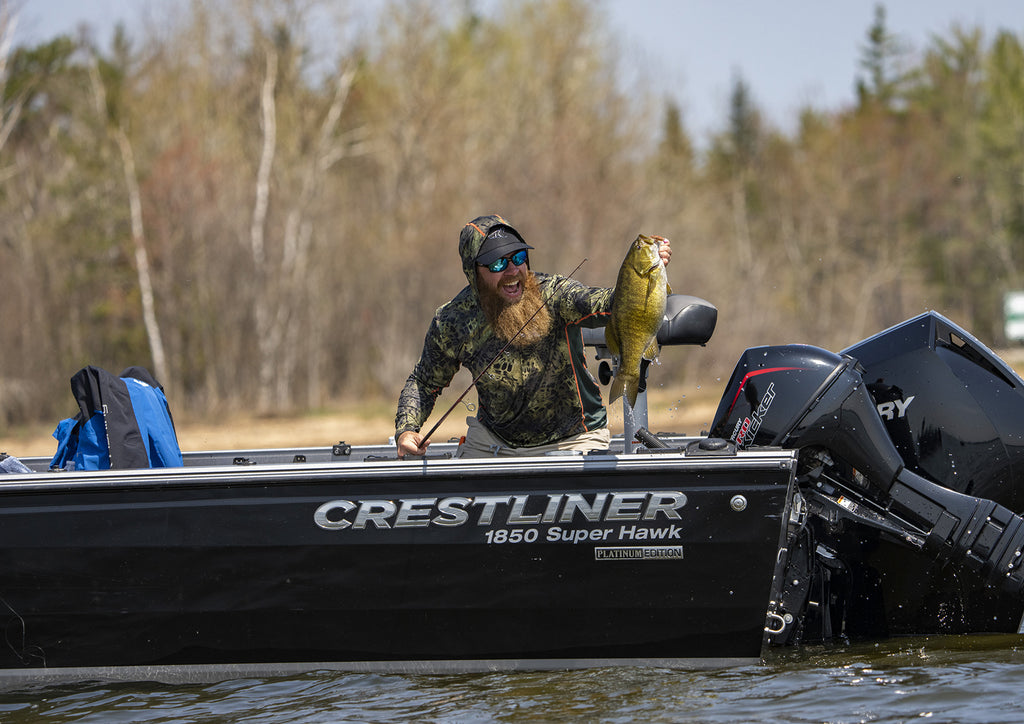 What Is The Best Size Spinning Reel For Bass Fishing?
So you say you want to go bass fishing in the sweetwater? Throughout the US and many other parts of the world, bass fishing is a top choice of anglers. If you want to hit the water, you will need to know what is the best size spinning reel for bass fishing. Although that may be a personnel preference to some, let's weed through some options and see why you may need more than one "best" size spinning reel for bass.
Lure and Bait will Determine Size
One of the largest factors when choosing what is the size spinning reel for bass is what you will be tossing to entice that bass. Are you throwing small MadBite Ned Rigs? How about MadBite frogs, dragging them through the slop? Are deep diving crankbaits or super large MadBite 5 or 8-inch jointed glide baits? Line size and type also play a vital role. And, last but not least, are you targeting feisty smallmouths in northern rivers where the fish are 12 to 18 inches, or the larger Florida or Texas largemouths pushing 10 plus pounds? 
Whether you throw small hair jigs up to deep diving crankbaits, these four rods has got you covered.
The "Perfect" Four 
For me, there are three spinning reels that would be the "best" for bass fishing. The first would be the KastKing Zephyr 1000 SFS. I would follow this up with a size 3000 KastKing Zephyr Carbon Spinning Reel and finally the size 5000 KastKing Sharky III Fishing Reel. These three would cover the gamut from smaller baits up the largest you would throw. 
KastKing Zephyr 1000 SFS
For the first "best size spinning reel" for bass fishing, the Zephyr 1000 SFS has to be in your arsenal. This is the reel you will throw all your light baits/lures. Baits like Ned rigs, hair jigs, Spider grubs and the likes can be glided easily into your favorite honey hole, or cast quite far in spite of a shallow spool. In fact, you could even skip these lighter baits using this reel.
The reel offers a shallow spool and is super lightweight. I have used this reel extensively in my area for primarily throwing Ned and hair jigs for smallmouths. The reel is built tough, lightweight and casts well, especially while using light lines in the 4-8 pound test class. You could fish this reel all day and not feel any arm fatigue whatsoever.
What I really liked about this reel was the gear ratio. The 5.2:1 gives you ample power, plus enough speed. Keep in mind, most finesse fishing is a slower retrieve anyway, but at times you will need some speed. 
KastKing Zephyr Carbon Spinning Reel – Size 3000 
Next up is the Zephyr Carbon in size 3000. This will be your mid-range spinning reel for bass fishing where tossing slightly heavier baits are needed. This reel will handle baits up to 3/8 of an ounce with no effort. In fact, I have used this reel to throw 1/2 ounce spinnerbaits with ease. 
Spinnerbaits, crankbaits, stick worms, light KastKing frogs and topwater Zara Spook style lures all can be thrown efficiently with the Carbon Zephyr 300 spinning reel. 
By changing what spinning rod you pair it to, will help fish various conditions. If you are fishing a heavy hydrilla field with Senko style stick baits, a rod rated for 10-17 pound test will work well. If you want to throw crankbaits, upping the rod to 10-20 pound class will balance out nicely. 
I use the size 3000 on three different Speed Demon spinning rods – the 7 footer rated for 6-12 pounds, and the two 7-foot, 3-inch rods rated for 10-17 and 10-20. By changing out the rod I can cover a wide mid-range selection of lures.
KastKing Spartacus II Spinning Fishing Reel 
The last in the line-up is the Spartacus II in size 4000. Although it is only technically one size up from the Carbon 3000, the Spartacus is a much bigger reel, boasting a deep spool.
Although standing side-by-side to the 3000 Carbon there is not much difference, the Sharky III offers a capacity of 220 yards of 12-pound test mono where the 3000 Carbon holds 140 yards of 10-pound test so as you can see the spool diameter is the big issue. Both reels offer a nice 5.2:1 gear ratio which is fine for most applications. 
On the technical side of the Sharky III, you will have no issues putting pressure on whatever size bass you hook thanks to an available drag up to 21 pounds. Some may say that is a lighter drag, but 21 pounds can put ample pressure on any bass you hook. 
On the durability side of things, the Spartacus boasts a brass pinion gear, ceramic line roller, stainless steel hardware, sealed spool, and innovative S.S.R. technology (Sliding Stabilizer Rod), which stabilizes the pinion gear and main gear to increase the gear strength and durability, the KastKing Spartacus II Spinning Reel is a winner on any body of water.
As far as baits are concerned, this reel, matched to a heavier rod like the 7 foot KastKing Perigee II rod that is rated for 14-25 pounds and any of the heavier baits you throw – MadBite 5 and 8 inch glide baits, tungsten weights to 1 ounce on a Texas Rig or deep diving crankbaits will all be a walk in the park. 
KastKing Speed Demon Elite Spinning Fishing Reel
Last up is the Speed Demon Elite Spinning reel in size 3000. This reel is built for speed. With a gear ratio of 7.4:1, and a whopping 42.1 inches of line retrieved per handle turn (IPT), lures will be flying back to make sure you cover every inch of water.
For me, this reel is great for covering water, and for getting back to the strike zone, not allowing a fish to get comfortable. I also love to fish crankbaits and lipless crankbaits, both of which at times I am reeling as fast as I can to get that reaction bite. With the Speed Demon Elite's 7.4:1 ratio, I can cover water fast, and rip it if needed.
Along with its 11 stainless bearings, the Speed Demon Elite has a high-strength CNC machined aluminum alloy body and body covers to virtually eliminate frame twist. KastKing takes weight reduction a step further with a 7075 aluminum main gear, carbon fiber rotor and CNC aluminum handle with EVA handle knob. Size 3000 is a mere 8.9 ounces, even lighter than graphite reels. Less weight means less fatigue on long fishing trips. 
Wrap It Up
There you have it, four great reels for fishing bass. In the world of bass fishing, and the wide range of sizes an angler can catch, one reel is tough to serve all your needs. However, if you are on a really tight budget, and one reel is all you could have, then go with the Spartacus II in size 4000. This will handle the lightweight and mid-range lures fine. It will even handle the Texas rigged and deep diving cranks. And, if you really push it, and match it to a heavier rod, it could handle the big glide baits!