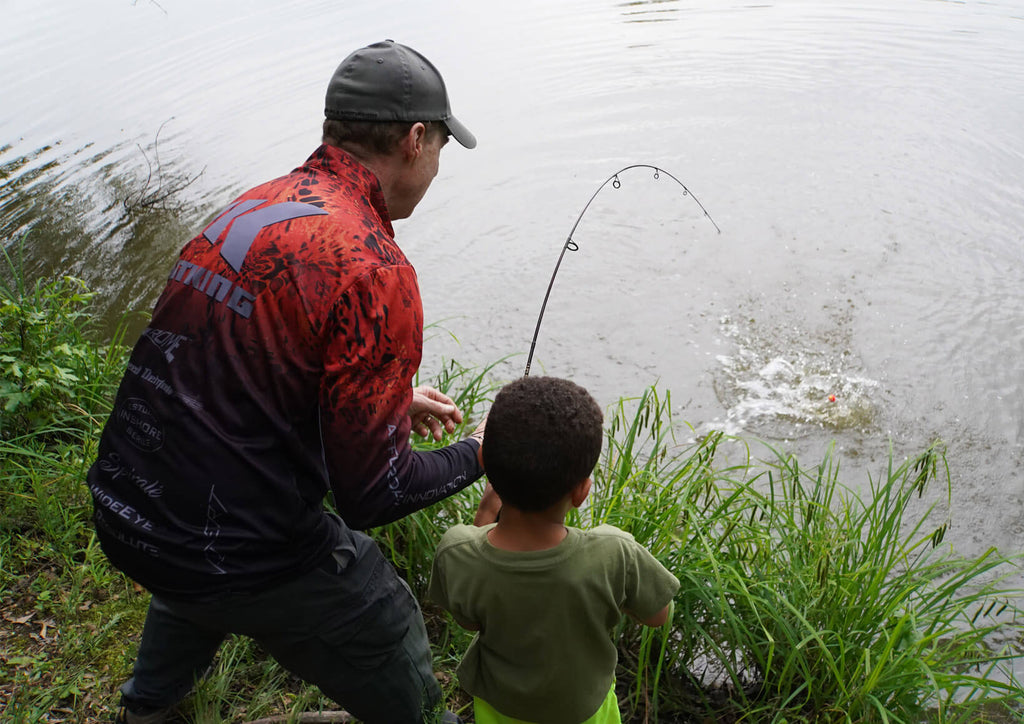 Catching the Fishing Fever….again!
December 25th, 1993. I ran downstairs to our Christmas tree as fast as I possibly could. Waiting there for me was a perfectly wrapped dose of nostalgia. That Christmas, my father unknowingly gave me a passion that I wouldn't even understand until he passed. That Santa Claus wrapping paper finished off with a magnificent bow in the shape I could only describe at the time as "man that's long!".
The spotlight of the year at the time.
Why? Well because of the NASCAR red and design on my very own fishing pole. Yeah boy! I was one NASCAR racing loving boy at the time and when it was The Intimidator (Dale Earnhardt )vs The Kid (Jeff Gordon). You better believe I loved me some Jeff Gordon. Hot shot new racer coming up and taking the track by storm! When I was 7, NASCAR actually was more my thing and fishing was just something we did with our daddy. Well, little did I know, I would find this ruby red painted BlueGill Killer 24 years later which just so happened to be Jeff Gordon's number and my whole fishing life would come racing back to pole position.
On September 11th 2017, I lost my father at the age of 57 to a heart attack.  That is the man that not only taught me about life, but taught me about how short that life can be. While reminiscing and going through my "inheritance", I came across my old fishing rod. You know, that Bluegill Killer? Well, after finding this dilapidated excuse for a fishing combo these days, I decided to take it out for a spin with zero understanding anymore about this little spincast. You see, it had been easily 20 years since I had touched or even thought about that combo, honestly fishing in general. So, I decided to find out the troubles we once had with those poles back in the day, and go break off every lure I had. Yes, of course not thinking about the 20 something year old line that hadn't probably ever been changed in the first place. So that ended pretty quick with no fish caught. Ah… just like the good ol' days.
About a month or so after that vacation back to my childhood. My family and I took an actual vacation to my in-laws cabin in Grand Lake, Coloprado due to my wife's grandfather passing away. While doing the same type of reminiscing and looking through things, we found grandpa's fishing gear! I said 'the heck with it' and headed to the lake immediately. I stayed until I caught a fish, which I had to do by hand lining it in because naturally the same old type of spincast combo failed me just as my own had. It was one heck of a fight on 4 lb line that was who knows how old. Well, unfortunately for the fish, it took the hook a little too far and became dinner.
Right then and there though, I knew that my passion for fishing was back and gave me the same rush as it did in my childhood. I wasn't going to quit and couldn't get my mind away from it.
When we arrived home, I dove deep and I mean deep into any and every resource I could online. Watching Bassmaster re-runs along with every notable fishing YouTuber out there. Then I took to my local tackle shops and Amazon to try out every kit, fishing rod, fishing reel and fishing line I could afford. It was like being a kid again with trading cards. I couldn't have enough! So, then I found one company, KastKing. Yes, that same brand I love and use today. I had tried the SuperPower braid line and set off to fish. That led into a Royale Legend baitcasting reel and eventually a KastKing Perigee II fishing rod. I must have dropped that combo 65 times that next summer and got snagged on every bush around my local honey hole. I put that combo through the ringer and that was it. I did my research, made up my mind and decided I would go all in with KastKing for anything fishing. I started selling off other rods and reels I owned and eventually loaded up with KastKing Speed Demon pro rods and KastKing Bassinator baitcasters. I really just could not get enough. It was so awesome to find a company that not only produced affordable and dependable gear but also, a fishing community and family associated within. When I found out that I could do more with fishing and more to help my local fishing community by teaming up with KastKing, and sharing my awesome gear with locals, I knew that I had found my passion again.
Looking back on my journey, getting back into my love for fishing may have started with the terrible sudden loss of my father, but it gave me friendships, knowledge and a passion for life that I had not thought was possible. Not only to help me move on from that loss, but to also help me reconnect and remember those wonderful times I once had as a kid looking up to my father. KastKing helped me gain confidence on the water through dependable gear and any questions I had proposed to the KastKing communities were answered with great responses and helpful hints.
I am now going on my fifth year back into fishing and already I have helped with local Parks and Wildlife, with local tournaments, charity events and even joined an outfitter to guide during the ice fishing season. I have dedicated my free time and life to fishing and am so thankful for the expertise, and guidance from my fishing community, and the KastKing family. Now I can pass along this awesome hobby and lifestyle to my own kids and share my fishing knowledge with anyone and everyone. Stay inspired and never be afraid to ask some questions, you never know where you may end up!
Dickey Natur is a Colorado native and loves anything fishing or arts related. He is  a photography major and musician in addition to avid angler and blogger/vlogger. In the summers you can find him at Disneyland soaking in the sun with his family and in the winters guiding the lakes of the Rockies.