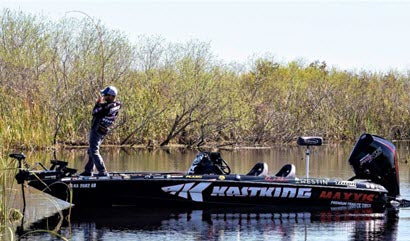 KastKing Adds More Pro Fishing Tournament Anglers and Pro Fishing Guides to Roster
KastKing grows Pro Staff to cover more tournament series, species, and geography.
(For Immediate Release – January 2, 2020 – Garden City, Long Island NY)
KastKing (
www.kastking.com
) is excited to announce the expansion of their Pro Fishing Staff for 2020. The KastKing Pro Team will fish in competition tournaments including the Major League Fishing Bass Pro Tour, FLW, BFL, Bassmaster Opens, NWT, CWT, AIM Pro Walleye Tournament Series, and others with an array of KastKing fishing rods, KastKing fishing reels, and KastKing fishing line.
Fishing Tournament Pros joining the KastKing Team with Major League Fishing Bass Pro Tour competitors Brent Chapman (2012 B.A.S.S. AOY) and Cliff Crochet, and NWT Champ Dylan Nussbaum are: Matt Jollymore, Matt Adamson, Spencer Clark, Nicholas Wink, Justin Knowlin, Lucas Bogosian, Jason Pittman, Michael Hendricks, Chris Whittle, Dave Pilgrim, Jake Ormond, Mike Kachman, and Randy Ruffin.
"KastKing Pros had a lot of success in 2019. We are very proud of them and appreciate their contributions to KastKing. We've added even more depth and width to our existing Pro Staff," says KastKing CMO, Tom Gahan.
"It is amazing how many Pros, both competition anglers and guides approached us. They left major, well-known brands to join KastKing. The evolution of the KastKing Speed Demon Pro Bass Rods, KastKing Krome Rods for steelhead and salmon, and our WideEye Walleye Rods, along with the addition of the KastKing Bassinator Elite and Kapstan Elite baitcasting reels and the KastKing Speed Demon Pro Spinning Reels in 2019 was the game changer. KastKing has a few more hot products breaking out in early 2020 that will be 'must-haves' for our Pros. We are eager to deliver."
Signing again with Team KastKing for 2020 are Pro Bass Anglers Clay Roberts and Sandi Roberts, Pro Walleye Anglers Johnnie Moreland, Erick Knodel, Dave Born, Chantry Cunning, Aaron Raichel, Keith Eshbaugh - Dutch Fork Lures, Pro Catfish Anglers Matt 'CatMatt' Jones, Michelle Jones, Robert Tallman, Leslie VanDerau, Jesse Kohnke, and Martin Ennor.
Pro Fishing Guides who are endorsing KastKing beginning in 2020 include: Capt. Jimbo Keith - Saltwater Assassin Fishing Charters, Capt. Jim Keith - Saltwater Assassin Fishing Charters, Capt. Steven Keith - Saltwater Assassin Fishing Charters, Capt. Jason Clark - In the Slot Fishing, Jamie Rodriguez - J Rod Angling, Breanna Bruce - Living Life Adventures, Tom Browning - Browning's Sportfishing, and Jeremy Gravon - Jeremy Gravon's Guide Service.
 "At KastKing, it's all about winning! From the MLF Bass Pro Tour to the FLW and regional tours across the country," says Al Noraker KastKing VP of Business Development. "From Alaska fishing adventures to the Florida Keys and everything in between, professional guides and tournament fisherman are turning to KastKing for game changing quality and performance. These incredible men and women have trusted their name and careers with our brands and are proud to share their experiences with anglers around the globe. I'm so proud of Team KastKing and I can't wait to celebrate their success in 2020."
2019 KastKing Pro Guides Members returning to the KastKing stable are: Austin Moser - Austin's NW Adventures, Bob Reese - Bob Rees's Fishing Guide Service, Bruce Warren - Fishing For Fun Guide Service, Chad Neidermier - Chad Neidermier Guide Service, Corey Hetrick - Chugach Backcountry Fishing, Corey Recla - Recla Guide Service, Dale Ballard - Fin Reaper Guide Service, Jeff Hedges - Trident Sportfishing, Jeff Keightley - Asortia Fishing Charters, Mike Roth - Team Takedown Guide Service, Rob Bignall - It's All Good Guide Service, Rob Gerlitz - Rob's Greenwater Guide Service, Scott Tveten - Scott's Outdoor Sports, Sterling Lyman - Absolute Alasaka Adventures, Jacob Lamont - Salmon Slayer, Chantry Cunning - Cunning Fishing Adventures, Ken Vilante - Coldwater Strong LLC, Alan Noraker, Mitch Meyers - Mitch's Sick Day Fishing, Capt. Tom Mikoleski – Grand Slam Charters, Bernie Hoyt – Bernie Bass Surfcasting Services.