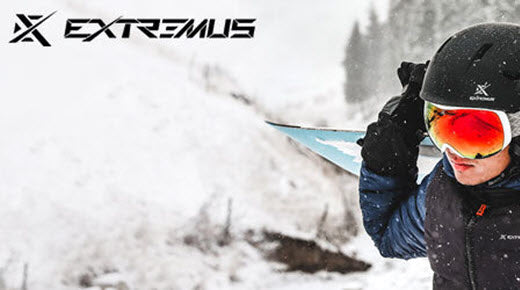 KastKing Goes Outdoors--KastKing expands by adding brand Extremus
Fishing tackle E-commerce powerhouse Eposeidon Outdoor Adventures, Inc. headquartered in New York, the parent company of KastKing and MadBite brands, has established an additional brand named
Extremus
.
Extremus
will be the Outdoors Products Division of Eposeidon, while KastKing and MadBite continue to develop, manufacture, and E-retail fishing tackle products.
Extremus
will create innovative and usual consumer products for camping, hiking, hunting and other outdoors activities.
"We knew we would come to this point eventually. This has been in the works for quite a while. Now that KastKing is well established and successful in E-commerce it was time to expand our interests," says Tom Gahan CMO at Eposeidon-KastKing. "
Extremus
offers the opportunity to serve our fishing customer base, many of whom also camp or hunt, with the gear they need and can appreciate. In addition, we will open the door for new customers through the
Extremus
brand. KastKing has won awards for innovative fishing tackle products; we hope to do the same in outdoors gear."
"From the very beginning, designing innovative fishing products at affordable prices has been our focus at Eposeidon Outdoors under our KastKing brand," says Al Noraker VP of Business Development. "We have always listened to our customers and they had been asking us to bring them the same great values and product innovations to other outdoor products that they use while fishing, camping and hunting. These requests motivated us to expand our business into the camping, hiking, and hunting world with the
Extremus
brand.
"While anglers love to fish and are dedicated to their sport, they often combine fishing with other outdoor activities that involve the entire family. Our customers have learned to trust the KastKing brand and our convenient E-commerce business model. We're ready to take that same great value formula to the
Extremus
brand.
"We are so excited about this expansion of product selection and look forward to introducing the world to
Extremus
! What will never change is our passion for the customer, dedication to developing the best products available and a promise of exceptional value backed up by legendary customer service."
"I'm more thrilled than ever as our company expands into the greater outdoor categories," says Eposeidon CEO and Co-Founder, Tate Cui. "Under the
Extremus
brand we'll build many great products for hiking, camping, hunting and other outdoors sports as we have always done for fishing. I will work with the same enthusiasm as it took to build the KastKing brand to make
Extremus
an outstanding brand so that all of our fans can better enjoy what nature offers."
Extremus
is the Latin word for Extreme. Eposeidon holds a trademark on the name.
Extremus
will begin launching products through Amazon.com during the 2019 holiday shopping season.