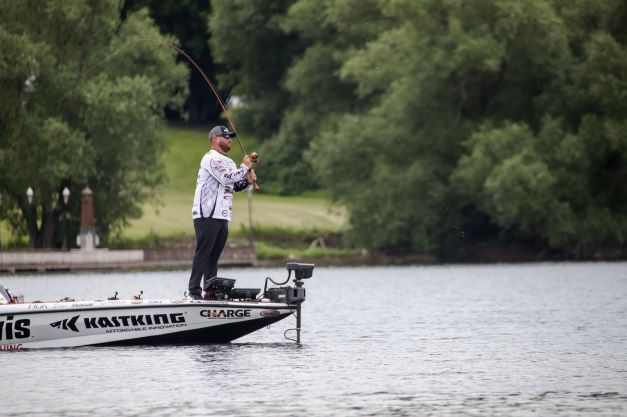 MLF Bass Pro Tour Angler Cliff Crochet Adds KastKing Fishing Lines
Crochet will now use KastKing KastPro braided line and Kovert fluorocarbon fishing lines exclusively for tournament competition.
(For Immediate Release  -- January 5, 2022 – Garden City, Long Island NY)  KastKing (www.kastking.com) has once again added Major League Fishing Pro Cliff "Cajun Baby" Crochet to the KastKing Pro Team lineup and he will now also endorse and use KastKing fishing lines in addition to KastKing rods and fishing reels.
Crochet said from his home in Pierre Part, Louisiana, "I'll be throwing KastKing Kovert fluorocarbon line and KastKing KastPro braid line from this point forward. It's the same routine as with all of the KastKing fishing gear. You hear about it, you see it, and test it out, and come to find it's legit. And, it's a great value. KastKing has become part of my equipment that I trust and use every day."
Al Noraker, VP Business Development, Eposeidon Outdoors says, "All of us at KastKing are extremely excited to announce that MLF Bass Pro Tour angler Cliff Crochet has re-signed with KastKing for the 2022 & 2023 seasons. Cliff will once again be using KastKing rods and reels as he competes on the MLF Bass Pro Tour. In addition, it is our pleasure to announce that Cliff will now be relying upon KastKing KastPro Braided Line and Kovert Fluorocarbon fishing line as he competes against the best bass fishing anglers today.
"Cliff has been instrumental in working with our designers to develop our line of Spirale fishing rods which feature American Tackle guides in a spiral wrapped design that offer incredible benefits to the power fisherman. Cliff is a true power fisherman and his confidence in all KastKing fishing gear, including fishing line, is a testimony to the quality that KastKing represents to anglers today. We look forward to following Cliff as he competes at the highest level."
Crochet has been working with KastKing designers and product developers in creating a new concept fishing reel based on his ideas. It is being produced to his specifications to meet the demands of his power-fishing style. The unique, new KastKing baitcaster is due out later this winter.