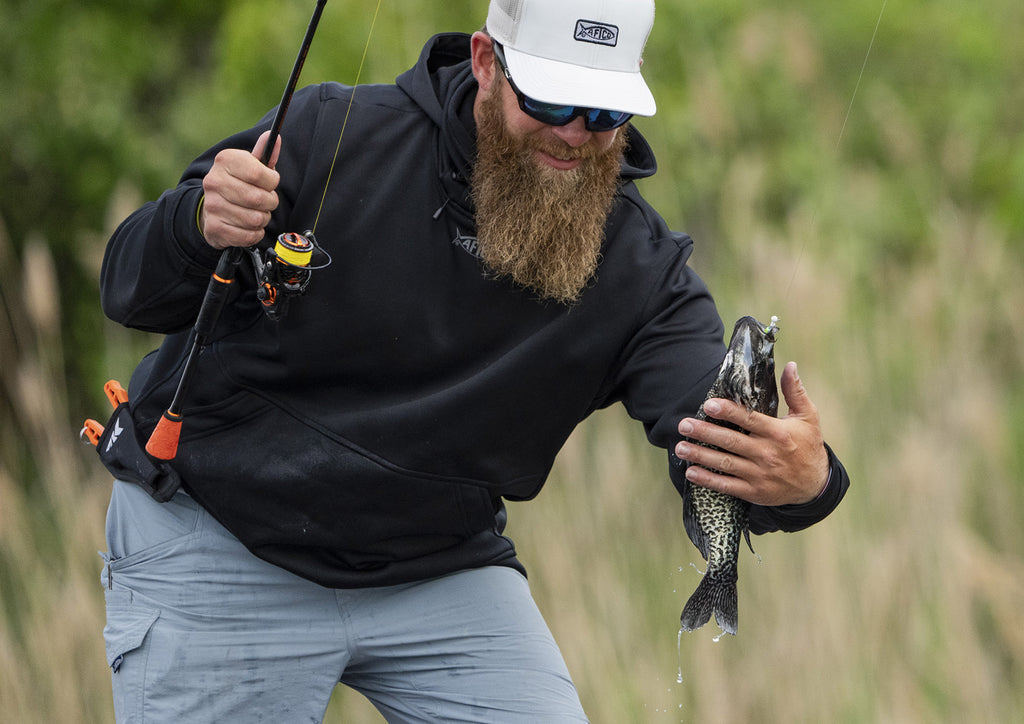 A Guide to Panfish Fishing Reels
When it comes to fishing for panfish, finding a great reel to suit your needs may not be as hard to find as you might think. No matter what type of panfish you are fishing for, KastKing has a wide variety to suit your needs with a plethora of options. I will list below some of the reels I enjoy using in different areas and describe my thoughts on them.
Ice Fishing Reels
One of the go to reels that many immediately start to look at when thinking about taking up panfishing are ice fishing reels that are sized at 500. For those who are not familiar, spinning reels are sized based on a scale from 500 - 8000 and can even go higher into 10,000 sizes. Like so many other parts of fishing there are no standards for sizes from manufacturer to manufacturer so be very cautious. What is standard is that the smaller the number, the smaller the reel, so a 500 size is pretty small and used for ice and crappie fishing where minimal line capacity is needed and using 2-6 lbs line is just fine. The larger size reels like 8000 up to 10000 are normally used in targeting much larger, bulky fish where the fish can make long runs and need the line capacity and thicker line to bring them in. People using their reels for saltwater applications would often be looking in the 5000 + sizes. For most applications of these feisty little crappie or bluegill a 500 size reel is just fine. Assuming that these fish will be normally found closer to shore where you do not need to cast very far and since these fish are normally quite small so a light line can be used, a small reel with a smooth drag like the KastKing Royale Legend II would suit you just fine. These smaller size reels will have spools to accommodate so you will not have to add much backing to the spool when loading line on it. Backing is a way to build up the thickness of the spool so you don't have to spend the money to load an excessive amount of mono or braid on your spool of very fine line of 2 - 4lbs test that will never be used. There is a way to not have to do this for your spinning reel though, have you heard of a finesse spinning reel?
Spinning Reels
Finesse systems have been popping up all over the place with an amazing upsurge in popularity in recent years. The concept is simple, build a reel that has a shallow spool that is made to cast the lightest line possible. Make it with precision so binding and friction don't inhibit the action or cause the line to break. Drags must be made with quality so they do not stick and cause breaks. Basically, every part of the action of the reel needs to be of a higher sensitivity, quality and precision to keep the entire system smooth and dependable. KastKing answered the call with what they called the Spin Finesse System or SFS for short in their Zephyr line. Like every other reel that KastKing does, they designed it with all of these factors in mind and tested endlessly to assure what they would manufacture for the public would fit the niche of a durable, lightweight and again precision reel for even the most finesse fishing of anglers. When looking at Crappie and Panfish, these lightweight setups really prove to be the key in the action and handling of the line test needed for targeting these fish. Built with 7+1 sealed bearings to keep the reel extra smooth, the drags were made with carbon fiber washers to eliminate a rough or pulsing drag that can happen when your drags are too sticky. The spool is designed to be shallow, so no backing is needed and is braid ready with knurling to prevent the line slipping on the spool. Everything about the reel is balanced and designed to allow for a great experience when panfish fishing.
Baitcaster Reels
Those who use baitcaster reels know the struggle. There is a very delicate balance between too little and too much weight while using a baitcasting type reel. Too heavy and when casting, the spool spins way to fast and does not slow down at the end to end up with a huge tangle called a "Birds nest". Too light of a line and the cast does not allow the spool to spin enough which cause the cast line to sometimes snap back or line break to see your light rig be flung into your favorite fishing hole. Don't you worry people! KastKing also heard the cries of the baitcasting community and followed suit with yet another trend from Japan with another finesse system called a BFS. Simply a Baitcasting Finesse system, another Zephyr was released to the market. Designed with super light line fishing in mind, we once again see the needs of the finesse angler being met. Designed with an ultralight spool, that is braid ready and surrounded with six bearings to keep the system running smooth. We again see four carbon disc brakes to keep the drag smooth and magnetic cast control to help reduce the opportunity of tangles being used. For those who are looking for a bit more advanced set up, Kastking just came out with the Kestrel Elite finesse reel that is currently the lightest reel on the market and made with a magnesium frame. Any of these baitcasting reels can be used to target panfish at all distances and allow the angler to also switch from panfish to bass applications with some simple line changes.
Final Thoughts
Ultimately I am not one that believes that all reels are the same and certainly do not believe that manufacturers build a reel with the type of fishing in mind all the time. A reel may be small and seems to be just fine but if the drags are not smooth the thin line you are using will simply snap. If your line keeps knotting up with wind knots or line over spool knots, you can just end up frustrated with the time it takes to get back to fishing. Panfishing is a delicate part of fishing, whichever type of reel you choose, just try and be sure you are ready for the fun with a well thought out reel.