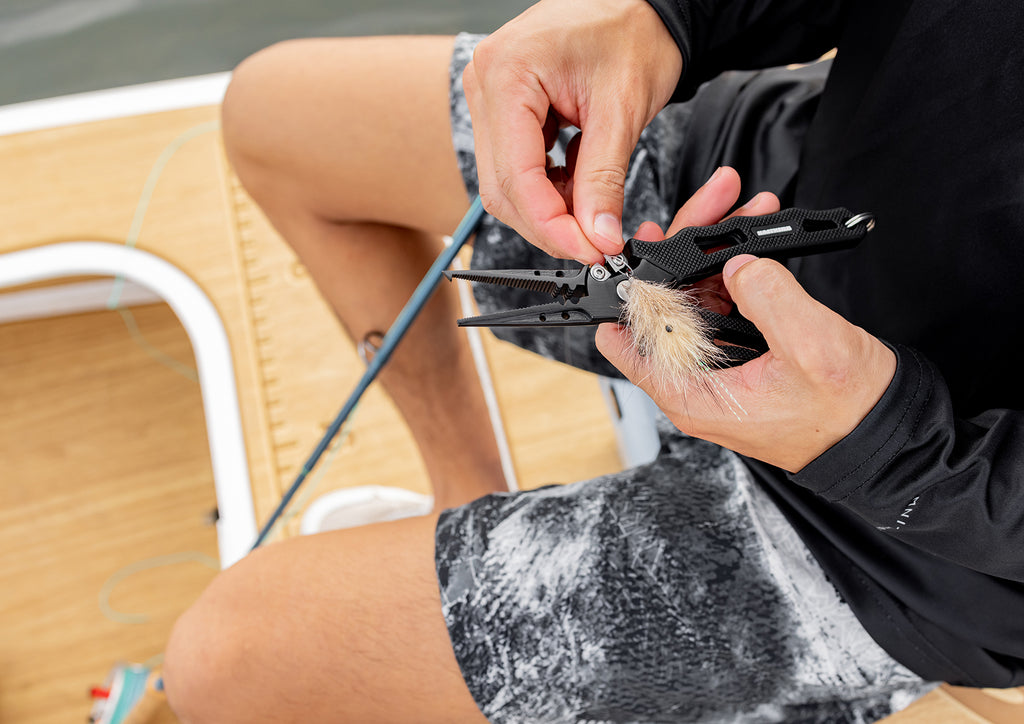 What Is The Best Pliers To Hold Big Fish?
Proper handling of fish is critical to an effective catch and release. Unhooking a fish with minimal damage is ideal for keeping the populations of fish we love to catch at a sustainable level. Properly removing a hook from a fish is important if you want to keep a fish. Most anglers want to keep using a successful lure. Some items like a fish dehooker work wonderfully for this task, especially when dealing with toothy fish. However, many anglers prefer to have tools for various tasks such as closing split sinkers, snipping lines, or tightening a battery connection on the trolling motor. There is no better tool than a pair of pliers to do all of the above. 
Pliers come in a range of shapes and sizes. What sets a good pair of pliers apart from low-quality choices is the construction. Low-quality materials create low-quality tools. They rust, are challenging to operate, and just don't perform with the level of reliability we as anglers ask from our gear. 
While several features of fishing pliers set them apart from standard pliers, it's necessary to highlight what makes a good set of pliers. Pliers are grasping tools, and they need to be strong enough for the tasks at hand. And then they need to last long enough to justify bringing them with us fishing. 
Design
Pliers used for fishing are what are often described as needle-nosed pliers. The long and narrow jaws provide precise movements and can fit in narrow spaces such as a fish's mouth. Since we are talking about big fish, you need a jaw design with enough purchase to grab larger gauge hooks firmly. Make sure your jaws are textured and flat enough to grab the hook you are using. 
Construction
The materials that make up a pair of fishing pliers need to be more rugged than those you find in the tool section of your local hardware store. With the time spent in wet environments, especially in saltwater fishing, your pliers need to be made of stainless steel. While there are other materials available stainless steel resists rust and corrosion better than just about any of them. Stainless steel is also much more forgiving than many metals allowing you to torque on the tool if you need to press your pliers into service on boat maintenance. 
Handle Material 
While fishing, your hands will be wet. Your hands are likely to be very slimy between bait and grabbing the fish; having a handle that provides a non-slip grip when wet is essential if you want to keep using your pliers. While subjective, many anglers prefer a molded handle over the traditional rubberized handles on the "normal" maintenance tools. The extra bulk and purchase you get from a molded handle helps when you are muscling a hook out of the jaw of a large fish. From experience, the bony jaws of a tarpon require some serious muscle to unhook after a long fight. 
Special Options 
There are a number of add-ons or features that can be found on fishing pliers to make any angler's life easier. These include line cutters, split ring tools, and hook holes for tightening knots. Some anglers choose to purchase pliers just for grabbing, while others, especially those that fish with lures, opt for a more complex pair. Being able to snip the tag or extra line after making a knot is a huge help, considering most anglers try and cut their line with their teeth; this tool could save on dental bills too.
For the angler modifying their lures, a split ring tool usually located on the nose or tip of the plier becomes invaluable to help open the rings that connect the hook to the lure. Crimping split weights or even line crimps can be done with a pair of pliers with the right jaw design.
Big fish are usually found in big water. Whether you are on a boat in the lake or the gulf stream, the last thing you want to do is drop your pliers overboard. Having a pair of pliers with a lanyard hook will keep those pliers close even if the thrashing fish causes you to let go of the tool. Provided, of course, you attached the lanyard to your belt.   
We've covered what makes a good pair of pliers for big fish. Now it's time to show and detail a few options on the market. KastKing has a great selection of pliers to choose from, and to streamline this article and make sure it's not pages long; we will highlight three models and compare their features. 
Rather than repeat the facts for each, we will now mention that all KastKing pliers are built with 420 stainless steel. Stainless steel pliers are 46% harder than aluminum pliers and hold up to bending much better than aluminum. For further corrosion resistance, the stainless steel is coated with Teflon. This coating makes clean-up a breeze, and the steel underneath impervious to saltwater damage.
The Cutthroat is a super narrow, lightweight fishing plier that will hold up to anything. The narrow jaws of the Cutthroat make slipping between a fish's jaws much easier. While narrow jaws usually mean less gripping area, the Cutthroat features aggressively textured jaws to overcome this and grab the hook with conviction. The jaws of the Cutthroat also feature a hook hole to help snug up knots while keeping fingers away from the barbs. After your hook is set, there are a set of high carbon cutters to snip your line; even braided line is no match. The rubberized handles fit well and provide a good grip when wet. Should you lose your grip still, the bungee cord style lanyard will keep them in your control. The Cutthroat is also a spring-loaded pair of pliers, so they spring open when not being pushed closed with your hand. Springs make one-handed operation a breeze letting you focus on the fish and not how to open your pliers.
Available in two sizes, 7.5" and 8.5", the Speed Demon Pro gives you an excellent platform to do just about anything with. Available with a split ring nose option, the spring-loaded jaws have grooves for crimping leaders and plenty of aggressive divots to grab onto the shank of a hook. If your lure isn't swimming correctly and the line eye needs to be adjusted, there is a cut-out to use as a wrench for just these types of adjustments. The non-slip SuperPolymer grip handle is easy on the hands and easy to operate in the worst of conditions. The Speed Deamon features a tungsten carbide line cutter like the Cutthroat, so removing tag ends or changing rigs is a one-handed affair.
The intimidator line of pliers by KastKing features eight different styles of pliers. However, we are selecting the seven-inch bent nose as our ideal pick. The intimidator features black/blue molded handles that provide excellent grip when wet while also giving the angler's hand plenty of purchase for grabbing hard on buried hooks. The bent nose is a great feature for anglers to keep their hands away from teeth while still getting to the hook. This bend also aids in leveraging the hook out of the jaw, especially when fishing treble hooks that will hook a fish more than once. This model intimidator does not have a spring opening system. The budget-friendly price reflects the minimal accessories, but for those looking to travel light or with the space to have more than one tool, it provides an excellent pair of pliers with no frills.
Three distinct pliers, each with their own strengths and uses. All three of these tools would be an excellent addition to any angler's arsenal when targeting big fish. This isn't an end-all-be-all list of pliers; it's not even all the styles and options available from KastKing. These serve as a benchmark to judge all others. One more thing to consider about fishing pliers and the abuse that big fish put on them. All of KastKing's pliers are backed with a hassle-free warranty allowing you an added peace of mind for when you decide to go all out on a giant fish. Keep fishing, and put those pliers to use.