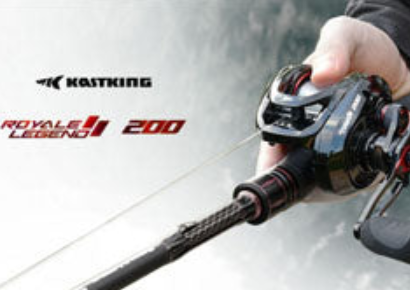 KastKing Adds 200 Size Baitcasting Reel
KastKing 200 Class Baitcasting Reel Introduced
Kastking now offers a low profile 200 size large capacity baitcaster.
From their NY headquarters KastKing announced today the launch of the KastKing Royale Legend II 200 baitcasting reel.
The large capacity KastKing Royale Legend II 200 size baitcasting reels feature a wider frame with larger capacity spools that hold up to 130 yards of 17 lb mono line and deliver 22 lbs. of drag. This configuration is a perfect fishing reel for large swimbaits, deep diving crankbaits, muskie size lures, catfish and salmon/steelhead fishing and a host of other applications. Engineered as a fresh and saltwater fishing reel the KastKing Royale Legend II 200 baitcasters offer a great opportunity to inshore anglers.  
Although the new Royale Legend II 200 casting reels feature a larger frame and higher line capacities than normal baitcaster reels, they are designed with a low-profile shape. Its frame and side covers are lightweight and durable graphite that was carefully designed for hand comfort. A wide 105mm aluminum handle arm, EVA knobs, and a 6.4:1 gear ratio give anglers added control
"Royale Legend reels have always been good reliable reels that perform well in both saltwater and freshwater applications," says Scott Thomas, Product Development Manager at KastKing. "The extra capacity of the new Royale Legend II 200 opens up new possibilities for anglers who like to fish larger swim baits, deep diving crank baits, or target saltwater species."
To provide exceptional strength and durability KastKing utilized 5 + 1 double shielded, stainless-steel ball bearings and precision machined brass main and pinion gears in the Royale Legend II 200.
KastKing Royale Legend II 200 braking is provided by an eight-button magnetic brake system that virtually eliminates overruns while maximizing casting distance. 22 lbs. of drag are delivered through a four-disc carbon fiber drag that give the brakes added smoothness a
llowing anglers to target big
 

fish with big baits in tough conditions.

"KastKing Royale Legend II 200 is a great fishing reel that offers consumers a more affordable alternative to our KastKing Kapstan 300 casting reel, which of course is larger, but carries a bigger price tag of $129.99," says KastKing Chief Marketing Officer Tom Gahan. "Royale Legend II 200 is big enough to cover a lot of species and situations."